Mooney, Thursday August 1st 2013
This year's Dawn Chorus programme took place on Sunday, May 6th 2018, and was a roaring success! All India Radio producer Monika Gulati sent us a pic of herself sporting our Dawn Chorus beanie!!
May Events
Well whilst our Dawn Chorus programme may have finished for another year, throughout May, events are still taking place around the country to celebrate the beautiful birdsong that our feathered friends provide. For more information on these events, and on the annual Burren In Bloom festival that takes place from May 18th - 20th, visit our events listings page! And if you have an event you'd like to let our listeners know about, e-mail mooney@rte.ie.
Follow Us On Social Media:
Facebook: www.facebook.com/rtenature
E-mail Us: mooney@rte.ie
Caring For Wild Animals
Please note that many species of mammals, birds, invertebrates etc... are protected under law and that, even with the best of intentions, only someone holding a relevant licence from the National Parks & Wildlife Service should attempt the care of these animals. For full details, please click here to read the NPWS Checklist of protected & rare species in Ireland. If you are concerned about a wild animal, please contact your local wildlife ranger - click here for details.
Art In The Open
If you click on the above video, you'll hear Don McLean's much loved song Vincent (Starry Starry Night). It evokes beautiful images of artists out in the elements painting the landscape:
"Paint your palette blue and grey,
look out on a summer's day,
... shadows on the hill..."
and the beautiful lyrics:
"colours changing hue, morning field of Amber grain
Are soothed beneath the artist's loving hand"
Why are artists from all over the world gathering outside in scenic areas in Co Wexford to paint the landscape? Mary Kingston headed off to Carne Beach in Co Wexford to meet some landscape painters....
Mary Kingston with Finnish artist Antti Rautiola
Art in the Open, Ireland's International Plein Air Painting Festival, is the largest painting event in the country, and one of the more interesting events are the Paint-Outs.
Mary Kingston with Wexford artist Karen Scannell
Mary met Karen Scannell from Co. Wexford, Valerie Craig from Pennsylvania, Leon Holmes from Australia, Antti Rautiola from Finland, and Adam, Andrew and Brandon, holiday makers from Carne Caravan Park.
The Art in the Open Festival began on Monday (July 29th), and runs until next Tuesday (August 6th). The best of the Plein Air paintings will be on exhibition and for sale in the Greenacres Gallery in the heart of Wexford town from next Monday until Saturday week. (Saturday, August 17th).
Paint Outs take place today at Hook Head, in Enniscorthy on Saturday, August 3rd, and in Wexford Town on Sunday, August 4th. For more information about Art In The Open, visit www.artintheopen.org, and for more information about getting started in plein air painting, visit www.pleineire.com.
Keywords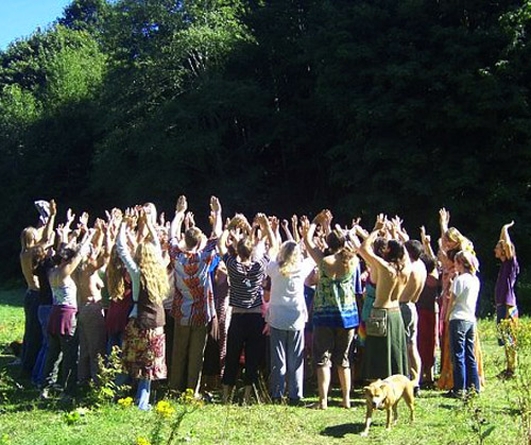 Singing Circles
Lots of old traditions are being lost throughout the country, but one is making a comeback in the West.
Singing Circles are becoming more popular. A Singing Circle is a monthly session of traditional, unaccompanied singing and storytelling away from the pressure of competition, but with one rule: Silence for the singer and respect for the song.
Unlike other events, when people are asked to sing and refuse for one reason or another, at a Singing Circle, people are there because they want to sing.
Terry Flanagan spent a night in a very packed Durkin's pub in Ballinacarrow, Co. Sligo where about 100 people were gathered for the Singing Circle...
Keywords
Hedgerows: It is an offence to 'cut, grub, burn or otherwise destroy hedgerows on uncultivated land during the nesting season from 1 March to 31 August, subject to certain exceptions'. For more information, click here.
To contact your local wildlife ranger, click here for contact details. To read the Wildlife (Amendment) Act 2000, click here.
IMPORTANT NOTICE
Please DO NOT send any live, dead or skeletal remains of any creature whatsoever to Mooney Goes Wild.
If you find an injured animal or bird, please contact the National Parks & Wildlife Service on 1890 20 20 21, or BirdWatch Ireland, on 01 281-9878, or visit www.irishwildlifematters.ie