Mooney, Friday July 26th 2013
Dawn Chorus 2018
This year's Dawn Chorus programme will take place on Sunday, May 6th 2018, and will be broadcast from across Europe and beyond between midnight and 7am! For more information, click here.
Follow Us On Social Media:
Facebook: www.facebook.com/rtenature
E-mail Us: mooney@rte.ie
Caring For Wild Animals
Please note that many species of mammals, birds, invertebrates etc... are protected under law and that, even with the best of intentions, only someone holding a relevant licence from the National Parks & Wildlife Service should attempt the care of these animals. For full details, please click here to read the NPWS Checklist of protected & rare species in Ireland. If you are concerned about a wild animal, please contact your local wildlife ranger - click here for details.
Events & Listings
Click here for a full list of events taking place around the country, and movies currently on release, which might be of interest to wildlife lovers!
Nature LIVE
On Sunday May 6th, 2018, RTÉ's Wild Island season goes international as Derek Mooney hosts one of the most ambitious LIVE natural history programmes ever undertaken. Broadcasting live from six countries across Europe, Nature LIVE will showcase some of the continents most extraordinary wildlife, from Polar Bears in the Norwegian Arctic to Flamingoes in southern Spain to Basking Sharks off the west of Ireland. This one-hour special will be anchored by RTÉ presenter Derek Mooney from the banks of Dublin's River Liffey, with wildlife film-maker Colin Stafford-Johnson on the Blasket Islands.
Viewers can take part by sharing their own pictures and videos of nature and wildlife using #naturelive from wherever they live in Europe.
JOIN US
We have a limited number of audience tickets for this live event. Apply for tickets by email to natureliveaudience@rte.ie
Location: Sir John Rogerson's Quay, Dublin
Date: Sunday 6th May 2018
Time: 16.30 - 18.00
*Gates close at 16.45!
Please note that this is an unseated event and outdoors so you will need to wear appropriate clothing for the Irish weather. We need the following information: The number of tickets you are applying for. Your name, surname, age contact phone number and address. The names, surnames and ages of your guests.
*Unfortunately we cannot accommodate for Children under 12yrs. All minors under 16 must be accompanied by an adult/guardian
Tickets are limited so first come first served!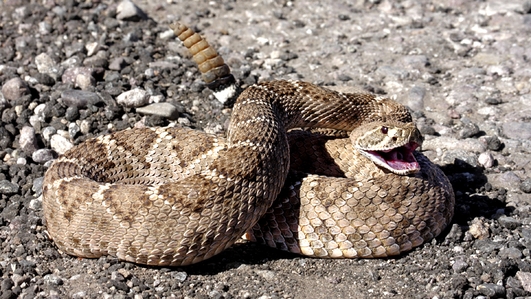 Bathroom Snake In Drumcondra
During the week we got a very interesting e-mail into the office from a chap called Paul Wade, in Drumcondra in Dublin:
We were up in Donegal for the weekend, and arrived home at 7.30ish on Sunday night. At 8.30ish, I thought I would visit the throne room with my Sunday paper ... I walked into the bog, and there was a SNAKE wrapped around the taps and plug chain on the sink - I kid you not, a great big SNAKE!! It was at least 5 feet long, black with white markings.
This morning, producer Pat O'Mahony went to meet Paul at his home in Drumcondra this morning to find out all about his serpentine encounter!
Kevin Cunningham is from the National Exotic Animal Sanctuary in Ballivor in County Meath, and he came to the rescue in Paul's hour of need. This afternoon, Kevin joins us on the line from the sanctuary to tell us more about the snake rescue!
Click here to read the NEAS Guide to dealing with various exotic animals.
Older Male Burying Beetles Make Better Dads!
Mature male burying beetles make better fathers than their younger counterparts. That's one of the findings of research by Exeter University's Centre for Ecology and Conservation published in the journal Proceedings Of The Royal Society of London.
Nicrophorus vespilloides, one of the burying beetles studied by Dr. Megan Head
One of the big puzzles of evolutionary biology is why males care for offspring that aren't theirs. To explain, Derek is joined from the BBC studios in London by Dr Megan Head, Doctor of Evolutionary Biology at the University of Exeter... To find out more, you can read this statement from the University of Exeter, or visit the website of Dr. Megan Head.
Stinky Flowers!
Ant-like lines have been weaving their way about the United States Botanic Gardens Conservatory in Washington... the lines are not ants or tropical beetles, but curious humans coming in their tens of thousands every day to see a giant phallus-like and smelly flower, the titan arum (Amorphophallus titanum).
Ari Novy is a plant scientist and Public Programmes Manager at the Botanic Gardens, and he joins Derek and the panel on the line today from Washington!
The flower is now collapsing, and entering a dormant stage; the Botanic Gardens in Washington have set up a webcam focusing on flower, and you view the webcam, and find out lots more about the titan arum, by visiting their website
Grass-Growing Gutters: A Report By Terry Flanagan
Peter Nolan from Templeogue got in touch this week, to say that he had an unusual problem. The gutters on the back of the house are full of grass and weeds - yet none of his neighbours have any.
He has a theory as to why this is so, and he asked us to come out to see his weeds, and to assess his theory.
We sent Terry Flanagan along to find out more…
Keywords
Hedgerows: It is an offence to 'cut, grub, burn or otherwise destroy hedgerows on uncultivated land during the nesting season from 1 March to 31 August, subject to certain exceptions'. For more information, click here.
To contact your local wildlife ranger, click here for contact details. To read the Wildlife (Amendment) Act 2000, click here.
IMPORTANT NOTICE
Please DO NOT send any live, dead or skeletal remains of any creature whatsoever to Mooney Goes Wild.
If you find an injured animal or bird, please contact the National Parks & Wildlife Service on 1890 20 20 21, or BirdWatch Ireland, on 01 281-9878, or visit www.irishwildlifematters.ie