Mooney, Thursday July 25th 2013
Dawn Chorus 2018
This year's Dawn Chorus programme will take place on Sunday, May 6th 2018, and will be broadcast from across Europe and beyond between midnight and 7am! For more information, click here.
Follow Us On Social Media:
Facebook: www.facebook.com/rtenature
E-mail Us: mooney@rte.ie
Caring For Wild Animals
Please note that many species of mammals, birds, invertebrates etc... are protected under law and that, even with the best of intentions, only someone holding a relevant licence from the National Parks & Wildlife Service should attempt the care of these animals. For full details, please click here to read the NPWS Checklist of protected & rare species in Ireland. If you are concerned about a wild animal, please contact your local wildlife ranger - click here for details.
Events & Listings
Click here for a full list of events taking place around the country, and movies currently on release, which might be of interest to wildlife lovers!
Nature LIVE
On Sunday May 6th, 2018, RTÉ's Wild Island season goes international as Derek Mooney hosts one of the most ambitious LIVE natural history programmes ever undertaken. Broadcasting live from six countries across Europe, Nature LIVE will showcase some of the continents most extraordinary wildlife, from Polar Bears in the Norwegian Arctic to Flamingoes in southern Spain to Basking Sharks off the west of Ireland. This one-hour special will be anchored by RTÉ presenter Derek Mooney from the banks of Dublin's River Liffey, with wildlife film-maker Colin Stafford-Johnson on the Blasket Islands.
Viewers can take part by sharing their own pictures and videos of nature and wildlife using #naturelive from wherever they live in Europe.
JOIN US
We have a limited number of audience tickets for this live event. Apply for tickets by email to natureliveaudience@rte.ie
Location: Sir John Rogerson's Quay, Dublin
Date: Sunday 6th May 2018
Time: 16.30 - 18.00
*Gates close at 16.45!
Please note that this is an unseated event and outdoors so you will need to wear appropriate clothing for the Irish weather. We need the following information: The number of tickets you are applying for. Your name, surname, age contact phone number and address. The names, surnames and ages of your guests.
*Unfortunately we cannot accommodate for Children under 12yrs. All minors under 16 must be accompanied by an adult/guardian
Tickets are limited so first come first served!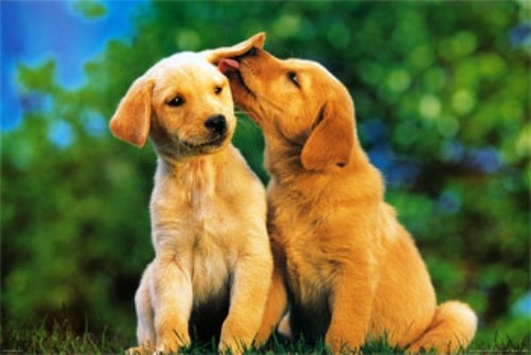 Stolen Dogs
There seems to be an upsurge in the theft of dogs in recent months… In one particular case two much loved lurcher dogs, Jodie and Erin which were stolen from a boarding kennel in Kildare in May.
Their owners were heartbroken, but with a very impressive campaign using celebrities, social networks and a lot of hard work, both dogs were successfully retrieved – separately – six weeks later.
But not all of us would have the time or the know how to get our dogs back… one veterinarian from Bray Vet has for some time now been trying to raise public awareness of the risk to pets – and he says it's not just pedigree dogs that are targets! He wants us to start treating or dogs like expensive cameras – and not to leave them unattended on the front lawn!!!
Pete Wedderburn is here to tell us more…
What do you do if you have a lost dog, or if you think your dog has been stolen?
1. First, phone your local dog warden. Dogs wardens are employed by local authorities to help to deal with lost/ roaming dogs, so there is a good chance that the details of your dog may be on record. An astonishing number of owners of missing dogs never take this initial, important step, so do this before doing anything else.
2. Second visit one or more of these websites, and follow the instructions:
a) The comprehensive and recently updated "What to do if you have lost your pet" page on the Dublin SPCA website. This page includes many other "lost and found" links for Ireland.
b) The excellent Lor's Lost Dog Page on Facebook
c) The useful ISPCA Lost and Found section
d) The long established "What to do if you lose your dog" page on IrishAnimals.ie
If you'd like to read Pete's blog, the link is http://tinyurl.com/ktxt68k.
Keywords
Tropical Parasites
If you are heading to the Tropics this summer, one of the most important items you must get is a travel iron, and some appropriate footwear - not because you look sharp, but for reasons far more serious! Mary Kingston went to find out about the need for ironing in the tropics, in the company of Dr. Graham Fry, from the Tropical Medical Bureau; she also spoke to Anthony Hannon, who had a rather nasty encounter with a bug he christened Arnie!
Anthony and Arnie
Measuring Arnie
Arnie in Anthony's arm
Arnie in Anthony's arm
Giving birth to Arnie!
Arnie beside a €1 coin
To find out more about the Tropical Medical Bureau, click here, and to find out more about Tissue Myiasis, click here to read the TMB factsheet!
Hedgerows: It is an offence to 'cut, grub, burn or otherwise destroy hedgerows on uncultivated land during the nesting season from 1 March to 31 August, subject to certain exceptions'. For more information, click here.
To contact your local wildlife ranger, click here for contact details. To read the Wildlife (Amendment) Act 2000, click here.
IMPORTANT NOTICE
Please DO NOT send any live, dead or skeletal remains of any creature whatsoever to Mooney Goes Wild.
If you find an injured animal or bird, please contact the National Parks & Wildlife Service on 1890 20 20 21, or BirdWatch Ireland, on 01 281-9878, or visit www.irishwildlifematters.ie