Mooney Monday 1 July 2013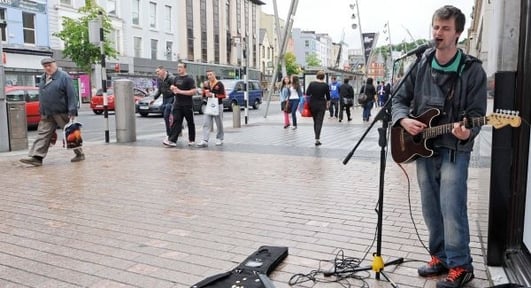 Buskers in Cork
The tradition of busking in Ireland has allowed many would be stars to hone their acts on the streets before going on to make it big in the music industry. Think of the likes of Glen Hansard, Mic Christopher or Paddy Casey, all of whom busked on Grafton Street, or the hugely successful guitar playing duo of Rodrigo y Gabriela, who also started out busking on the street. Or, what about the well known busker The Pecker Dunne, who busked at GAA matches and other events over the years.
With paying gigs getting harder and harder to get, busking can be a good opportunity to make a few quid. But, one Cork Councillor thinks new rules are needed, similar to ones being considered in Dublin, to police street busking. Brian O'Connell joins us now from our Cork studio and he has been hearing from buskers, Councillors and shop owners in Cork.
Brian O Connell in Cork tells us more...