Mooney Monday 1 July 2013
This year's Dawn Chorus programme took place on Sunday, May 6th 2018, and was a roaring success! All India Radio producer Monika Gulati sent us a pic of herself sporting our Dawn Chorus beanie!!
May Events
Well whilst our Dawn Chorus programme may have finished for another year, throughout May, events are still taking place around the country to celebrate the beautiful birdsong that our feathered friends provide. For more information on these events, and on the annual Burren In Bloom festival that takes place from May 18th - 20th, visit our events listings page! And if you have an event you'd like to let our listeners know about, e-mail mooney@rte.ie.
Follow Us On Social Media:
Facebook: www.facebook.com/rtenature
E-mail Us: mooney@rte.ie
Caring For Wild Animals
Please note that many species of mammals, birds, invertebrates etc... are protected under law and that, even with the best of intentions, only someone holding a relevant licence from the National Parks & Wildlife Service should attempt the care of these animals. For full details, please click here to read the NPWS Checklist of protected & rare species in Ireland. If you are concerned about a wild animal, please contact your local wildlife ranger - click here for details.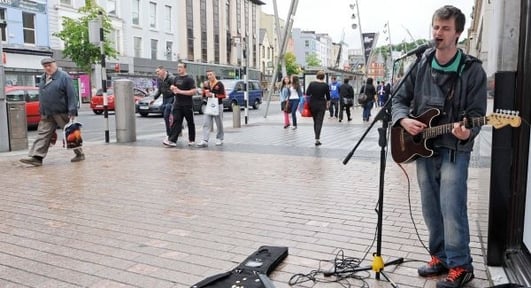 Buskers in Cork
The tradition of busking in Ireland has allowed many would be stars to hone their acts on the streets before going on to make it big in the music industry. Think of the likes of Glen Hansard, Mic Christopher or Paddy Casey, all of whom busked on Grafton Street, or the hugely successful guitar playing duo of Rodrigo y Gabriela, who also started out busking on the street. Or, what about the well known busker The Pecker Dunne, who busked at GAA matches and other events over the years.
With paying gigs getting harder and harder to get, busking can be a good opportunity to make a few quid. But, one Cork Councillor thinks new rules are needed, similar to ones being considered in Dublin, to police street busking. Brian O'Connell joins us now from our Cork studio and he has been hearing from buskers, Councillors and shop owners in Cork.
Brian O Connell in Cork tells us more...
Hedgerows: It is an offence to 'cut, grub, burn or otherwise destroy hedgerows on uncultivated land during the nesting season from 1 March to 31 August, subject to certain exceptions'. For more information, click here.
To contact your local wildlife ranger, click here for contact details. To read the Wildlife (Amendment) Act 2000, click here.
IMPORTANT NOTICE
Please DO NOT send any live, dead or skeletal remains of any creature whatsoever to Mooney Goes Wild.
If you find an injured animal or bird, please contact the National Parks & Wildlife Service on 1890 20 20 21, or BirdWatch Ireland, on 01 281-9878, or visit www.irishwildlifematters.ie