Mooney, Friday June 21st 2013
Dawn Chorus 2018
This year's Dawn Chorus programme will take place on Sunday, May 6th 2018, and will be broadcast from across Europe and beyond between midnight and 7am! For more information, click here.
Follow Us On Social Media:
Facebook: www.facebook.com/rtenature
E-mail Us: mooney@rte.ie
Caring For Wild Animals
Please note that many species of mammals, birds, invertebrates etc... are protected under law and that, even with the best of intentions, only someone holding a relevant licence from the National Parks & Wildlife Service should attempt the care of these animals. For full details, please click here to read the NPWS Checklist of protected & rare species in Ireland. If you are concerned about a wild animal, please contact your local wildlife ranger - click here for details.
Events & Listings
Click here for a full list of events taking place around the country, and movies currently on release, which might be of interest to wildlife lovers!
Nature LIVE
On Sunday May 6th, 2018, RTÉ's Wild Island season goes international as Derek Mooney hosts one of the most ambitious LIVE natural history programmes ever undertaken. Broadcasting live from six countries across Europe, Nature LIVE will showcase some of the continents most extraordinary wildlife, from Polar Bears in the Norwegian Arctic to Flamingoes in southern Spain to Basking Sharks off the west of Ireland. This one-hour special will be anchored by RTÉ presenter Derek Mooney from the banks of Dublin's River Liffey, with wildlife film-maker Colin Stafford-Johnson on the Blasket Islands.
Viewers can take part by sharing their own pictures and videos of nature and wildlife using #naturelive from wherever they live in Europe.
JOIN US
We have a limited number of audience tickets for this live event. Apply for tickets by email to natureliveaudience@rte.ie
Location: Sir John Rogerson's Quay, Dublin
Date: Sunday 6th May 2018
Time: 16.30 - 18.00
*Gates close at 16.45!
Please note that this is an unseated event and outdoors so you will need to wear appropriate clothing for the Irish weather. We need the following information: The number of tickets you are applying for. Your name, surname, age contact phone number and address. The names, surnames and ages of your guests.
*Unfortunately we cannot accommodate for Children under 12yrs. All minors under 16 must be accompanied by an adult/guardian
Tickets are limited so first come first served!
On Mooney today...
Will it be today, could it be tomorrow? We are monitoring the Mooney nestcams, as both Bluetits and swallows prepare to fledge.
Buttercups are abundant at the moment, but should they come with a health warning? We report on a phenomenon called "Buttercup burn", where the chemicals in these flowers prove a major irritant to horses.
And, we uncover the remarkable migration of the Manx Shearwater, travelling up to 20,000 km from Ireland and the UK to South America, and back!
Angel Sharks
When people think about sharks in Irish waters, the first one that springs to mind tends to be the basking shark. It's magnificent creature, the basking shark. And one of the largest fish in the world's oceans.
The waters around Ireland are actually home to numerous species of shark. But there is one particularly beautiful shark which WAS reasonably plentiful around our coastlines, but is now all but extinct in Irish waters.
Kevin Flannery, Director of Dingle Oceanworld, is in our Cork studio, to tell us all about the wonderful angel shark...
Damsels
This morning, we received this e-mail from listener Emer O'Shea, with some STUNNING pictures attached!
As we await the arrival of crowds for the promised music and surf extravaganza at SEA SESSIONS in Bundoran, the local wildlife are enjoying their own action on the banks of the river Drowse, a mile away!
And if you have photos that you'd like to share with us all, then e-mail mooney@rte.ie!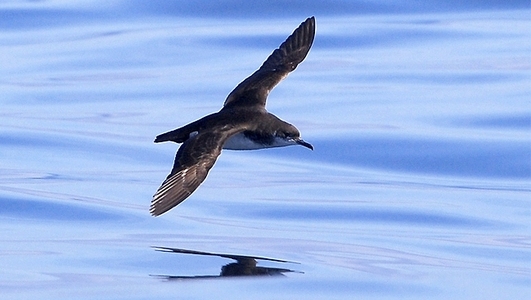 Manx Shearwater
One of the most extraordinary sounds of nature has to be that of the raucous chorus of the Manx Shearwater on their nesting islands at night.
The Manx Shearwater (Puffinus puffinus) is a very interesting bird. For a while a Manx Shearwater breeding in Northern Ireland was thought to be the oldest-known bird in the wild at 55 years old (at least).
They are an elusive creature too - they nest in rabbit burrows on islands and only emerge under cover of darkness.
And they have a VERY long migration journey each year from Brazil and Argentina to Ireland, Scotland, Wales and England – and back again.
What happens on this ten thousand kilometre leg has always been a bit of a mystery – until now.
Dr Robin Freeman is a Research Fellow at University College London, and he has been figuring out just what the Manx Shearwater gets up to on its migration. He joins Derek and the panel today to explain more from the BBC studios in London...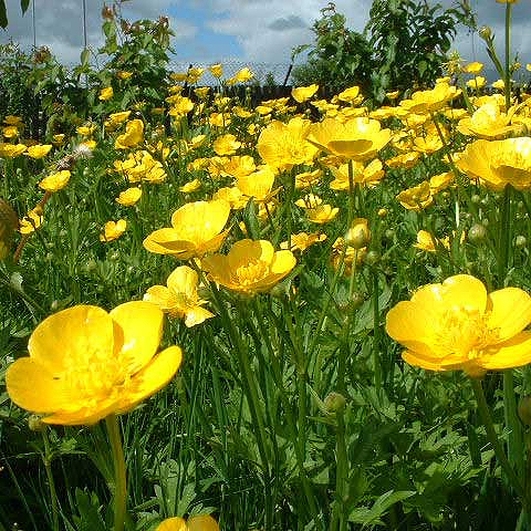 Buttercup Burn
Because of the cold spring, lots of things are blooming a little later this year, like the buttercup. This year seems to be a bumper year for them!
And although the buttercup is a pretty little wildflower and brightens up our landscape, it should maybe come with a 'health warning'...
The ISPCA notified us this week of a case of "Buttercup Burn" on one of their horses.
It turns out that there is an irritant in the sap of the buttercup which can affect horses with pink or white noses, or white markings.
So to find out more, Mooney reporter Katriona McFadden paid a visit to the affected horse at the ISPCA headquarters in Longford and met Equine Supervisor Cathy Griffin…
Beth, the Buttercup Burn-afflicted horse
If you are interested in fostering or adopting a horse you can contact the ISPCA - their website is www.ispca.ie.
And if you think your horse is suffering from Buttercup Burn, you should take it out of the affected field and contact your vet for advice.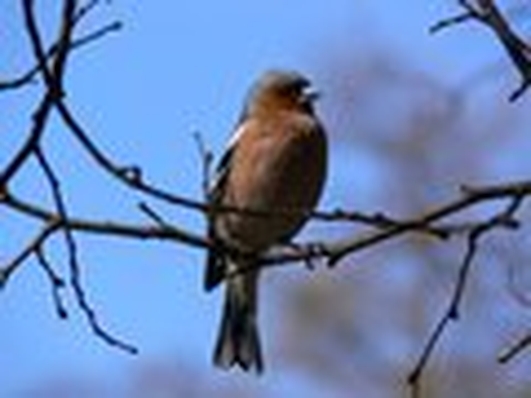 App Article: Crying Wolf (by Richard Collins)
Dr. Richard Collins is the author of this week's app article, in which he tells us all about a bird neighbourhood watch scheme, and the emergency alarms systems they use!
Birds and politicians need to get their messages out while, at the same time, covering their tracks. Openness and transparency are commendable but they have a downside. A bird seeing a cat, for example, wants to warn the neighbours. If it calls out, however, it will draw attention to itself, not a good idea with an enemy on the prowl. Keeping quiet seems the wiser option.
To find out more, download the Mooney app, for iPhone and Android phones, to read the rest of Richard's article, and much more!
Hedgerows: It is an offence to 'cut, grub, burn or otherwise destroy hedgerows on uncultivated land during the nesting season from 1 March to 31 August, subject to certain exceptions'. For more information, click here.
To contact your local wildlife ranger, click here for contact details. To read the Wildlife (Amendment) Act 2000, click here.
IMPORTANT NOTICE
Please DO NOT send any live, dead or skeletal remains of any creature whatsoever to Mooney Goes Wild.
If you find an injured animal or bird, please contact the National Parks & Wildlife Service on 1890 20 20 21, or BirdWatch Ireland, on 01 281-9878, or visit www.irishwildlifematters.ie