Mooney, Thursday June 20th 2013
Dawn Chorus 2018
This year's Dawn Chorus programme will take place on Sunday, May 6th 2018, and will be broadcast from across Europe and beyond between midnight and 7am! For more information, click here.
Follow Us On Social Media:
Facebook: www.facebook.com/rtenature
E-mail Us: mooney@rte.ie
Caring For Wild Animals
Please note that many species of mammals, birds, invertebrates etc... are protected under law and that, even with the best of intentions, only someone holding a relevant licence from the National Parks & Wildlife Service should attempt the care of these animals. For full details, please click here to read the NPWS Checklist of protected & rare species in Ireland. If you are concerned about a wild animal, please contact your local wildlife ranger - click here for details.
Events & Listings
Click here for a full list of events taking place around the country, and movies currently on release, which might be of interest to wildlife lovers!
Nature LIVE
On Sunday May 6th, 2018, RTÉ's Wild Island season goes international as Derek Mooney hosts one of the most ambitious LIVE natural history programmes ever undertaken. Broadcasting live from six countries across Europe, Nature LIVE will showcase some of the continents most extraordinary wildlife, from Polar Bears in the Norwegian Arctic to Flamingoes in southern Spain to Basking Sharks off the west of Ireland. This one-hour special will be anchored by RTÉ presenter Derek Mooney from the banks of Dublin's River Liffey, with wildlife film-maker Colin Stafford-Johnson on the Blasket Islands.
Viewers can take part by sharing their own pictures and videos of nature and wildlife using #naturelive from wherever they live in Europe.
JOIN US
We have a limited number of audience tickets for this live event. Apply for tickets by email to natureliveaudience@rte.ie
Location: Sir John Rogerson's Quay, Dublin
Date: Sunday 6th May 2018
Time: 16.30 - 18.00
*Gates close at 16.45!
Please note that this is an unseated event and outdoors so you will need to wear appropriate clothing for the Irish weather. We need the following information: The number of tickets you are applying for. Your name, surname, age contact phone number and address. The names, surnames and ages of your guests.
*Unfortunately we cannot accommodate for Children under 12yrs. All minors under 16 must be accompanied by an adult/guardian
Tickets are limited so first come first served!
NestWatch 2013
Our five Blue Tit nestlings and two Swallow nestlings are continue to grow in size and strength - it won't be too long before they fledge, so click here to watch the Blue Tits. and click here to watch the Swallows!
Screengrabs From The Blue Tit Nestcam
Three of the Blue Tit nestlings
One of the nestlings stretching their wings - they're almost ready to fly!
The female Blue Tit feeding her young
Three of the nestlings all snug!
The female Blue Tit removes a fecal sac from one of the nestlings
Screengrabs From The Swallow Nestcam
The female swallow with one of the nestlings
Getting lunch from mother!
The female Swallow with her two nestlings
One of the Swallow nestlings
Staring into the camera!
The Swallow family!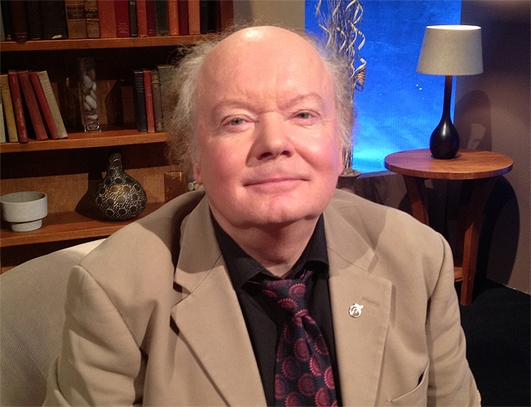 Ballybough Name Change
A few years ago on this programme we spoke to a local Dingle woman, Mary Devanne-Wilson, who was so passionate about the name of the place she was born that she started her own campaign to keep the name on the map when it was threatened with being changed from Dingle / Daingean Ui Cuais to An Daingean.
Seven years later, there is another community that is concerned with this issue of its name ... that of Ballybough, in inner city North Dublin.
The current Irish translation is "Baile Bocht", which means "Poor Town"…
But there is a campaign underway to get that officially changed. Local councillor Neil Ring says the correct Irish translation is "Baile Bog", reflecting the wetland heritage of the area. He says someone made a translation typo a long time ago, and the unfortunate people of Ballybough have been misrepresented ever since.
Mooney reporter Katriona McFadden went there this morning to meet Councillor Ring.
It appears that there are a very large number of place names in Ireland that got mixed up in translation, and to tell us more about this, Derek is also joined in studio by Alan Titley, Emeritus Professor of Modern Irish at UCC...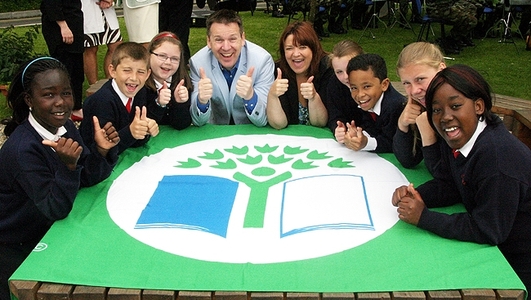 Green Flag Ceremony At St Mary's, Athlone
This morning, Derek and Brenda visited St. Mary's School in Athlone, where Derek raised their 5th Green Flag! There are almost 400 students in the school. The staff and pupils at the school are all passionate about biodiversity and nature:
We are celebrating our successes and achievements over the last two years in St. Mary's with our 5th Green Flag, a Discovery Primary Science award and our new "Outdoor Classroom" and "Living Larder". We are all thrilled to be on such a "Winning Streak" and we hope that it continues for us.
Our success began when pupils of all ages entered into the Westmeath County Council Art Competition 2012 and produced a beautiful calendar which came in 1st and won our beautiful outdoor garden classroom. We went on to enter this competition again this year and also came in 1st and won an outdoor living larder which will house many plants, fruit and vegetables thus promoting Biodiversity within our school grounds even further.
We are also celebrating our success in the Discover Primary Science awards. Our 5th class pupils entered the Primary Science Fair in the RDS in January and presented fabulous projects on improving our ecosystems by using bird feeders and wormeries. Senior Pupils were also involved in the Green Wave Project and they recorded temperatures, wind speed and rainfall over the last number of months. We are also delighted to have been awarded another "Award of Excellence in Science" this year.
We entered into the green schools projects in 2002 and have been committed to recycling, conserving water and energy, encouraging children to walk to school and to keep active in an effort to promote environmental awareness and promote a sustainable environment.
This year, St. Mary's N.S Athlone, have been awarded their 5th Green Flag for Biodiversity. We know that Biodiversity relates to "the variety of life on earth" and we produced our own simple code "Biodiversity- that's nature to you and me!" We are very lucky in here in St. Mary's school in the middle of town to have such diverse grounds and garden areas to promote our work on promoting biodiversity. We enhanced our environment greatly by creating garden areas, wild areas, a bug hotel/habitat, bug rug/habitat, composting, conserving rainwater, developing a trail around the school grounds to promote tree awareness, installing bird, bat and bug boxes. A variety of work went an also within the classrooms where children studied plant and animal life, food chains and threats to biodiversity. Students also used their mapping skills to increase awareness of ecosystems within our grounds/habitat thus promoting awareness for all.
Our teachers, green committee and pupils followed the 7 steps to achieve our goals. Together we devised an action plan to incorporate lots of curriculum work, we invited guest speakers from the community to the school, arranged field trips in the locality and this was all portrayed on our Green schools notice boards and school newsletters. We will continue in our efforts to promote an awareness of biodiversity among our students and to promote ecosystems.
Derek with the staff and pupils of St. Mary's, with their Green Flag
Derek Mooney, Brenda Donohue and Eta Maguire, a teacher at St. Mary's
Joan Travers-Hind, Principal of St. Mary's, with Brenda Donohue
Derek and Brenda prepare to raise the Green Flag
Derek with the staff and pupils of St. Mary's
To find out more about the Green-Schools flag initiative that runs nationwide, visit http://www.greenschoolsireland.org/about-us/green-schools-in-ireland.106.html.
Hedgerows: It is an offence to 'cut, grub, burn or otherwise destroy hedgerows on uncultivated land during the nesting season from 1 March to 31 August, subject to certain exceptions'. For more information, click here.
To contact your local wildlife ranger, click here for contact details. To read the Wildlife (Amendment) Act 2000, click here.
IMPORTANT NOTICE
Please DO NOT send any live, dead or skeletal remains of any creature whatsoever to Mooney Goes Wild.
If you find an injured animal or bird, please contact the National Parks & Wildlife Service on 1890 20 20 21, or BirdWatch Ireland, on 01 281-9878, or visit www.irishwildlifematters.ie