Mooney, Thursday June 20th 2013
Follow Us On Social Media:
Facebook: www.facebook.com/rtenature
E-mail Us: mooney@rte.ie
Caring For Wild Animals
Please note that many species of mammals, birds, invertebrates etc... are protected under law and that, even with the best of intentions, only someone holding a relevant licence from the National Parks & Wildlife Service should attempt the care of these animals. For full details, please click here to read the NPWS Checklist of protected & rare species in Ireland. If you are concerned about a wild animal, please contact your local wildlife ranger - click here for details.
Events & Listings
Click here for a full list of events taking place around the country, and movies currently on release, which might be of interest to wildlife lovers!
NestWatch 2013
Our five Blue Tit nestlings and two Swallow nestlings are continue to grow in size and strength - it won't be too long before they fledge, so click here to watch the Blue Tits. and click here to watch the Swallows!
Screengrabs From The Blue Tit Nestcam
Three of the Blue Tit nestlings
One of the nestlings stretching their wings - they're almost ready to fly!
The female Blue Tit feeding her young
Three of the nestlings all snug!
The female Blue Tit removes a fecal sac from one of the nestlings
Screengrabs From The Swallow Nestcam
The female swallow with one of the nestlings
Getting lunch from mother!
The female Swallow with her two nestlings
One of the Swallow nestlings
Staring into the camera!
The Swallow family!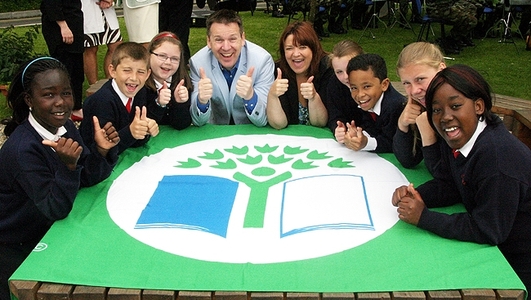 Green Flag Ceremony At St Mary's, Athlone
This morning, Derek and Brenda visited St. Mary's School in Athlone, where Derek raised their 5th Green Flag! There are almost 400 students in the school. The staff and pupils at the school are all passionate about biodiversity and nature:
We are celebrating our successes and achievements over the last two years in St. Mary's with our 5th Green Flag, a Discovery Primary Science award and our new "Outdoor Classroom" and "Living Larder". We are all thrilled to be on such a "Winning Streak" and we hope that it continues for us.
Our success began when pupils of all ages entered into the Westmeath County Council Art Competition 2012 and produced a beautiful calendar which came in 1st and won our beautiful outdoor garden classroom. We went on to enter this competition again this year and also came in 1st and won an outdoor living larder which will house many plants, fruit and vegetables thus promoting Biodiversity within our school grounds even further.
We are also celebrating our success in the Discover Primary Science awards. Our 5th class pupils entered the Primary Science Fair in the RDS in January and presented fabulous projects on improving our ecosystems by using bird feeders and wormeries. Senior Pupils were also involved in the Green Wave Project and they recorded temperatures, wind speed and rainfall over the last number of months. We are also delighted to have been awarded another "Award of Excellence in Science" this year.
We entered into the green schools projects in 2002 and have been committed to recycling, conserving water and energy, encouraging children to walk to school and to keep active in an effort to promote environmental awareness and promote a sustainable environment.
This year, St. Mary's N.S Athlone, have been awarded their 5th Green Flag for Biodiversity. We know that Biodiversity relates to "the variety of life on earth" and we produced our own simple code "Biodiversity- that's nature to you and me!" We are very lucky in here in St. Mary's school in the middle of town to have such diverse grounds and garden areas to promote our work on promoting biodiversity. We enhanced our environment greatly by creating garden areas, wild areas, a bug hotel/habitat, bug rug/habitat, composting, conserving rainwater, developing a trail around the school grounds to promote tree awareness, installing bird, bat and bug boxes. A variety of work went an also within the classrooms where children studied plant and animal life, food chains and threats to biodiversity. Students also used their mapping skills to increase awareness of ecosystems within our grounds/habitat thus promoting awareness for all.
Our teachers, green committee and pupils followed the 7 steps to achieve our goals. Together we devised an action plan to incorporate lots of curriculum work, we invited guest speakers from the community to the school, arranged field trips in the locality and this was all portrayed on our Green schools notice boards and school newsletters. We will continue in our efforts to promote an awareness of biodiversity among our students and to promote ecosystems.
Derek with the staff and pupils of St. Mary's, with their Green Flag
Derek Mooney, Brenda Donohue and Eta Maguire, a teacher at St. Mary's
Joan Travers-Hind, Principal of St. Mary's, with Brenda Donohue
Derek and Brenda prepare to raise the Green Flag
Derek with the staff and pupils of St. Mary's
To find out more about the Green-Schools flag initiative that runs nationwide, visit http://www.greenschoolsireland.org/about-us/green-schools-in-ireland.106.html.
Hedgerows: It is an offence to 'cut, grub, burn or otherwise destroy hedgerows on uncultivated land during the nesting season from 1 March to 31 August, subject to certain exceptions'. For more information, click here.
UPDATE: February 29th 2016 - Press Release From BirdWatch Ireland:
Putting the record straight: Dates for burning and hedge-cutting have NOT changed
BirdWatch Ireland, Ireland's largest conservation charity, is very concerned about misinformation that is currently circulating regarding the dates within which the burning of vegetation and cutting of hedges is permitted. It would like to remind landowners that all burning and cutting must cease on 29th February this year and that burning and cutting remains prohibited from 1st March to 31st August.
Despite attempts by the Minister for Arts, Heritage and the Gaeltacht, Heather Humphreys T.D., to change the laws regulating these dates by introducing the Heritage Bill 2016 earlier this year, it is important to note that the proposed date changes were ultimately NOT made. This is because the bill failed to pass through both houses of the Oireachtas before the recent dissolution of the Dáil in advance of the general election.
The laws in place governing the dates for hedge-cutting and upland burning therefore remain unchanged. The period within which cutting and burning is prohibited are set down in Section 40 of the Wildlife Act 1976 (as amended in 2000), which states that:
(a) It shall be an offence for a person to cut, grub, burn or otherwise destroy, during the period beginning on the 1st day of March and ending on the 31st day of August in any year, any vegetation growing on any land not then cultivated.
(b) It shall be an offence for a person to cut, grub, burn or otherwise destroy any vegetation growing in any hedge or ditch during the period mentioned in paragraph (a) of this subsection (above).
The existing law provides exemptions for road safety and other circumstances and should be read carefully to ensure compliance.
Section 40 of the Wildlife Act exists to protect nesting birds. Many of our upland bird species are in decline and are in danger of extinction in Ireland; amongst them is the Curlew, which has declined by 80%. Many birds which nest in hedgerows into August are also in serious decline, including the endangered Yellowhammer. The changes to the cutting and burning dates which had been proposed in the now-defunct Heritage Bill 2016 would have caused serious impacts to these birds. A petition launched by BirdWatch Ireland in conjunction with several other national conservation organisations to stop these changes attracted more than 16,200 signatures and rising.
BirdWatch Ireland would also like to advise members of the public that if they see hedges being cut or fires in the uplands on or after 1st March, such activity could be illegal. In such cases, we would encourage people to contact the National Parks and Wildlife Service (www.npws.ie) to report such activity.
BirdWatch Ireland warmly welcomes the demise of the Heritage Bill 2016 and sincerely hopes that any future administration will consider the importance of Ireland's natural heritage and will not attempt to reintroduce such a flawed and damaging piece of legislation.
To contact your local wildlife ranger, click here for contact details. To read the Wildlife (Amendment) Act 2000, click here.
IMPORTANT NOTICE
Please DO NOT send any live, dead or skeletal remains of any creature whatsoever to Mooney Goes Wild.
If you find an injured animal or bird, please contact the National Parks & Wildlife Service on 1890 20 20 21, or BirdWatch Ireland, on 01 281-9878, or visit www.irishwildlifematters.ie
***CLICK HERE TO FIND OUT EVERYTHING YOU NEED TO KNOW ABOUT DAWN CHORUS 2017!***
***Download the Dawn Chorus 2017 podcasts***
Dawn Chorus 2017 - First Hour - 00:00 - 01:00
Dawn Chorus 2017 - Second Hour - 01:00 - 02:00
Dawn Chorus 2017 - Third Hour - 02:00 - 03:00
Dawn Chorus 2017 - Fourth Hour - 03:00 - 04:00
Dawn Chorus 2017 - Fifth Hour - 04:00 - 05:00