Follow Us On Social Media:
Facebook: www.facebook.com/rtenature
E-mail Us: mooney@rte.ie
Caring For Wild Animals
Please note that many species of mammals, birds, invertebrates etc... are protected under law and that, even with the best of intentions, only someone holding a relevant licence from the National Parks & Wildlife Service should attempt the care of these animals. For full details, please click here to read the NPWS Checklist of protected & rare species in Ireland. If you are concerned about a wild animal, please contact your local wildlife ranger - click here for details.
Events & Listings
Click here for a full list of events taking place around the country, and movies currently on release, which might be of interest to wildlife lovers!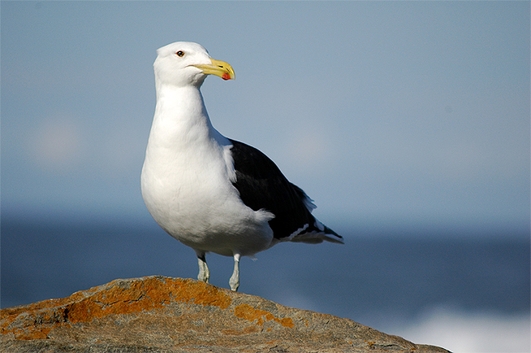 Thanks To The DSPCA!
We receive tons of e-mails every week from listeners about birds, mammals, amphibians, insects - pretty much every branch of the animal kingdom is covered in the communications we receive.
We are, it seems, a nation of animal lovers. And from time to time, it's worth paying tribute to those voluntary organisations who spend their lives looking after animals in distress.
So we have to thank Niamh Breslin, one of our listeners, for reminding us of the great work these organisations do. Earlier this week, Niamh sent us the following e-mail:
Hi Derek
We live in the inner city in Dublin in a terraced house, much like Coronation Street. Seagulls have nested in my neighbour's chimney pot for the second year in a row, and although they are only seagulls, it gave great pleasure to the people here to watch the chicks pop in and out as their parents watched protectively.
Last Saturday, it was discovered that the cats had launched a raid, a chick was knocked down from the chimney stack, and all we could see were the chick's legs in the air in the roof gully. We didn't know if it was alive and couldn't reach it. He was like that all day, then later that evening, he fell down and luckily landed on rubbish bags.
We got him in a container to save him from the cats not knowing how injured he was. And amazingly, after all that, once inside, he stood up and started making noises!
As it was the weekend, we had to let him take over the bath, the only place to put him with a cat in the house. We celotaped 2 plastic spoons together and used the handles like a beak to feed him, to keep him going. And god, are they messy and noisey creatures?!
Anyway I rang the DSPCA first thing this morning and they came within a couple of hours despite being very busy after the weekend.
So 'nipper', as my daughter called him, is going to be cared for with another chick found in the same circumstances, until big enough to fly.
We had been worried he wouldn't be taken as he's "only an oul' seagull".
So we would like to give a big thanks to the DSPCA for all the work they do, regardless of the type of creature to be helped, and remind people that's what they do tirelessly, day in day out.
Especially in these times, it must be so difficult to raise money so if you can help out do!
Niamh Breslin
If you'd like to find out more about the work of the Dublin Society for the Prevention of Cruelty to Animals, you can visit their website: www.dspca.ie.
NestWatch 2013
Yesterday saw our first fatality in the Blue Tit nestbox, and it would appear that today, another young chick has perished. Jim Wilson is in our Cork studio today to take us through what has been a very dramatic week for our Blue Tit family... Click here to watch all the action from the Blue Tit nestbox.
The dead chick lying upside down at the top of the nestbox
The mother continues to feed the other young chicks
The mother tries to remove the dead chick from the nest
Both parents help to feed their remaining chicks
The female Blue Tit with four of the five remaining chicks
Our five chicks with their mother; picture taken at 1:30pm today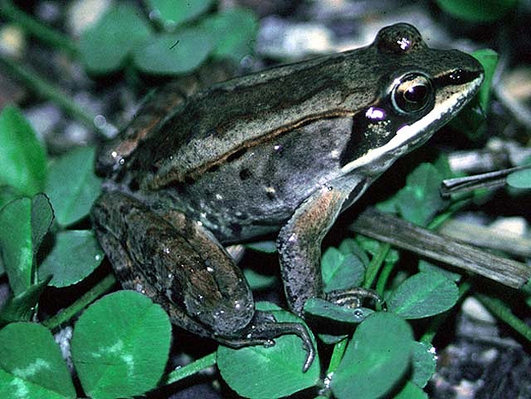 Science Communication & The Wood Frog
Mooney Goes Wild has always taken great pride in keeping up with the latest advances in science and nature research. In fact, more and more TV and radio shows are emerging nowadays, doing the same thing - communicating science to the masses.
Traditionally, science and communication have not been the greatest of bedfellows. But let's face it, no matter how remarkable a discovery, no matter how advanced a piece of scientific research, if the scientists involved can't communicate their ideas, they are going nowhere.
So, in recent years, there's been a huge focus on "science communication", as a goal in itself.
And our next guest, Fergus McAuliffe, is one of the best in the business.
Fergus is a postgraduate researcher at University College Cork. And earlier this year, he became the Irish "science communication" champion.
Last Saturday, he was in the UK, competing at the Famelab World Science Communication Competition, in Cheltenham. And guess what?
He walked away with the world title!
Fergus McAuliffe is our Cork studio today to tell us about taking part in the competition, in which he had three minutes talk about his chosen subject: the wood frog!
The wood frog (Rana sylvatica) has a very strange strange physiology - it has the capacity to freeze solid over winter while remaining alive and capable of 'defrosting' and continuing its lifecycle in Spring!
Hedgerows: It is an offence to 'cut, grub, burn or otherwise destroy hedgerows on uncultivated land during the nesting season from 1 March to 31 August, subject to certain exceptions'. For more information, click here.
UPDATE: February 29th 2016 - Press Release From BirdWatch Ireland:
Putting the record straight: Dates for burning and hedge-cutting have NOT changed
BirdWatch Ireland, Ireland's largest conservation charity, is very concerned about misinformation that is currently circulating regarding the dates within which the burning of vegetation and cutting of hedges is permitted. It would like to remind landowners that all burning and cutting must cease on 29th February this year and that burning and cutting remains prohibited from 1st March to 31st August.
Despite attempts by the Minister for Arts, Heritage and the Gaeltacht, Heather Humphreys T.D., to change the laws regulating these dates by introducing the Heritage Bill 2016 earlier this year, it is important to note that the proposed date changes were ultimately NOT made. This is because the bill failed to pass through both houses of the Oireachtas before the recent dissolution of the Dáil in advance of the general election.
The laws in place governing the dates for hedge-cutting and upland burning therefore remain unchanged. The period within which cutting and burning is prohibited are set down in Section 40 of the Wildlife Act 1976 (as amended in 2000), which states that:
(a) It shall be an offence for a person to cut, grub, burn or otherwise destroy, during the period beginning on the 1st day of March and ending on the 31st day of August in any year, any vegetation growing on any land not then cultivated.
(b) It shall be an offence for a person to cut, grub, burn or otherwise destroy any vegetation growing in any hedge or ditch during the period mentioned in paragraph (a) of this subsection (above).
The existing law provides exemptions for road safety and other circumstances and should be read carefully to ensure compliance.
Section 40 of the Wildlife Act exists to protect nesting birds. Many of our upland bird species are in decline and are in danger of extinction in Ireland; amongst them is the Curlew, which has declined by 80%. Many birds which nest in hedgerows into August are also in serious decline, including the endangered Yellowhammer. The changes to the cutting and burning dates which had been proposed in the now-defunct Heritage Bill 2016 would have caused serious impacts to these birds. A petition launched by BirdWatch Ireland in conjunction with several other national conservation organisations to stop these changes attracted more than 16,200 signatures and rising.
BirdWatch Ireland would also like to advise members of the public that if they see hedges being cut or fires in the uplands on or after 1st March, such activity could be illegal. In such cases, we would encourage people to contact the National Parks and Wildlife Service (www.npws.ie) to report such activity.
BirdWatch Ireland warmly welcomes the demise of the Heritage Bill 2016 and sincerely hopes that any future administration will consider the importance of Ireland's natural heritage and will not attempt to reintroduce such a flawed and damaging piece of legislation.
To contact your local wildlife ranger, click here for contact details. To read the Wildlife (Amendment) Act 2000, click here.
IMPORTANT NOTICE
Please DO NOT send any live, dead or skeletal remains of any creature whatsoever to Mooney Goes Wild.
If you find an injured animal or bird, please contact the National Parks & Wildlife Service on 1890 20 20 21, or BirdWatch Ireland, on 01 281-9878, or visit www.irishwildlifematters.ie
***CLICK HERE TO FIND OUT EVERYTHING YOU NEED TO KNOW ABOUT DAWN CHORUS 2017!***
***Download the Dawn Chorus 2017 podcasts***
Dawn Chorus 2017 - First Hour - 00:00 - 01:00
Dawn Chorus 2017 - Second Hour - 01:00 - 02:00
Dawn Chorus 2017 - Third Hour - 02:00 - 03:00
Dawn Chorus 2017 - Fourth Hour - 03:00 - 04:00
Dawn Chorus 2017 - Fifth Hour - 04:00 - 05:00