Hedgerows and the Law
Hedgerows in Ireland form important features in maintaining wildlife diversity and in establishing wildlife "corridors", particularly for birds. The commonest nesting birds found in hedgerows such as wrens, dunnocks, robin and willow warblers depend entirely on insects during the Summer months. In general untrimmed, thorned hedgerows containing species such as blackthorn, whitethorn and holly are favoured by birds as they provide ample food and also serve as a protection against predators.
Section 40 of the Wildlife Act, 1976, as amended by Section 46 of the 2000 Act, provides protection for hedgerows by providing that it shall be an offence for a person to cut, grub, burn or otherwise destroy hedgerows on uncultivated land during the nesting season from 1 March to 31 August, subject to certain exceptions. It is important that, where possible, necessary work to hedgerows is carried out outside this period.
It is possible in most cases to schedule and carry out necessary work to hedgerows outside this period. The legislation makes provision for works (other than road or other construction works) to be carried out for reasons of public health and safety under the authority of any Minister or a body established by statute that lead to the destruction of vegetation. There is also a provision to enable the Minister for Environment, Heritage and Local Government to request from the relevant Minister or body details of any such works together with a statement of the public health and safety factors involved.
It shall not be an offence to destroy vegetation in the ordinary course of agriculture or forestry. Also it shall not be illegal to destroy vegetation while preparing or clearing a site for lawful building or construction works.
It is the policy of the Minister to prosecute for offences under section 40 of the Wildlife Acts 1976 and 2000 and successful prosecutions have been taken under this section in recent years. Members of the public are encouraged to contact their local wildlife ranger and report instances where hedgerows are being destroyed during the prohibited period.
To contact your local wildlife ranger, visit the National Parks and Wildlife Service website (www.npws.ie), phone 1890 20 20 21 or click here for local contact details.
Britain's Got Talent: Jordan O'Keefe
On the programme last week, we featured Navan teens Jack Duff and Cormac Connell, who had made it through to the semi-final of Britain's Got Talent.
They're still in with a chance to make it through to the final as the judges' wildcard choice – but although Simon Cowell has tweeted that they've already made the decision, it hasn't yet been announced.
In the meantime another Irish teenager, Jordan O'Keefe from Drumahoe in Co. Derry, secured himself a place in the last 10 with this acoustic arrangement of Dolly Parton's song I Will Always Love You.
It impressed the judges – especially Simon Cowell. Jordan chats to Derek today about how he's feeling ahead of the final this Saturday...
Update On Ducklings Who Suckle On Clara Cat
Two weeks ago we brought you the extraordinary story of the Offaly cat who had adopted – and was BREASTFEEDING – three little ducklings.
If you don't believe us, watch the video that has EVERYBODY talking!!
When we spoke to the animals' owner Ronan Lally last week, he was advised by BirdWatch Ireland's Niall Hatch to keep a keen eye on the ducklings. Niall was worried that the ducklings were growing at a fast pace and the cat may very well reject them, or worse still, turn against them and attack them. His advice was to think about separating them...
Well, it seems that Niall wasn't the only person fretting about the cat and ducklings... lots of you have texted and e-mailed us looking for a progress report, and a TV company even want to feature the cat and ducklings in a new BBC Science series, presented by Liz Bonnin!
So, what has happened in this unusual little family's life in the last week? Are they still together? Is it still happy families?
Ronan Lally joins Derek on the line from Clara, in Co. Offaly, with the latest...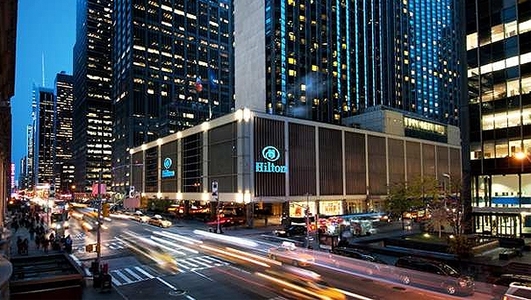 Room Service-Free Hotels
Would you be happy to accept a few changes in hotel service for a better price? If so, where would you draw the line? No room service, or no restaurant service, or an extra charge for towels?
Over the summer, the New York Hilton Midtown in downtown Manhattan – and at 1,980 rooms, it is the largest hotel in the city – will eliminate room service and offer guests takeaway meals at a cafeteria style eatery instead.
We have seen the low frills business approach soar in the airline industry, so is this about to set the trend for the hotel industry?
We have asked a few people in the know to come in today to tell us if we can expect to be paying extra for bed linen any time soon!
Paul Fitzpatrick is owner of the Beacon and Morgan Hotels in Dublin, and Michael Vaughan is President of the Irish Hotel Federation and owner of the Vaughan Lodge Hotel in Lahinch, County Clare...
Emigrant Stones
This is the year, as we know, of 'The Gathering'. And lots of people have flown in, and lots of 'Gatherings' have already taken place - and many more will happen before the end of 2013.
But, in the main, they are Gatherings of 'humans'!
Well we were amused, and bemused, when we got an e-mail into us telling us about 'The Gathering of Stones'!
And we learned that American stones would be flying in to take part – all the way from Ellis Island! So, intrigued, we sent Mooney reporter Katriona McFadden along to find out more...
The story starts with the DryStone Wall Association of Ireland. They are a group of stonemasons who like to build walls with no lime, no mortar, nothing holding the stones together – except each other. And they like to promote this craft and preserve existing dry stone walls.
They decided to take their favourite things, stones, and make a Gathering of the Stones event where 80 stonemasons will come together over a weekend in June in Lough Boora - between Birr and Tullamore - to show off their work, build beautiful stone installations. They want people to bring along a stone to be incorporated into these creations. There will be about 300 tonnes of stone used over the weekend, mostly all donated but they do need help with haulage so if there any hauliers out there who would like to help with a good cause please email us to mooney@rte.ie – and we'll pass it on.
So word got out and a Scottish-Canadian stonemason, Bobby Watt, heard about it and told them that ten years ago, he worked lifting the pavement stones from the docks near Battery Park in Ellis Island, New York - the very pavement stones that Irish emigrants would have walked over on their arrival to America all those years ago. And he offered them to the Dry Stone Wall Association, who said 'yes please!
Those stones arrived into Dublin this morning, and Katriona McFadden went along to find out more...
The crate containing the Emigrant Stones arrives into Dublin this morning
The Gathering of Stones takes place in Lough Boora Parklands in County Offaly from June 20th to 23rd. For more information, visit http://dswaireland.ning.com/page/the-gathering-of-stones.