Dawn Chorus 2018
This year's Dawn Chorus programme will take place on Sunday, May 6th 2018, and will be broadcast from across Europe and beyond between midnight and 7am! For more information, click here.
Follow Us On Social Media:
Facebook: www.facebook.com/rtenature
E-mail Us: mooney@rte.ie
Caring For Wild Animals
Please note that many species of mammals, birds, invertebrates etc... are protected under law and that, even with the best of intentions, only someone holding a relevant licence from the National Parks & Wildlife Service should attempt the care of these animals. For full details, please click here to read the NPWS Checklist of protected & rare species in Ireland. If you are concerned about a wild animal, please contact your local wildlife ranger - click here for details.
Events & Listings
Click here for a full list of events taking place around the country, and movies currently on release, which might be of interest to wildlife lovers!
Nature LIVE
On Sunday May 6th, 2018, RTÉ's Wild Island season goes international as Derek Mooney hosts one of the most ambitious LIVE natural history programmes ever undertaken. Broadcasting live from six countries across Europe, Nature LIVE will showcase some of the continents most extraordinary wildlife, from Polar Bears in the Norwegian Arctic to Flamingoes in southern Spain to Basking Sharks off the west of Ireland. This one-hour special will be anchored by RTÉ presenter Derek Mooney from the banks of Dublin's River Liffey, with wildlife film-maker Colin Stafford-Johnson on the Blasket Islands.
Viewers can take part by sharing their own pictures and videos of nature and wildlife using #naturelive from wherever they live in Europe.
JOIN US
We have a limited number of audience tickets for this live event. Apply for tickets by email to natureliveaudience@rte.ie
Location: Sir John Rogerson's Quay, Dublin
Date: Sunday 6th May 2018
Time: 16.30 - 18.00
*Gates close at 16.45!
Please note that this is an unseated event and outdoors so you will need to wear appropriate clothing for the Irish weather. We need the following information: The number of tickets you are applying for. Your name, surname, age contact phone number and address. The names, surnames and ages of your guests.
*Unfortunately we cannot accommodate for Children under 12yrs. All minors under 16 must be accompanied by an adult/guardian
Tickets are limited so first come first served!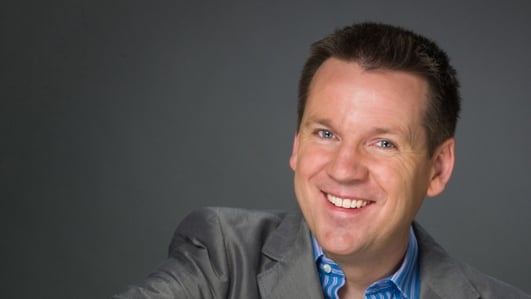 Mooney
Derek Mooney with his unique mix of conversation, information, advice and entertainment
On Mooney Goes Wild today...
Eric Dempsey tells Derek about the butchers of the bird world who catch their prey by impaling them on thorns. We hear about research carried out in Trinity College Dublin which reveals that the legs and wings of insects wear out over time. And Katriona McFadden goes to Westport to meet the people creating a landscape where you can literally eat all you can see!
Highlights Of The Dawn Chorus
Over the course of the first six hours of Sunday morning (May 5th), we were treated to the beautiful sound of Ireland's birds, from Cuskinny Marsh in Cobh to the National Botanic Gardens in Dublin. Here are just some of the highlights...
Our men in Cuskinny Marsh: Terry Flanagan, Jim Wilson & Derek Mooney!
Click here to see our guide to the Dawn Chorus.
New White Rhino At Dublin Zoo
There's a lovely picture on the front page of today's Irish Times of a male Southern White Rhinocerous calf which was born on April 26th in Dublin zoo. Ashanti is the mother and at this stage we don't know the name of the calf. Derek chats to Richard and Eanna about how the Southern White Rhinocerous was once in danger of extinction, but is actually doing rather well now...
Ashanti with her baby son
Shrikes And Unusual Ways Birds Trap And Kill Their Prey!
Eric Dempsey, from Birds of Ireland News Service, is in studio today to tell us about a very unique family of birds – the Shrike – and how they catch their prey, impale them on a bush and store them there for future dinners!
NestWatch 2013 Returns!
Our blue tit family have returned to Derek's garden! The female is currently building her nest in the nestbox, and will - we hope! - be moving in soon to lay her eggs. Click here to view the NestWatch webcam, and find out much more about the Blue Tit!
The Blue Tit nestbox in Derek's garden
The female Blue Tit inside the nestbox
Insects
They are the super heroes of the insect world, an evolutionary marvel with incredible powers. Insects like locusts, iron clad beetles and cockroaches are made of a wonder material which allows them to fly across oceans, survive in deserts, leap incredible heights and also to make sounds like these.
Crickets chirp not by rubbing their legs, but by rubbing their wings together at a rate of 62 chirps per minute on average!
Their wings are made of cuticle and it is this material which Dr Jan-Henning Dirks has been poring over to unearth the secrets of this powerful building block of nature...
Dr. Jan-Henning Dirks is group leader at the Max Planck Institute for Intelligent Systems in Stuttgart; he has published a research article in association with Eoin Parle and David Taylor from Trinity College, and he joins us on the line from Stuttgart today...
Locust
Locust
Locust
Coal Tits
Two regular listeners from Clondalkin, Jim and Pat Connell, decided to put a nest box and camera in their garden a number of years ago.
Sadly, the box remained empty - no takers for a comfortable new home – and disappointment all round in the Connell household. –
Until this year, that is, when a nesting pair decided to take up residence. And not just any old pair of birds – what they've got is a pair of Ireland's smallest tits, Coal Tits.
Jim and Pat invited Terry Flanagan out to share their excitement...
And a wildlife photographer in Derry recently watched as Coal tits appeared to try in vain to revive a dead bird.
Christine Cassidy was looking out the window of her home and saw a bird lying dead on her patio. The bird was then joined by two others, who tried to revive it...
Coal Tits
White-tailed Sea Eagles Breed
In the past few days, in two entirely different locations, the first white-tailed eagles chicks have hatched in Ireland for the first time in over one hundred years! Ronan Hannigan is Chairman of the Golden Eagle Trust, and joins Derek with more details of the new arrivals!
Click here for more details about the new chicks...
White Rhino Born At Dublin Zoo
Shrikes And Unusual Ways Birds Trap And Kill Their Prey!
NestWatch 2013 Begins!
Insects
Hedgerows: It is an offence to 'cut, grub, burn or otherwise destroy hedgerows on uncultivated land during the nesting season from 1 March to 31 August, subject to certain exceptions'. For more information, click here.
To contact your local wildlife ranger, click here for contact details. To read the Wildlife (Amendment) Act 2000, click here.
IMPORTANT NOTICE
Please DO NOT send any live, dead or skeletal remains of any creature whatsoever to Mooney Goes Wild.
If you find an injured animal or bird, please contact the National Parks & Wildlife Service on 1890 20 20 21, or BirdWatch Ireland, on 01 281-9878, or visit www.irishwildlifematters.ie