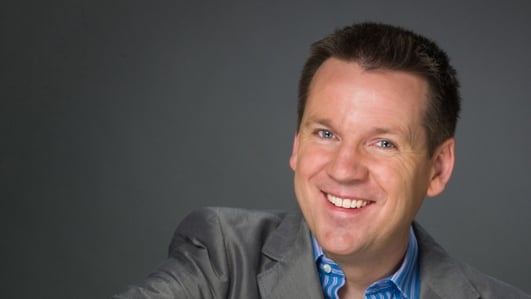 On Mooney Goes Wild today...
We examine the mystery of why so many striped dolphins are dying of the West Coast of Italy. And meanwhile, off the coast of Kerry, Ireland's most popular bottlenose dolphin, Fungie, celebrates 30 years as a resident of Dingle - Brenda Donohue reports!
Unusual Bird Nest Sites!
We will be launching Nestwatch 2013 very shortly, and many of you have contacted us to tell us about the strange places that you have found birds nesting! So we want to find out about the most unusual nest sites in the country! Please send in your photos by e-mail to mooney@rte.ie, and we'll put them up on the website! This is not a competition, and there aren't any prizes, but we will credit your photos!
MOONEY'S EUROVISION MELODIES
In advance of the 58th Eurovision Song Contest (May 14th – 18th, Malmö, Sweden), indulge your Eurovision fever with Derek and the RTÉ Concert Orchestra!
Mooney's Eurovision Melodies will take place in the Main Auditorium at the National Concert Hall on Thursday, May 9th at 8pm, and joining the RTÉ Concert Orchestra will be Eurovision legends Niamh Kavanagh, Paul Harrington and more...
A nostalgic celebration of the heady days of Ireland's past success in Eurovision and in anticipation of future glory (!), the programme will include What's Another Year?, In Your Eyes, Volare, Rock'n'Roll Kids ... and there may be a few surprises!
Prices range from €13.50 to €39.50, and there is a 10% discount for groups of 10 or more. To book, click here or call the NCH Box Office on 01 417-0000.
Secrets Of The Irish Landscape
Next month, a new three-part series examines the changing geology of the island of Ireland.
16,000 years ago, Ireland was a land covered in ice, uninhabitable to both humans and animals. So how did Ireland go from being a frozen country to the green and pleasant land of today? In this new series, Derek Mooney pieces together the clues to uncover the Secrets Of The Irish Landscape...
Click here to view the series trailer: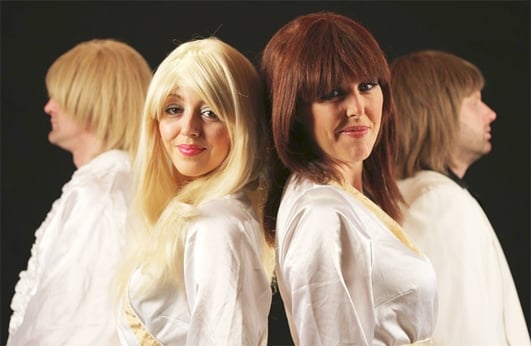 Abbaesque House Party Launch
We've had many memorable House Parties on Mooney.
The best and most popular performers in the business including Tommy Fleming, Brian Kennedy, The Fureys, opera singer Niamh Murray, the witty Corrigan Brothers and Daniel O'Donnell have all visited the homes of various Mooney listeners to sing and joke, and generally provide them with a very special evening of entertainment!
Brenda Donohue has news of our next House Party - it's one of Ireland's best tribute acts, Abbaesque!
Abbaesque
The date of the house party is next Wednesday, May 1st, so if you would like Abbaesque to come to your home, office, shed etc... and perform for your family, friends and neighbours, then get in contact with us!
E-mail us now and tell us why you want them, who you'll have there and make sure you put a contact number on the e-mail!!
Abbaesque
As it's on next week we need your entries in asap!
The closing date for entries is TODAY at 6pm! E-mail mooney@rte.ie.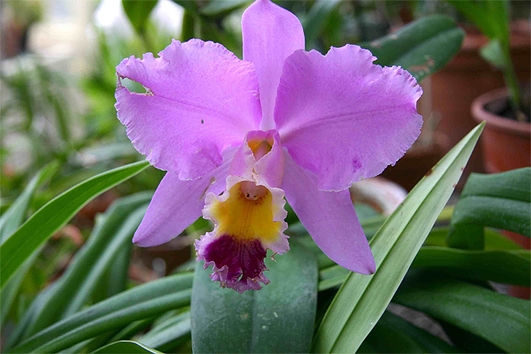 Orchid Fair At The National Botanic Gardens
This weekend, an Orchard Fair will take place in the National Botanic Gardens, in Glasnevin, in Dublin. Entrance to the fair is free and various experts will be on hand to help the public develop an interest in orchids and answer questions.
Did you know that there are thirty species of orchids growing wild in Ireland? Mooney Goes Wild reporter Terry Flanagan went along to the Botanic Gardens and spoke to Brendan Sayers, an orchid expert and co-author of Ireland's Wild Orchids: A Field Guide, to find out about the different orchids that grow here, where and why they grow, and much more!
The Orchid Fair takes place tomorrow (Saturday) and Sunday, April 27th and 28th, from 10am - 5pm, and entrance is FREE! For more information, visit www.botanicgardens.ie.
Brendan Sayers at the National Botanic Gardens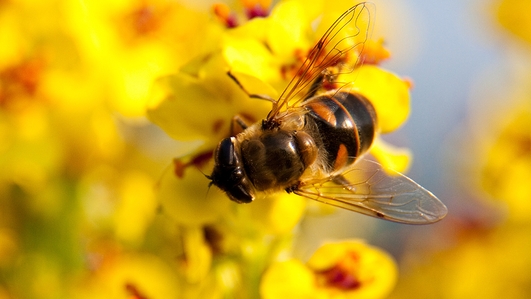 Neonicotinoids Linked To Dwindling Bee Populations In Europe
A couple of years ago, veteran U.S. journalist Dan Rather made a documentary in which he investigated whether chemicals called 'Neonicotinoids' were contributing to bee deaths, not just in America, but worldwide.
Neonicotinoids are pesticides and they're in the news at the minute because last month the European Commission proposed a temporary ban on their use. The voting countries didn't reach a 'qualified majority' so it goes to ballot again on Monday.
Last month Ireland voted AGAINST the ban. Agriculture Minister Simon Coveney said he had 'technical concerns' about some of the proposed restrictions. We don't know if he will change his mind by Monday or not, but today we learn more about these 'neonicotinoids', in the company of our own Philip McCabe, who is President of the European Commission for Apimondia…
Thirty Years Of Fungie The Dolphin!
Thirty years ago, an aquatic visitor to these shores decided to make Dingle his home. Dingle harbour, to be precise! Since then he has been an object of much fascination and speculation. Where did he spring from? And what keeps him in these waters are perpetual questions. The visitor is, of course, Fungie the Dolphin!
Fungie the dolphin; photo by Nick Massett
The late lighthouse-man Paddy Ferritter first spotted Fungie in 1983, and over the years he has become many things to many people.
While he has become both a tourist attraction and an internationally known brand name, there are those who say that he is a source of great healing and spiritual consolation.
Fungie the dolphin; photo by Nick Massett
Well, this weekend to celebrate 30 years of Fungie and as Dingle's contribution to The Gathering, they are having a Fungie Festival.
There are lots of events planned from films, exhibitions, music, sailings and discussions celebrating Ireland's favourite dolphin, and today, Mooney reporter Brenda Donohue is at Oceanworld in Dingle.
Fungie the dolphin; photo by Nick Massett
She talks to locals including Ann, who has a fish stand on Strand Street in Dingle, and reports back from taking a boat trip out to see Fungie yesterday. And she also talks to Kevin Flannery, Director of Dingle Oceanworld Aquarium (http://dingle-oceanworld.ie).
For more information about the Fungie Festival in Dingle, visit http://fungiedolphin.com/full-weekend-programme-to-fungie-festival-2013/.
And if you are curious about the photo of Derek that Brenda and Kevin spoke about, then here it is!
App Article: Crying Wolf, by Richard Collins
Birds and politicians need to get their messages out while, at the same time, covering their tracks. Openness and transparency are commendable but they have a downside. A bird seeing a cat, for example, wants to warn the neighbours. If it calls out, however, it will draw attention to itself, not a good idea with an enemy on the prowl. Keeping quiet seems the wiser option. Besides, if the cat takes some other bird, a territory may be up for grabs and competition for food or mates will be reduced. 'Who'll get his job now', the deceased's work colleagues whisper at the funeral? Self interest, it seems, dictates that birds 'sing dumb' when danger threatens. But they don't. Why?
To find out more, download the Mooney app, for iPhone and Android phones, to read the rest of Richard's article, and much more!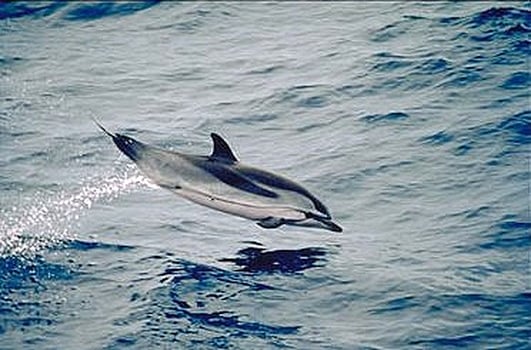 Dolphins Dying Off Italian Coast
Later on, we will be celebrating Ireland's best-known dolphin, the legendary Fungi, who lives down around Dingle. He's been there 30 years, and is absolutely thriving.
However, a story emerged recently which is a little sad. Another species of dolphin, the striped dolphin, seems to be suffering in Mediterranean waters.
Since the beginning of this year, over 100 dolphins carcasses have washed up on the beaches of western Italy in what is suspected to be an outbreak of "dolphin measles".
Nicola Hodgins is the International Projects Manager with Whale and Dolphin Conservation, in the UK, and she joins us on the phone today...
Hedgerows
It is an offence to 'cut, grub, burn or otherwise destroy hedgerows on uncultivated land during the nesting season from 1 March to 31 August, subject to certain exceptions'. For more information, click here.
To contact your local wildlife ranger, click here for contact details. To read the Wildlife (Amendment) Act 2000, click here.
Caring For Wild Animals
Please note that many species of mammals, birds, invertebrates etc... are protected under law and that, even with the best of intentions, only someone holding a relevant licence from the National Parks & Wildlife Service should attempt the care of these animals. For full details, please click here to read the NPWS Checklist of protected & rare species in Ireland. If you are concerned about a wild animal, please contact your local wildlife ranger - click here for details.
IMPORTANT NOTICE
Please DO NOT send any live, dead or skeletal remains of any creature whatsoever to Mooney Goes Wild. If you find an injured animal or bird, please contact the National Parks & Wildlife Service on 1890 20 20 21, or BirdWatch Ireland, on 01 281-9878, or visit www.irishwildlifematters.ie All The Small Things
Jedward
2:49 Pride In The Name Of Love
U2
3:41