Thursday, April 18th 2013
On Mooney today...
Margaret Thatcher's former driver, Denis Oliver, shares his memories of the Iron Lady. We've music from the winner of the 2012 Dublin International Piano Competition, Nikolay Khozyainov. And Katriona McFadden talks Derek through some of the entries sent in as we try to find Ireland's Dirtiest Pillow!
MOONEY'S EUROVISION MELODIES
In advance of the 58th Eurovision Song Contest (May 14th – 18th, Malmö, Sweden), indulge your Eurovision fever with Derek and the RTÉ Concert Orchestra!
Mooney's Eurovision Melodies will take place in the Main Auditorium at the National Concert Hall on Thursday, May 9th at 8pm, and joining the RTÉ Concert Orchestra will be Eurovision legends Niamh Kavanagh, Paul Harrington and more...
A nostalgic celebration of the heady days of Ireland's past success in Eurovision and in anticipation of future glory, the programme will include What's Another Year?, In Your Eyes, Volare, Rock'n'Roll Kids ... and there may be a few surprises!
Prices range from €13.50 to €39.50, and there is a 10% discount for groups of 10 or more. To book, click here or call the NCH Box Office on 01 417-0000.
Secrets Of The Irish Landscape
Next month, a new three-part series examines the changing geology of the island of Ireland.
16,000 years ago, Ireland was a land covered in ice, uninhabitable to both humans and animals. So how did Ireland go from being a frozen country to the green and pleasant land of today? In this new series, Derek Mooney pieces together the clues to uncover the Secrets Of The Irish Landscape...
Click here to view the series trailer:
http://www.youtube.com/watch?feature=player_embedded&v=wzPRjy_bAwU
Ireland's Dirtiest Pillows
Yesterday on the show we launched our challenge to find "Ireland's Dirtiest Pillow".
We had David Woolfson, founder of Irish company SleepAngel Pillows here in studio along with Bruce Mitchell, Clinical Immunologist and Allergist, and Head of the Airmid Healthgroup, who tested the Sleepangel pillow and found it to be a 100% barrier against viruses, mould, microbes, allergens and bacteria.
And we asked YOU to send us in your pictures of your dirty pillows.
Which you have been doing, in your droves!! Katriona has been going through the pillow pics and here are some of her favourites!
Anne from Sligo sent us an image of this fine specimen!
Daniel from Dun Laoghaire told us that the brownish stain is old blood!
And Elizabeth O'Reilly reckons her pillow is about 34 years old - but she loves it!
2012 Dublin Piano Competition winner
In May of last year, nearly one year ago, a young piano player called Nikolay Khozaniov took to the stage of the National Concert Hall in Dublin. He was about to play one of the most daunting pieces of music in the classical repertoire, the infamous Concerto number three, by Rachmaninov.
Nikolay was one of the contestants in the 2012 Dublin International Piano Competition. And his performance stunned not just the audience, but the competitions judges as well.
Aged only 19, he walked off the stage having secured first place in this incredibly prestigious competition. Since then, he has simply gone from strength to strength: touring the world, displaying his talent in some of the most legendary venues on the classical music circuit.
Nikolay is now back in Dublin. And this weekend, on Saturday night, he will give his solo debut performance in the venue where he triumphed last year. The National Concert Hall.
He has a busy schedule, so we are delighted he has dropped into us today for a chat, and to play Chopin's Berceuse Opus 57 ('Berceuse' literally means "cradle song").
The solo début recital of Nikolay Khozyainov is taking place in association with Friends of the National Concert Hall on Saturday, April 20th at 8pm in the National Concert Hall, Dublin 2. This will be a great opportunity to see a young pianist at the start of his career, as he embarks on what promises to be a glittering career!
- National Concert Hall, Main Auditorium
- Saturday 20th April, 2013
- Time: 8pm | Prices €40, €30 and €10.
Tickets can be purchased at the National Concert Hall Box Office by telephoning 01 417-0000 or online at www.nch.ie. For further information please see www.dipc.ie.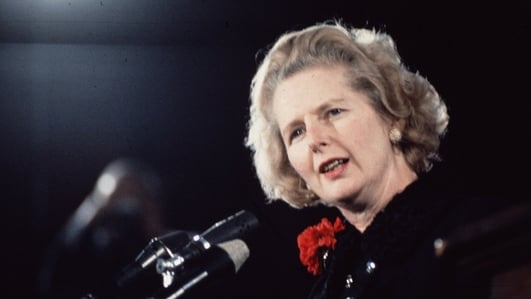 Driving Mrs. Thatcher
Over the past week the airwaves have been full of tributes and brickbats for the woman whose legacy is described as being divisive.
But there was a private side to Margaret Thatcher as well that few had access to - and her adored husband was only one of two Denises in her life. The other was Denis Oliver - the man who was her official driver for 14 years.
The relationship of trusted chaffeurs with their bosses is unique – and the state car, a place the boss can let their guard down. No doubt Denis Oliver heard many unguarded comments while driving Mrs Thatcher! He joins Derek on the show today from the BBC studios in London.
Hedgerows
It is an offence to 'cut, grub, burn or otherwise destroy hedgerows on uncultivated land during the nesting season from 1 March to 31 August, subject to certain exceptions'. For more information, click here.
To contact your local wildlife ranger, click here for contact details. To read the Wildlife (Amendment) Act 2000, click here.
Caring For Wild Animals
Please note that many species of mammals, birds, invertebrates etc... are protected under law and that, even with the best of intentions, only someone holding a relevant licence from the National Parks & Wildlife Service should attempt the care of these animals. For full details, please click here to read the NPWS Checklist of protected & rare species in Ireland. If you are concerned about a wild animal, please contact your local wildlife ranger - click here for details.
IMPORTANT NOTICE
Please DO NOT send any live, dead or skeletal remains of any creature whatsoever to Mooney Goes Wild. If you find an injured animal or bird, please contact the National Parks & Wildlife Service on 1890 20 20 21, or BirdWatch Ireland, on 01 281-9878, or visit www.irishwildlifematters.ie