This year's Dawn Chorus programme took place on Sunday, May 6th 2018, and was a roaring success! All India Radio producer Monika Gulati sent us a pic of herself sporting our Dawn Chorus beanie!!
May Events
Well whilst our Dawn Chorus programme may have finished for another year, throughout May, events are still taking place around the country to celebrate the beautiful birdsong that our feathered friends provide. For more information on these events, and on the annual Burren In Bloom festival that takes place from May 18th - 20th, visit our events listings page! And if you have an event you'd like to let our listeners know about, e-mail mooney@rte.ie.
Follow Us On Social Media:
Facebook: www.facebook.com/rtenature
E-mail Us: mooney@rte.ie
Caring For Wild Animals
Please note that many species of mammals, birds, invertebrates etc... are protected under law and that, even with the best of intentions, only someone holding a relevant licence from the National Parks & Wildlife Service should attempt the care of these animals. For full details, please click here to read the NPWS Checklist of protected & rare species in Ireland. If you are concerned about a wild animal, please contact your local wildlife ranger - click here for details.
On Mooney Goes Wild today...
We are broadcasting from Cork, and we will be celebrating 30 years of Fota Wildlife Park. We'll be examining a mystery that's puzzling ornithologists all over these islands: where do housemartins roost outside the breeding season? We learn all about a new RTÉ Radio drama called Little Black Bees. And we launch the Iarnród Éireann/ Mooney free group rail initiative called 'The Journey's On Us!'
MOONEY'S EUROVISION MELODIES
In advance of the 58th Eurovision Song Contest (May 14th – 18th, Malmö, Sweden), indulge your Eurovision fever with Derek and the RTÉ Concert Orchestra!
Mooney's Eurovision Melodies will take place in the Main Auditorium at the National Concert Hall on Thursday, May 9th at 8pm, and joining the RTÉ Concert Orchestra will be Eurovision legends Niamh Kavanagh, Paul Harrington and more...
A nostalgic celebration of the heady days of Ireland's past success in Eurovision and in anticipation of future glory (!), the programme will include What's Another Year?, In Your Eyes, Volare, Rock'n'Roll Kids ... and there may be a few surprises!
Prices range from €13.50 to €39.50, and there is a 10% discount for groups of 10 or more. To book, click here or call the NCH Box Office on 01 417-0000.
30 Years Of FOTA Wildlife Park
The cheetah is a phenomenal animal indeed. She is not majestic like the lion, nor ferocious like the leopard, but she is shy, elegant, graceful – and fast!
A cheetah and her cub
To see a cheetah in the flesh you DON'T have to travel to Sub-Saharan Africa. They are right here in County Cork in the Fota Wildlife Park – which is celebrating thirty years this year.
Sean McKeown is the Director of Fota, and joins Derek in our Cork studios to chat cheetahs, warty pigs, tapirs and other animals!! For more information about Fota Wildlife Park, visit www.fotawildlife.ie, click here to like them on Facebook, or to follow them on Twitter, use the handle @fotawildlife.
Visayan Warty Pigs
Brazilian tapirs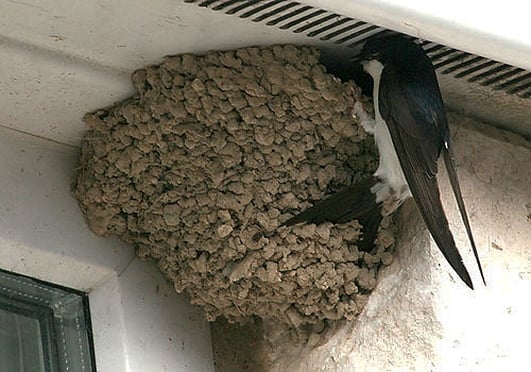 App Article: The House Martin, by Eanna Ni Lamhna
I have a deep suspicion that the House Martin is an under recognised bird in Ireland. Like the swallow, it will be making an appearance back in Ireland this month when the cold easterly winds abate. Like the swallow it returns to the nest site where it was born to make a new nest and rear its family. Like the swallow too, it scours the sky for insects which it catches on the wing. But it is not a swallow and there are some very distinct points about it that make this very obvious to the observer who knows what to look out for.
To find out more, download the Mooney app, for iPhone and Android phones, to read the rest of Eanna's article, and much more!
In her app, Eanna poses the question: Where do housemartins roost outside breeding season?
Well to help answer that, we're joined by Graham Appleton, from the BTO, the British Trust for Ornithology. The BTO are currently working on various projects to solve the many mysteries surrounding housemartins.
To learn more about the work of the BTO, visit http://www.bto.org/, and the other website that Graham mentioned was BirdTrack - http://blx1.bto.org/birdtrack/main/data-home.jsp.

Radio Drama: Wee Black Bees
RTÉ Radio Drama has been running for over 60 years. It's one of the oldest radio drama departments in the world. And it continues every Sunday night at 8pm on RTÉ Radio 1, and online at www.rte.ie/drama/radio, with new plays by Irish writers. During this month, RTÉ Radio Drama is broadcasting a series of radio plays that will be of particular interest to Mooney Goes Wild listeners!
Each of the plays is inspired by a different science or nature subject. And this weekend's play, which you can hear this Sunday, April 14th, at 8pm, is called Wee Black Bees, written by Little John Nee.
Kevin Brew is producer of this series of radio plays, and he's in the Dublin studio to explain more about the strand...
Mooney and Irish Rail say "The Journey's On Us!"
Last year, Mooney teamed up with Irish Rail for their free group travel initiative called "The Journey's On Us", in which Iarnród Éireann provided 100 groups with free return rail, for up to 50 people per group.
It was a brilliant initiative, and provided a fantastic day out for community, voluntary and charity groups.
Today, Derek and Brenda were in Cork railway station, where they launched the 2013 "The Journey's On Us" travel initiative, along with our man in Cork, Jim Wilson, pupils from 2nd class of Scoil Iósaef Naofa in Cobh, Cork, and their teachers Kate O'Donovan, Megan Foley and Jacinta Keavney-McMahon!
Derek with the pupils from 2nd class of Scoil Iósaef Naofa in Cobh
Again, Iarnród Éireann will provide up to 100 groups with a free group travel return journey for up to 50 people per group during 2013, meaning 5,000 free journeys are on offer across any of the company's services. The travel facilities will be ideal in particular for organisations bringing a group to a special event, or as part of a specific support to the members of the group which requires travel.
Today, we hear from a couple of the groups who received free rail travel last year - the Dungarvan's Men's Shed group, and Sensational Kids - to find out what opportunities the free travel gave them.
So are you involved in a group such as a sports club, charity, such as local community groups, voluntary body or charity - or do you know someone who is? Would free group travel help your organisation achieve its goal?
If you would like to apply, then just complete the application form available from all Iarnród Éireann stations, online at www.irishrail.ie/journeys or by clicking here. Entry forms can be filled out online, e-mailed to journeys@irishrail.ie or by post to Corporate Communications, Iarnród Éireann, Connolly Station, Dublin 1. The closing date for receipt of entries is Friday, May 3rd, at 17.00hrs.
Brenda with the pupils from 2nd class of Scoil Iósaef Naofa in Cobh
Brenda with Rita Butterly (Corporate Communications with Iarnród Éireann) and Ray Foley, Station Master in Cork
Jim Wilson and Brenda Donohue
Brenda with Ray, Trisha, Denise and Christine - Iarnród Éireann staff at Kent Station in Cork
Brenda with Rita Butterly (Corporate Communications with Iarnród Éireann) and Ray Foley, Station Master in Cork
Brenda with the pupils from 2nd class of Scoil Iósaef Naofa in Cobh
Hedgerows: It is an offence to 'cut, grub, burn or otherwise destroy hedgerows on uncultivated land during the nesting season from 1 March to 31 August, subject to certain exceptions'. For more information, click here.
To contact your local wildlife ranger, click here for contact details. To read the Wildlife (Amendment) Act 2000, click here.
IMPORTANT NOTICE
Please DO NOT send any live, dead or skeletal remains of any creature whatsoever to Mooney Goes Wild.
If you find an injured animal or bird, please contact the National Parks & Wildlife Service on 1890 20 20 21, or BirdWatch Ireland, on 01 281-9878, or visit www.irishwildlifematters.ie