Dawn Chorus 2018
This year's Dawn Chorus programme will take place on Sunday, May 6th 2018, and will be broadcast from across Europe and beyond between midnight and 7am! For more information, click here.
Follow Us On Social Media:
Facebook: www.facebook.com/rtenature
E-mail Us: mooney@rte.ie
Caring For Wild Animals
Please note that many species of mammals, birds, invertebrates etc... are protected under law and that, even with the best of intentions, only someone holding a relevant licence from the National Parks & Wildlife Service should attempt the care of these animals. For full details, please click here to read the NPWS Checklist of protected & rare species in Ireland. If you are concerned about a wild animal, please contact your local wildlife ranger - click here for details.
Events & Listings
Click here for a full list of events taking place around the country, and movies currently on release, which might be of interest to wildlife lovers!
Nature LIVE
On Sunday May 6th, 2018, RTÉ's Wild Island season goes international as Derek Mooney hosts one of the most ambitious LIVE natural history programmes ever undertaken. Broadcasting live from six countries across Europe, Nature LIVE will showcase some of the continents most extraordinary wildlife, from Polar Bears in the Norwegian Arctic to Flamingoes in southern Spain to Basking Sharks off the west of Ireland. This one-hour special will be anchored by RTÉ presenter Derek Mooney from the banks of Dublin's River Liffey, with wildlife film-maker Colin Stafford-Johnson on the Blasket Islands.
Viewers can take part by sharing their own pictures and videos of nature and wildlife using #naturelive from wherever they live in Europe.
JOIN US
We have a limited number of audience tickets for this live event. Apply for tickets by email to natureliveaudience@rte.ie
Location: Sir John Rogerson's Quay, Dublin
Date: Sunday 6th May 2018
Time: 16.30 - 18.00
*Gates close at 16.45!
Please note that this is an unseated event and outdoors so you will need to wear appropriate clothing for the Irish weather. We need the following information: The number of tickets you are applying for. Your name, surname, age contact phone number and address. The names, surnames and ages of your guests.
*Unfortunately we cannot accommodate for Children under 12yrs. All minors under 16 must be accompanied by an adult/guardian
Tickets are limited so first come first served!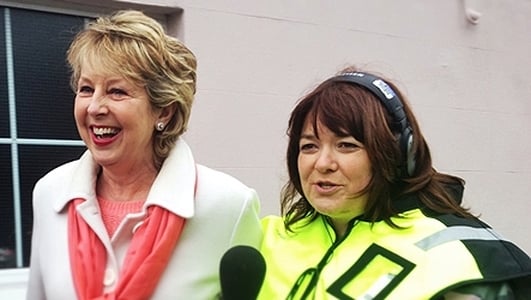 Helen's Harley Dream
Yesterday, as we all know, was Mother's Day... and we hope all Mums got lots of flowers, chocolate, books, lunches etc honouring all that is good and great with our mothers!
However, Brenda surprised a mum, Helen Hemp from Monkstown, and she had a most unusual but exciting Mothers Day.
She met up with Michael Sheridan, Tony Toner and the Dublin Harley Davidson club - 15 bikers with their Harleys - and they all congregated in Monkstown to surprise Helen...
Mooney listener Helen Hemp is from Monkstown in Dublin. Helen, a mother of 3, recently turned 60, and as a surprise for her birthday and for Mother's Day, her daughter Jess contacted us to see if we could help Helen fulfill a life-long dream. She had always wanted to ride in a convey of Harley Davidson bikes, so with the help of Michael Sheridan (Motoring Correspondent with www.rte.ie), and Tony Toner (Training Director with The Institute of Advanced Motorists of Ireland Limited), Brenda went to Monkstown to help make Helen's dream come true...
Brenda and Jess surprise Helen
Jess, Helen and Brenda
Brenda, Helen and the Bikers
Helen fulfills her dream...
And off they ride into the sunset!
The videos were taken by Helen's daughter Jacqui, and her son Dave was around the corner hiding out with the rest of the family, including her two little nieces Layla-Rose and Willow-Belle!
Helen's daughter Jess tells us that other family there on the day included her Dad Tom, my sister-in-law Lisa, my auntie Susan, cousin Lynda and Godmother Carey! They all kept the secret from mum which added to the surprise!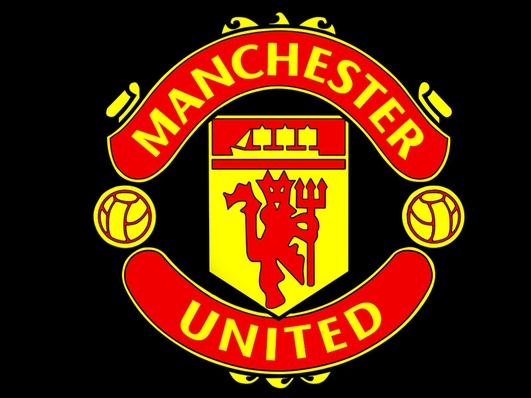 The Global Appeal Of Manchester United
Busby Babes they always made me cry
Thinkin' 'bout the teams of years gone by
Charlton, Edwards, Law and Georgie Best
We're United - you can keep the rest.
Come On You Reds - The Manchester United Football Squad & Status Quo (1994)
It's long been accepted that the 1958 Munich air disaster - even though it nearly caused the club to fold - actually spurred a substantial increase in support for Manchester United.
People across the UK and Ireland, across Europe, even people without any particular interest in soccer, felt some kind of bond with the club. And over the last half-century, that bond seems to have gone from strength to strength.
Recently, Manchester United claimed that any their matches could be of interest to one in ten of the world's population. The club commissioned a report into the extent of their support, worldwide. And guess what figure they came up with?
659 million supporters! That's over twice the population of the United States, and nearly 150 times the population of the Irish Republic!
Marty is joined on the phone now by Richard Brinkman, from a company called Kantar (the organisation that conducted the research for Manchester United), to explain how exactly they came up with this figure...
Hedgerows: It is an offence to 'cut, grub, burn or otherwise destroy hedgerows on uncultivated land during the nesting season from 1 March to 31 August, subject to certain exceptions'. For more information, click here.
To contact your local wildlife ranger, click here for contact details. To read the Wildlife (Amendment) Act 2000, click here.
IMPORTANT NOTICE
Please DO NOT send any live, dead or skeletal remains of any creature whatsoever to Mooney Goes Wild.
If you find an injured animal or bird, please contact the National Parks & Wildlife Service on 1890 20 20 21, or BirdWatch Ireland, on 01 281-9878, or visit www.irishwildlifematters.ie