Dawn Chorus 2018
This year's Dawn Chorus programme will take place on Sunday, May 6th 2018, and will be broadcast from across Europe and beyond between midnight and 7am! For more information, click here.
Follow Us On Social Media:
Facebook: www.facebook.com/rtenature
E-mail Us: mooney@rte.ie
Caring For Wild Animals
Please note that many species of mammals, birds, invertebrates etc... are protected under law and that, even with the best of intentions, only someone holding a relevant licence from the National Parks & Wildlife Service should attempt the care of these animals. For full details, please click here to read the NPWS Checklist of protected & rare species in Ireland. If you are concerned about a wild animal, please contact your local wildlife ranger - click here for details.
Events & Listings
Click here for a full list of events taking place around the country, and movies currently on release, which might be of interest to wildlife lovers!
Nature LIVE
On Sunday May 6th, 2018, RTÉ's Wild Island season goes international as Derek Mooney hosts one of the most ambitious LIVE natural history programmes ever undertaken. Broadcasting live from six countries across Europe, Nature LIVE will showcase some of the continents most extraordinary wildlife, from Polar Bears in the Norwegian Arctic to Flamingoes in southern Spain to Basking Sharks off the west of Ireland. This one-hour special will be anchored by RTÉ presenter Derek Mooney from the banks of Dublin's River Liffey, with wildlife film-maker Colin Stafford-Johnson on the Blasket Islands.
Viewers can take part by sharing their own pictures and videos of nature and wildlife using #naturelive from wherever they live in Europe.
JOIN US
We have a limited number of audience tickets for this live event. Apply for tickets by email to natureliveaudience@rte.ie
Location: Sir John Rogerson's Quay, Dublin
Date: Sunday 6th May 2018
Time: 16.30 - 18.00
*Gates close at 16.45!
Please note that this is an unseated event and outdoors so you will need to wear appropriate clothing for the Irish weather. We need the following information: The number of tickets you are applying for. Your name, surname, age contact phone number and address. The names, surnames and ages of your guests.
*Unfortunately we cannot accommodate for Children under 12yrs. All minors under 16 must be accompanied by an adult/guardian
Tickets are limited so first come first served!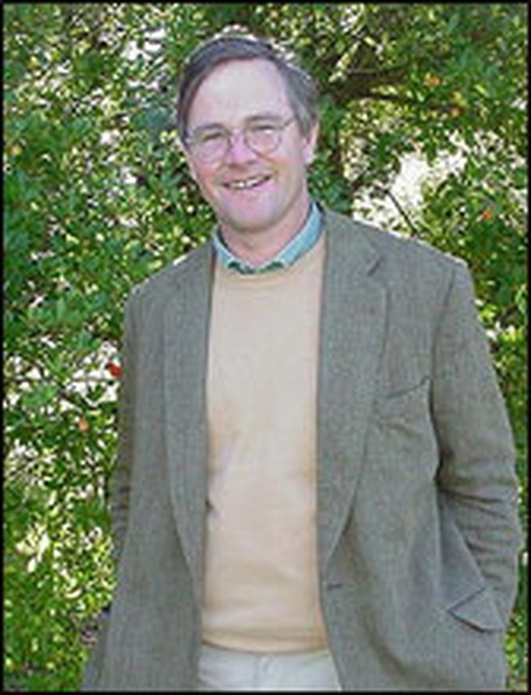 The Health Benefits Of Trees & Other Plants
Tom and Barbara Good from TV's popular sitcom The Good Life raised chickens and goats in their back garden, they grew fruit and vegetables in their allotment and they generated their own electricity and made their own clothes. But I'm not sure if their self sufficient lifestyle stretched to eating trees?
But apparently the health benefits of trees include chewing willow bark to suppress pain, and the alder tree has been used for bruises coughs and sore throats...
Matthew Jebb is director of the National Botanic Gardens of Ireland in Glasnevin, and he joins Derek, Richard and Eanna to tell us about a new study from North America which provides some evidence that living on a street with trees can help you live longer!
For more information about the National Botanic Gardens, visit www.botanicgardens.ie.
The Tree Council of Ireland's National Tree Week starts this Sunday, and the theme is 'A Feast Of Trees' - for more details of events around the country to celebrate this, visit www.treecouncil.ie/treeweek/treeweek2013.
Keywords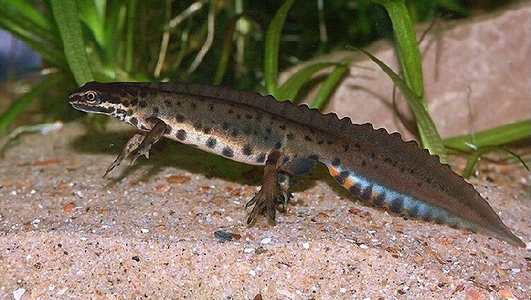 2013 National Newt Survey Needs Your Help!
They were described by Dick Warner as "little dinosaurs left over from the Jurassic". They are one of only three species of amphibian, native to Ireland. And they are also amongst the most elusive creatures we have on this island.
What are they?
Newts! Or, more specifically, the smooth Newt. They are extremely elusive, and we know very little about how they are distributed throughout the country.
A female newt
Recently, the Irish Wildlife Trust announced that they will be doing a nationwide survey of the smooth Newt. And the organisation wants your help! Sean Meehan is co-ordinator for the National Newt Survey for the Irish Wildlife Trust and is in studio to tell us more…
A smooth newt
To register as a surveyor in one of the targeted counties or for more information contact Seán Meehan at newts@iwt.ie or on 087 920-7583 or visit http://iwt.ie/2013/02/2013-national-newt-survey-needs-your-help/.
The training will be taking place on:
Kerry - Saturday, March 9th – Tralee Bay Wetlands Centre, 10am
Tipperary - Sunday, March 10th – Cabragh Wetlands, Thurles, 10am
Offaly - Sunday March 24th – Clara Bog Nature Reserve, 11am
Meath – Saturday, April 6th – Sonairte, The National Ecology Centre, Laytown, 11am.
Keywords
Hedgerows: It is an offence to 'cut, grub, burn or otherwise destroy hedgerows on uncultivated land during the nesting season from 1 March to 31 August, subject to certain exceptions'. For more information, click here.
To contact your local wildlife ranger, click here for contact details. To read the Wildlife (Amendment) Act 2000, click here.
IMPORTANT NOTICE
Please DO NOT send any live, dead or skeletal remains of any creature whatsoever to Mooney Goes Wild.
If you find an injured animal or bird, please contact the National Parks & Wildlife Service on 1890 20 20 21, or BirdWatch Ireland, on 01 281-9878, or visit www.irishwildlifematters.ie