Wednesday, January 30th 2013
Dawn Chorus 2018
This year's Dawn Chorus programme will take place on Sunday, May 6th 2018, and will be broadcast from across Europe and beyond between midnight and 7am! For more information, click here.
Follow Us On Social Media:
Facebook: www.facebook.com/rtenature
E-mail Us: mooney@rte.ie
Caring For Wild Animals
Please note that many species of mammals, birds, invertebrates etc... are protected under law and that, even with the best of intentions, only someone holding a relevant licence from the National Parks & Wildlife Service should attempt the care of these animals. For full details, please click here to read the NPWS Checklist of protected & rare species in Ireland. If you are concerned about a wild animal, please contact your local wildlife ranger - click here for details.
Events & Listings
Click here for a full list of events taking place around the country, and movies currently on release, which might be of interest to wildlife lovers!
Nature LIVE
On Sunday May 6th, 2018, RTÉ's Wild Island season goes international as Derek Mooney hosts one of the most ambitious LIVE natural history programmes ever undertaken. Broadcasting live from six countries across Europe, Nature LIVE will showcase some of the continents most extraordinary wildlife, from Polar Bears in the Norwegian Arctic to Flamingoes in southern Spain to Basking Sharks off the west of Ireland. This one-hour special will be anchored by RTÉ presenter Derek Mooney from the banks of Dublin's River Liffey, with wildlife film-maker Colin Stafford-Johnson on the Blasket Islands.
Viewers can take part by sharing their own pictures and videos of nature and wildlife using #naturelive from wherever they live in Europe.
JOIN US
We have a limited number of audience tickets for this live event. Apply for tickets by email to natureliveaudience@rte.ie
Location: Sir John Rogerson's Quay, Dublin
Date: Sunday 6th May 2018
Time: 16.30 - 18.00
*Gates close at 16.45!
Please note that this is an unseated event and outdoors so you will need to wear appropriate clothing for the Irish weather. We need the following information: The number of tickets you are applying for. Your name, surname, age contact phone number and address. The names, surnames and ages of your guests.
*Unfortunately we cannot accommodate for Children under 12yrs. All minors under 16 must be accompanied by an adult/guardian
Tickets are limited so first come first served!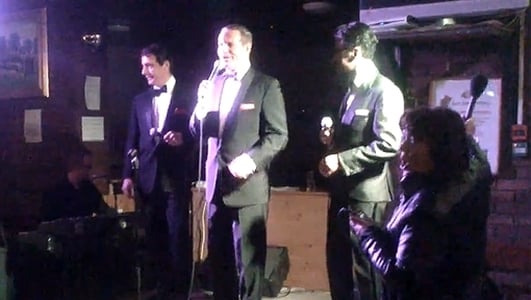 The Rat Pack In Finglas!
Last Monday night, you could have mistaken Erin's Isle GAA club in Finglas for Ceaser's Palace in Las Vegas, when The Rat Pact turned up and entertained one and all there!
Frank, Sammy and Dean - The Rat Pack Live from Las Vegas are currently performing in the Gaiety Theatre in Dublin, but they hot-footed to Finglas to sing for the volunteers and older members of the Monday Musicial and Bingo Evening.
It may not have been black tie but our Brenda got out the glam rags for night... The Rat Pack are Stephen Triffitt (Frank Sinatra), Mark Adams (Dean?Martin) & George?Long (Sammy?Davis Jr).
You can catch the Rat Pack in Dublin's Gaiety Theatre until this Saturday, February 3rd. For more information, click here.
Click here to see a video of the Rat Pack performing in Finglas!
Keywords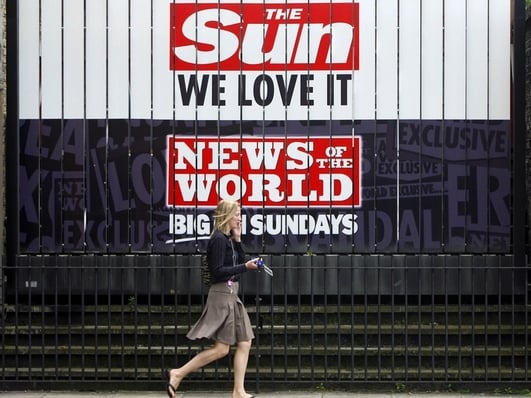 News In Briefs
Well, you don't have to be a regular reader to know that there is a tabloid newspaper called The Sun. And every day, Page 3 of this paper centres around a picture of what we in the business call a "glamour model".
Now, people have mixed feelings about the whole "Page 3" phenomenon. And that's understandable. But what can't be denied is that "Page 3" is a real institution at this stage.
However, many people in their unseemly haste to bypass Page 3 miss out on the news titbits provided on a daily basis by these very attractive young ladies. If you didn't know, there is a little dialogue box accompanying the picture of the Page 3 model everyday. And that little box is entitled "News in Briefs". For example, yesterday's offering was from 22-year-old redhead Lucy: "Page 3 Idol 2012 winner, Lucy, was thrilled by the launch of this year's contest. She said "girls might think it's a long shot, but you never know unless you try. As political theorist, Thomas Paine, said "the harder the conflict, the more glorious triumph".
So there you go. For those of you who might dismiss these girls, it's nice to learn they are so familiar with the works of a man like Thomas Paine, that well-known 18th-century political activist, author, and one of the inspirations behind the American Revolution.We set producer Olan McGowan the torturous task of unearthing more pearls of wisdom from these pulchritudinous poppets - he joins Derek in studio with more examples of News In Briefs!
Keywords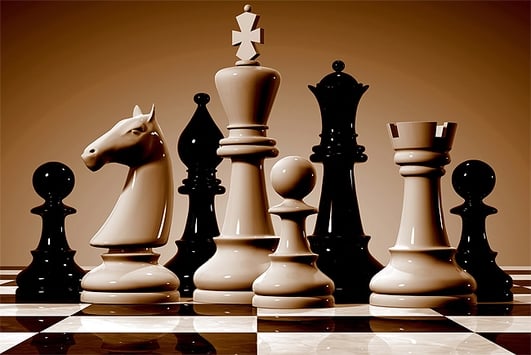 Chess 4 All
Yesterday, Mooney reporter went to Francis St CBS yesterday to see the work of the Chess 4 All organisation. They have been around for a couple of years, they have seven instructors nationwide who are in seven schools each - so 49 schools are benefitting – and the chess is free! And they can do this thanks to an anonymous benefactor who has given them a lump sum, with the express instruction that they target disadvantaged or Deis schools to instill the children there with a love of chess, because his thinking is that chess can keep kids off the streets. And in fact in America they have a slogan "push pawns, not drugs"!
Chess 4 All got in contact with us because they are holding a huge junior tournament on March 23rd at Leopardstown Racecourse in Dublin. Last year 160 students competed, and this year it's open to 500 students. 250 places are gone already but they are looking for students aged 7-12 of all abilities to come along. You get free lunch, a free chess board and, in some cases, free transport.
Chess 4 All are in schools – and yesterday they held a fun event in Francis St CBS where two older experienced chess teachers Michael Crowe and Eamon Keogh took on 42 boys in a game of chess... For more information about Chess 4 All, visit www.chessforall.net.
Keywords
Hedgerows: It is an offence to 'cut, grub, burn or otherwise destroy hedgerows on uncultivated land during the nesting season from 1 March to 31 August, subject to certain exceptions'. For more information, click here.
To contact your local wildlife ranger, click here for contact details. To read the Wildlife (Amendment) Act 2000, click here.
IMPORTANT NOTICE
Please DO NOT send any live, dead or skeletal remains of any creature whatsoever to Mooney Goes Wild.
If you find an injured animal or bird, please contact the National Parks & Wildlife Service on 1890 20 20 21, or BirdWatch Ireland, on 01 281-9878, or visit www.irishwildlifematters.ie