Philip McCabe, RIP (20/10/18)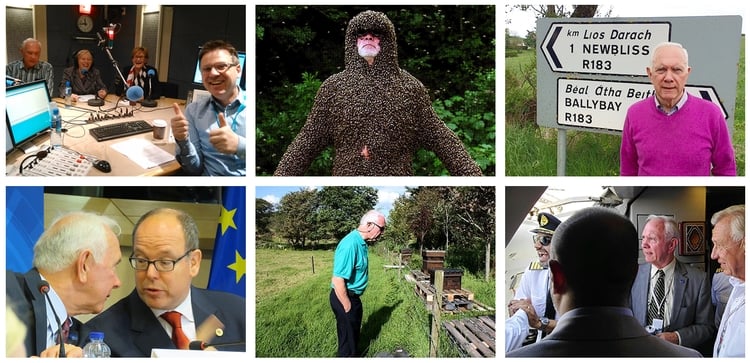 Everyone on Mooney Goes Wild is devastated to learn of the death of our friend and colleague, Philip McCabe. Philip did more for our understanding of the honey bee than a life time of learning could ever have taught us. Kind, thoughtful and generous, he was a true gentleman, and his knowledge, quick wit, and wonderful ability to entertain us with his storytelling meant that he was a pleasure to be around. He will be very much missed. Our deepest sympathies to his wife Mary and family, and all who had the pleasure to know or meet him.
In January 2017, Derek made a documentary called The Beeman, which profiled Philip McCabe, his fascinating life and work. To find out more and to listen to the documentary, click here.
Email: mooney@rte.ie
Facebook: facebook.com/rtenature
Twitter: @NatureRTE
***MOONEY GOES WILD WINS ROSE D'OR AWARD!!***
The prestigious annual Rose D'Or Awards (now in their 55th year) honour the very best of international radio, TV and online entertainment programmes, and the 2016 awards ceremony took place on Tuesday, September 13th 2016. Over 400 programmes from more than 130 broadcasters and production companies in 33 different countries were submitted for this year's Rose d'Or awards. For the first time, a new competition category, 'Radio Event Of The Year' was created. We entered European Dawn Chorus in this category, and we're absolutely delighted to let you know that ... drumroll... WE WON!!! We're absolutely thrilled to pieces, and a massive thanks to all our EBU and BirdLife International partners, we couldn't have done it without you! Click here www.rosedor.com/news.html to read more about the 2016 Rose D'Or awards (in which legendary funnyman John Cleese picked up the Lifetime Achievement award), and click here www.rte.ie/radio1/mooney/generic/2016/0405/779666-ebu-dawn-chorus-2016/ to relive - and re-listen to - all the beautiful Dawn Chorus birdsong from right across Europe.
***STOP PRESS*** Dawn Chorus Picks Up Another Award!
We're thrilled to let you know that on Friday, October 7th, the Dawn Chorus won the Innovation Award at the PPI Radio Awards in Kilkenny!