Philip McCabe, RIP (20/10/18)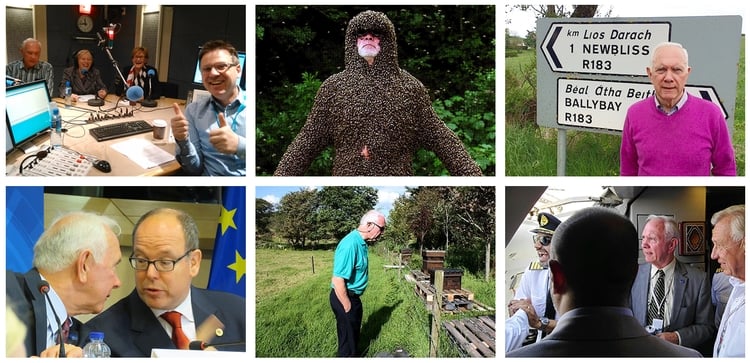 Everyone on Mooney Goes Wild is devastated to learn of the death of our friend and colleague, Philip McCabe. Philip did more for our understanding of the honey bee than a life time of learning could ever have taught us. Kind, thoughtful and generous, he was a true gentleman, and his knowledge, quick wit, and wonderful ability to entertain us with his storytelling meant that he was a pleasure to be around. He will be very much missed. Our deepest sympathies to his wife Mary and family, and all who had the pleasure to know or meet him.
In January 2017, Derek made a documentary called The Beeman, which profiled Philip McCabe, his fascinating life and work. To find out more and to listen to the documentary, click here.
Email: mooney@rte.ie
Facebook: facebook.com/rtenature
Twitter: @NatureRTE
Below is a list of various nature and wildlife websites, and links to various documents of interest. And remember, sharing is caring! So if you come across a website that you think might be of interest to the rest of our listeners, do let us know - e-mail the details to mooney@rte.ie, and we'll add it to the list below!
RTÉ is not responsible for the content of external websites.
General
www.iwt.ie (Irish Wildlife Trust)
www.npws.ie (National Parks & Wildlife Service)
www.biodiversityireland.ie (National Biodiversity Data Centre)
www.heritagecouncil.ie/fileadmin/user_upload/Publications/Education/Wildlife_in_Schools.pdf (Wild Things At School - A Book For Primary School Teachers, by Eanna ni Lamhna - pdf document, 72 pages)
www.museum.ie (National Museum of Ireland, including Natural History Museum)
www.antaisce.org (The National Trust for Ireland)
www.ien.ie (Irish Environmental Network)
www.qub.ac.uk/sites/Quercus (ecological research within the School of Biological Sciences, Queens University, Belfast)
www.irishwildlifematters.ie (Wildlife First Aid information)
www.teagasc.ie (Agriculture and Food Development Authority)
www.invasivespeciesireland.com
www.biology.ie (Biodiversity Awareness website)
www.foe.ie (Friends Of The Earth)
www.wildside.ie (Wildlife in Wexford)
www.wexfordnaturalists.com (Wexford Naturalists Field Club)
www.corkcoco.ie/co/web/Cork%20County%20Council/Departments/Heritage/Aspects/Wildlife (Wildlife in Cork)
www.ireland.com/en-us/about-ireland/discover-ireland/where-to-get-up-close-to-irelands-wildlife (Ireland's Wildlife)
www.enfo.ie (ENFO - Environmental Information)
www.epa.ie (Environmental Protection Agency)
www.ehsni.gov.uk (Northern Ireland Environment Agency)
www.habitas.org.uk (Plant life, animal life, minerals, rocks & fossils of Northern Ireland)
www.irishstatutebook.ie/2000/en/act/pub/0038/ (Wildlife (Amendment) Act, 2000)
www.heritagecouncil.ie/fileadmin/user_upload/Publications/Wildlife/Guide_to_Habitats.pdf (Guide To Habitats In Ireland, pdf document - 115 pages long)
www.owls.ie (Children's Nature Charity)
www.corkcoco.ie/co/pdf/817927983.pdf (Biodiversity In Your School, pdf document - 12 pages)
www.galwaycountybiodiversity.com
www.noticenature.ie/Publications.html
www.akellyphoto.com (wildlife photography)
www.wicklownature.ie (created by author, speaker and birdwatcher Declan Murphy)
Mammals
www.mammals-in-ireland.ie (The Vincent Wildlife Trust in Ireland)
www.batconservationireland.org
www.eurobats.org (Agreement on the Conservation of Populations of European Bats)
http://homepage.eircom.net/~foxwatchireland/
www.heritagecouncil.ie/fileadmin/user_upload/Publications/Wildlife/Bats_Birds_Buildings_You/Bat_Survey_Guidelines.pdf (Bats & Traditional Farm Buildings)
www.noticenature.ie/files/Bat%20Leaflet%20web.pdf (Bats In Houses - Guidance For Householders)
www.heritagecouncil.ie/fileadmin/user_upload/Publications/Wildlife/wildlife.pdf (Conserving & Enhancing Wildlife in Towns and Villages)
Birds
www.springalive.net/en-ie (Spring Alive migratory birds project)
www.goldeneagle.ie (official site for Golden Eagle, White Tailed Eagle, Red Kite & Hen Harrier projects)
www.birdsireland.com (the website of our own Eric Dempsey)
www.irishbirding.com/birds/web
Insects
www.irishbeekeeping.ie (FIBKA - Federation of Irish Beekeepers' Associations)
www.habitas.org.uk/dragonflyireland
www.noticenature.ie/files/Nature%5C%27s_Way_Pollinators%20Booklet.pdf (Pollinators In Ireland)
Marine
www.iwdg.ie (Irish Whale & Dolphin Group)
www.habitas.org.uk/lichenireland
www.kenwhelan.info (website of Mooney Goes Wild's resident marine biologist)
Flora
www.inff.ie (Irish National Forestry Foundation)
www.ipcc.ie (Irish Peatland Conservation Council)
www.irishseedsavers.ie (Irish Seed Saver Association)
Wildlife News
www.irishnaturalistsjournal.org
www.friendsoftheirishenvironment.org
www.enn.com (Environmental News Network)