Philip McCabe, RIP (20/10/18)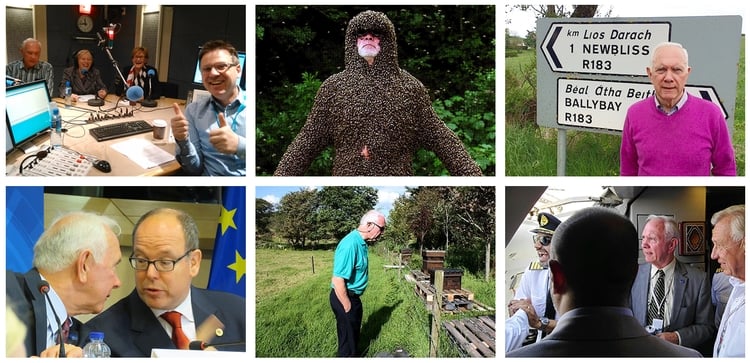 Everyone on Mooney Goes Wild is devastated to learn of the death of our friend and colleague, Philip McCabe. Philip did more for our understanding of the honey bee than a life time of learning could ever have taught us. Kind, thoughtful and generous, he was a true gentleman, and his knowledge, quick wit, and wonderful ability to entertain us with his storytelling meant that he was a pleasure to be around. He will be very much missed. Our deepest sympathies to his wife Mary and family, and all who had the pleasure to know or meet him.
In January 2017, Derek made a documentary called The Beeman, which profiled Philip McCabe, his fascinating life and work. To find out more and to listen to the documentary, click here.
Email: mooney@rte.ie
Facebook: facebook.com/rtenature
Twitter: @NatureRTE
Derek Mooney, Presenter of Mooney Goes Wild
One of Ireland's best-known and highly decorated broadcasters, Derek Mooney has been leading the development of wildlife radio broadcasting here for over two decades. His achievements in the natural history field include Habitats, The Nature Line, Nature Trails and Mooney Goes Wild On 1, all for RTÉ Radio 1, BioBlitz Live and Wildtrack on RTÉ TV and Nature Detectives for the BBC. In February 2015 Derek started his new role as Executive Producer for Nature programming on RTÉ Radio.
AWARDS
Mooney Goes Wild celebrated twenty years on air in May 2015, making it the longest continuous wildlife magazine radio programme in the world. The show has won many national and international awards including The Prix Europa in 2000, The ESB Millennium Environment Award and World Animal Health Week Award.
In 2013 Derek's RTÉ TV series Secrets Of The Irish Landscape won GOLD at the New York Festivals Awards, and a Rockie Award at the Banff World Media Festival in Canada, as well as a special Jury Prize at the Houston Film Festival.
Derek has also presented and produced RTÉ's most popular phone-in show Liveline, and a host of other daily magazine programmes for RTÉ Radio.
Publications
Over the years Mooney Goes Wild, in conjunction with the RTÉ Guide, has produced several posters and CDs of celebrating Ireland's fauna.
Dr. Richard Collins, Panellist & Ornithologist
Richard Collins, born in Limerick in 1944, holds a BE in Electrical Engineering, a BA in Philosophy and English and a PhD in Zoology. He was Honorary Secretary of the Irish Wildbird Conservancy (now BirdWatch Ireland) from 1977 to 1982 and is a BTO bird ringing permit holder. A weekly columnist on environmental topics with the Irish Examiner since 2002, he teaches at the Adult Education Department, University College Dublin, where he is known for his quirky and colourful lecturing style.
A former board member of Dublin Zoo and a former Governor of Fota Wildlife Park, he joined RTÉ's Mooney Goes Wild team in 1995.
Specialist interests include Mute Swan biology, oiled seabird rehabilitation and philosophy of Nature. Ornithological papers published in Waterbirds, Ringing & Migration, Biology & Environment, Wildfowl and Irish Birds. Engineering papers in the Proceedings of the Institution of Electrical Engineers (London), Networks 1995 (Budapest) and Technical Journal (Dublin).
Eanna ni Lamhna, Panellist & Entomologist
Eanna holds degrees in Botany and Ecology from UCD as well as the H. Dip. Ed. She started her working life in An Foras Forbartha where she was in charge of the Irish Biological Records Centre doing the initial work on mapping the distribution of Irish plants and animals in the 1970's and 80's. She has worked as a lecturer in DIT for the past 20 years teaching the principles of sustainable development to both post graduate and undergraduate students. She is a former president of An Taisce and is currently president of the Tree Council of Ireland. She is the author of several books on wildlife, the most recent being Wild Dublin (O Brien Press), and Wild Things at School (Heritage Council). Her distinctive Co. Louth accent makes hers one of the most recognisable voices on radio.
Terry Flanagan, Mooney Goes Wild Reporter
A trained biologist, Terry is the senior Science teacher in Moyle Park College and has been teaching there for 37 years now. He is also a senior Leaving Certificate Biology examiner. He is responsible for the setting up of Senior and Junior Science clubs in the College encouraging many students to follow a Science career. He has contributed enormously to wildlife organisations over many years. He is a past Secretary of the Institute of Biology (professional biologists in Ireland). Terry is presently the Science and Wildlife reporter on Mooney Goes Wild, and has been since the programme went on air.