Where To Hear The Dawn Chorus
VOTE FOR IRELAND in the European Tree of the Year competition!!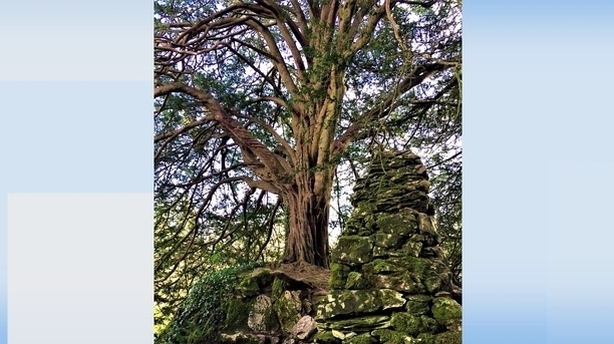 Listen to Éanna Ní Lamhna talk about Ireland's Tree of the Year Click Here
Vote for the European Tree of the Year Click Here
It's all very well knowing how birds sing and why they do so, but will you actually be able to hear the dawn chorus for yourself and how splendid will it be? Well, it all depends on how good your area is for songbirds, in other words the quality of the habitat. If you want to experience a really good chorus, bring your sleeping bag to a deciduous wood.
The woods were the original homes of songbirds. They provide the three things birds need most; food, shelter and places to build nests. Fresh new leaves in spring are quickly colonised by hungry insects such as greenflies, caterpillars, leaf-hoppers and saw-flies, all of them tasty morsels for a bird with hungry young to feed. The Blue Tit times the hatching of her eggs to coincide with the big flush of caterpillars on oak leaves in early June.
There are all sorts of niches in woodland, and different birds can feed close to each other. Blackbirds poke through the leaf litter on the woodland floor and gorge themselves on slugs and earthworms. Residents with long beaks, such as Treecreepers, nosily probe cracks in the barks of tall trees, while flying insects are nabbed by the agile Spotted Flycatcher. All-rounders such as Goldcrests, Wrens and Robins are spoilt for choice with an abundance of spiders, flies, earwigs, seeds and berries to choose from.
Vegetarian birds, such as finches, treat the wood as their personal supermarket. The more raucous contributors to the dawn chorus are the Jays and Rooks, although we don't like to think that a Jay's diet may include the nestlings of its woodland neighbours. There is plenty of cover in good deciduous woodland and the birds can find lots of secure places in which to build their nests.
We have few such woods in Ireland. They account for only 2% of our tree-cover, so finding some in your area may be difficult. It's just as well then that hedgerows are also an ideal habitat. Half of all our countryside birds, among them some of the finest singers of the dawn chorus, live and hold territory in hedges. So, very conveniently, the less fanatical among us can lie in bed with the window open in the early morning and enjoy the bird song emanating from the surrounding garden hedges. Or at least those of us who have taken care with our hedges can.
Large tall full hedges are great for birds, offering plenty of cover for secure nests. Hedges with a tree layer, a lower shrub layer and lots of flowers at the base, are desirable properties from a bird's point of view. A mixture of species provides a variety of food for birds, so hedges with Hawthorn, Blackthorn, Ash, Elder, Crab Apple, Hazel, Holly, Bramble, Wild Rose and Honeysuckle are much more likely to resound with a dawn chorus than a line of yellow Leyland Cypress, which some people use as a hedge.
Sub-urban gardens with hedges on three sides are ideal for birds. Switched-on gardeners will have planted shrubs with thorns and berries such as Pyrecantha and Cotoneaster. They will have left uncultivated patches to appeal to the seedeaters. There will be plenty of nesting cover, perhaps a small pond, a bird-table and, of course, no cats. Such a virtuous gardener gets a special reward from grateful thrushes, Blackbirds, Wrens, Robins, Great Tits, Chaffinches, Greenfinches and sparrows; a free orchestral performance from March till June. Food, shelter and nest sites; what more could a couple in love want? Your garden will be the most sought-after residential area in town.
If you want to hear a different dawn chorus, visit the open countryside. This is the domain of the Cuckoo who, from late April onwards, really convinces us that summer is here. It is also the home of the Cuckoo's usual host in Ireland, the Meadow Pipit. You may also hear the much beloved Skylark. These birds feed on insects and their larvae. Intensively farmed countryside does not suit them so don't expect to hear them if that is where you live. If, however, you and your neighbours are in the Rural Environment Protection Scheme (REPS), sharpen your ears for the songs of the Goldfinch, Yellowhammer, Stonechat and Wheatear, all of which can find the insect and seed food they need and the cover for nests in environmentally friendly areas.
So really, the quality of your local dawn chorus is determined by you. What sort of habitat have you provided in your area for birds to live in? Remember, it can always be improved with even a modicum of effort. So don't just stare at that radio..
Eanna ni Lamhna is a botanist, ecologist and author.