Philip McCabe, RIP (20/10/18)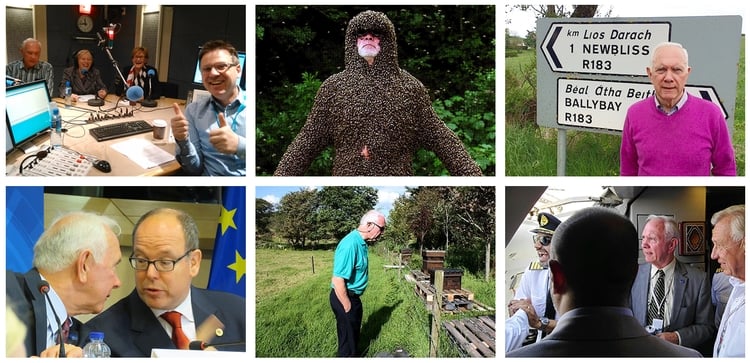 Everyone on Mooney Goes Wild is devastated to learn of the death of our friend and colleague, Philip McCabe. Philip did more for our understanding of the honey bee than a life time of learning could ever have taught us. Kind, thoughtful and generous, he was a true gentleman, and his knowledge, quick wit, and wonderful ability to entertain us with his storytelling meant that he was a pleasure to be around. He will be very much missed. Our deepest sympathies to his wife Mary and family, and all who had the pleasure to know or meet him.
In January 2017, Derek made a documentary called The Beeman, which profiled Philip McCabe, his fascinating life and work. To find out more and to listen to the documentary, click here.
Email: mooney@rte.ie
Facebook: facebook.com/rtenature
Twitter: @NatureRTE
Hedgerows in Ireland form important features in maintaining wildlife diversity and in establishing wildlife "corridors", particularly for birds. The commonest nesting birds found in hedgerows such as wrens, dunnocks, robin and willow warblers depend entirely on insects during the Summer months. In general untrimmed, thorned hedgerows containing species such as blackthorn, whitethorn and holly are favoured by birds as they provide ample food and also serve as a protection against predators.
Section 40 of the Wildlife Act, 1976, as amended by Section 46 of the 2000 Act, provides protection for hedgerows by providing that it shall be an offence for a person to cut, grub, burn or otherwise destroy hedgerows on uncultivated land during the nesting season from 1 March to 31 August, subject to certain exceptions. It is important that, where possible, necessary work to hedgerows is carried out outside this period.
It is possible in most cases to schedule and carry out necessary work to hedgerows outside this period. The legislation makes provision for works (other than road or other construction works) to be carried out for reasons of public health and safety under the authority of any Minister or a body established by statute that lead to the destruction of vegetation. There is also a provision to enable the Minister for Environment, Heritage and Local Government to request from the relevant Minister or body details of any such works together with a statement of the public health and safety factors involved.
It shall not be an offence to destroy vegetation in the ordinary course of agriculture or forestry. Also it shall not be illegal to destroy vegetation while preparing or clearing a site for lawful building or construction works.
It is the policy of the Minister to prosecute for offences under section 40 of the Wildlife Acts 1976 and 2000 and successful prosecutions have been taken under this section in recent years. Members of the public are encouraged to contact their local wildlife ranger and report instances where hedgerows are being destroyed during the prohibited period.
To reach your local wildlife ranger, click here for contact details. To read the Wildlife (Amendment) Act 2000, click here.