Miriam Meets... Sunday 17 June 2012
Thank you for listening to Miriam meets.... and thanks to our guests who contributed so generously to the series.

We are taking a break for a while but remember, you can listen back to any of our programmes on-line, accessed through the calendar on your right.

And we are looking forward to meeting again.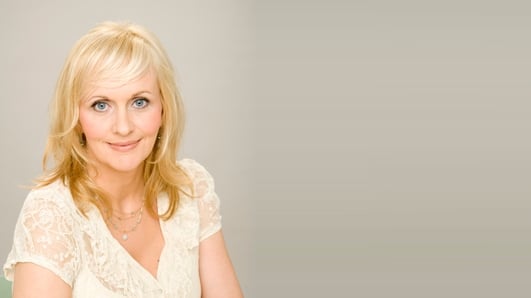 Miriam meets... Maire Mhac an tSaoi and her friend Liz
This week Miriam O'Callaghan meets one of our most distinguished poets, Maire Mhac an tSaoi and her friend Liz O Droma.

Maire and Liz recall that Liz was a great friend of Maire's step daughter Kate Cruise O'Brien. Liz was eight when she first met Maire when Maire came to visit Conor Cruise O'Brien's home in Whitewater in Howth. Liz recalls how she and Kate were inseperable and how in a grey Ireland, the Cruise O'Brien family seemed very colourful.

Maire has deep roots in Dun Chaoin in Kerry and she describes taking five small girls, including Liz and Kate, to visit her Uncle's home there. The girls wanted to camp, but a rain meant that they retreated to the house in the middle of the night. Maire explains how her uncle discovered Dun Chaoin when he was travelling through the south west of Ireland in the aftermath of the execution of his friend Sean Mac Diarmada in 1916. Her uncle built the house there and Maire remembers her first visit there as a three year old. Maire considers Dun Chaoin to be her home. She explains that both her uncle and her mother encouraged her interest in Irish while her father was the 1916 veteran and founder of Fianna Fail, Sean McEntee.

Liz recalls being taken on trips with Maire and her husband Conor and how those trips would often involve sing songs. In the years before electronic entertainment, Maire explains to Miriam that everyone had a party piece.

Maire went to University and was called to the Bar. She then joined the Department of Foreign Affairs where she met Conor Cruise O'Brien. Initially, they didn't get on well at all. But in the aftermath of the break up of Conor's first marriage, they realised that they were fond of each other.

The relationship between Conor and Maire was unusual at the time and Maire recalls that people were very kind to her. However, Liz recalls the impact the controversy had on her childhood friend. Liz's mother was always very concerned about Kate and angered that the opinions people had about the relationship would upset a young girl.

Liz and Kate remained friends though Liz went to boarding school and Kate lived in New York for a while. Both women married and Liz went to live in Australia and Wales. On her return to Ireland, Liz intended to look up her childhood friend. She never did and the untimely and sudden death of Kate aged forty nine upset her deeply. Maire explains how the death of Kate impacted on Conor.

Maire explains to Miriam that it is not difficult for her to write poetry. It has acted as a safety valve through out her life. She reflects on the fact that old age means that her emotions are less intense and she writes less poetry. Not needing a safety valve is duller, but safer!

Maire explains to Miriam that although she is glad of the opportunities she has had, she never really wanted a career. She wanted to be married and have children. Unable to have children of her own, Conor and Maire adopted two children Patrick and Margaret.

Maire is the same age as the Irish state - born in 1922. She reflects on her life now, living as she does in Navan. She likes the Ireland of today. She enjoys watching children playing in the sun and is pleased to say that in a year she has never seen a child cry. She says that she is not unaware of the financial difficulties people face, she has difficulties of her own, but she says that life is never easy, not even in times of great prosperity.

Maire says that she has no particular philosophy of life that would explain her own positive outlook. She thinks that women are just more practical and get on with things.

Liz and Maire continue to keep in contact with Liz visiting Maire regularly. Their conversations travel down the little road of memories. As well as enjoying Maire's friendship, Liz appreciates her deep knowledge of Irish and the folklore and stories of Dun Chaoin.

If you require a CD copy of this programme please e-mail tapes@rte.ie. Transfer fees and terms and conditions apply.