Miriam Meets... Michael D. Higgins and Sabina Coyne
Thank you for listening to Miriam meets.... and thanks to our guests who contributed so generously to the series.

We are taking a break for a while but remember, you can listen back to any of our programmes on-line, accessed through the calendar on your right.

And we are looking forward to meeting again.
On this Sunday's edition of Miriam Meets...., Miriam O'Callaghan meets Michael D Higgins and his wife, Sabina Coyne.

They tell Miriam about their first meeting in Dublin in 1969; their joy in their children and the pressures of being a family in political life.

Michael D Higgins recalls his childhood and the challenges faced by his father after taking the Republican side in the Civil War.

Their choice of poetry and music reflects their life together: Michael D. reads his poem "On Reaching the Third Decade" written to mark their eldest daughter's thirtieth birthday while Sabina reads Michael D.'s poem about their early married life called "The Granola Years".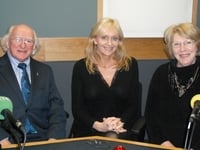 Sabina chose "On Raglan Road", a song with very close personal connections as she was bridesmaid at the wedding of Luke Kelly to Deirdre O'Connell. Michael D chose Johnny Cash's "The Beast In Me" which he describes as an enigmatic choice of song, but one he often played while driving around in his ministerial car when he was Minister for Arts, Culture and the Gaeltacht.

Michael D and Sabina agreed that they would never leave politics, but Michael D said that he had not considered his retirement from elected office. He described the question of seeking Labour's nomination for the Presidency as a "field over which I have traversed many times" and did not rule out the possibility of accepting a nomination for the next election. " I haven't given any consideration to it just yet in relation to the forthcoming vacancy. I do think that we should have had a contest the last time, for the debate. There is an Ireland, other than an Ireland of consumers, there is an Ireland of citizens."

While Michael D expressed no regrets in stepping into public life, Sabina regretted both the war in Iraq and the fact that the Labour Party was not in government in the past twelve years to influence the development of the country over that time. Their final choice of song was Edith Piaf's "Je ne regrette rien"