The Marty Morrissey Show, Friday January 30th 2015
Gallery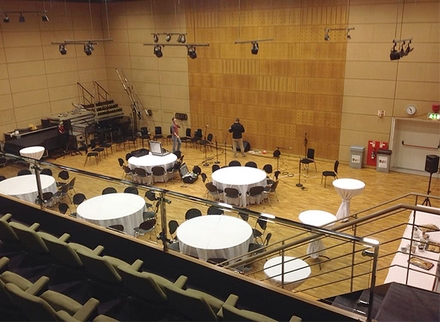 The stage is set...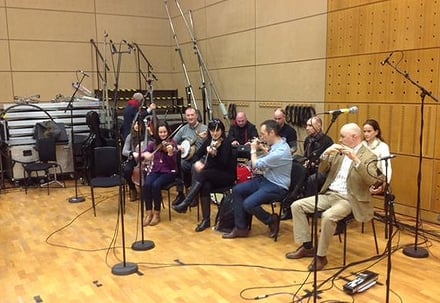 The Kilfenora Céilí Band sounding great in rehearsals...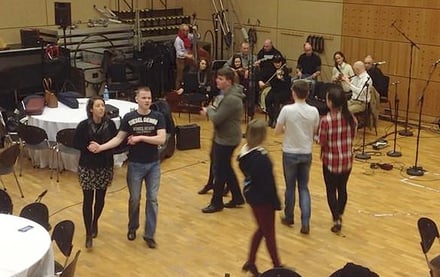 The Eugene Donnellan dancers going through their steps...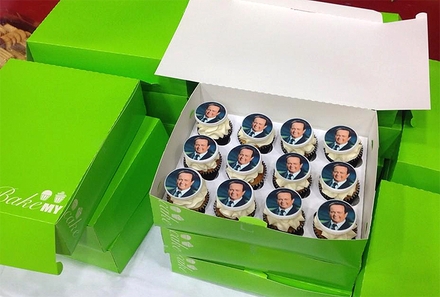 You can never have enough Marty! Our Marty Morrissey cupcakes have been provided by Bake My Cake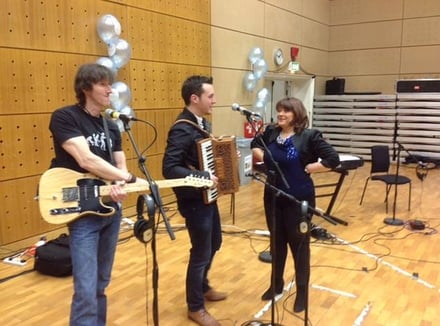 Nathan Carter with Brenda Donohue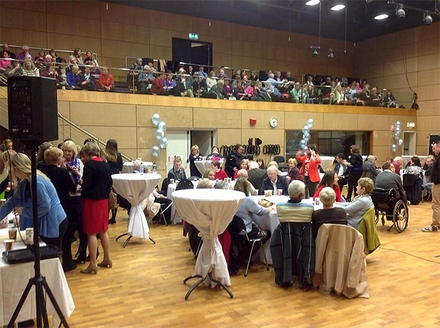 Half an hour to go and our studio audience are ready to party with Marty!
On today's programme, you heard from:
Oliver Callan
Also known as 'the other Marty', we are delighted to be joined by one of Ireland's top mimics: from Callan's Kicks, it's Oliver Callan!
Nathan Carter
This is a party and we promised you great music - so joining us here today in Studio 1 is Ireland's #1 country music sensation - or the hottest thing in country music - Nathan Carter!
Kilfenora Céilí Band
Did you know that the band have been going for a hundred years? The current line-up features four fiddles (Anne Rynne, Annemarie McCormack, Eimear Howley and Sinéad Heagney), two flutes (Anthony Quigney and Garry Shannon), concertina (Tim Collins) and his wife on accordian (Claire Griffin) banjo and leader (John Lynch), drums (Sean Griffin) and piano (Fintan McMahon).
Shay Healy
One of Ireland's foremost broadcasters is at the Marty Party: Shay Healy!
Stephanie Roche
She's the girl that scored THAT goal, she was nominated for FIFA's prestigious Puskás Goal Of The Year, and came 2nd to Colombian James Rodriguez, beating off competition from Robin Van Persie. She also captured the attention of the nation - as well as Cristiano Ronaldo and Lionel Messi - in her stunning Helen Cody dress, and we are delighted to welcome Stephanie Roche to Studio 1 this afternoon!
Andy Irvine
Padraic Og Gallagher & His Coddle!
The 10th annual Temple Bar TradFest is on this weekend all over Dublin. There's lots going on, and one of the highlights is the inaugural Tempe Bar Coddle cook off, celebrating one of the most beloved dishes in Irish food history. The man behind the cook off is Padraic Og Gallagher, from Gallaher's Boxty House in Temple Bar; he's here with us now, and he's brought in a massive pot of coddle to feed everybody in the audience!
Roz Purcell
Did you know that as well as being a model & TV personality, Roz Purcell is also a food blogger, food critic, and is writing a cookbook? She joins us for a chat and to share her views of coddle!
To read Roz's food blog, Natural Born Feeder, click here.
Karl Bowe
We are very excited to be joined in studio for the Marty Party by Ireland's hottest hunk - that's Mr. Ireland, Karl Bowe!
Amanda Brunker
Amanda Brunker: Miss Ireland 1991, former nightclub hostess, model, Sunday World columnist, bestselling author, actress, TV presenter and Celebrity Bainisteoir. The list of careers is not only extensive, it's continuing and changing as we speak! She joins us in Studio 1 for the Marty Party this afternoon...
Eamon Morrissey
He's performed on Broadway, in Ireland's greatest theatres, he's a veteran of Hall's Pictorial Weekly, and for the last number of years, he's appeared as Cass in Fair City. Eamon Morrissey joins his namesake for the party this afternoon!
Alan Shortt
He's a compere, an MC, communications consultant, actor, comedian, New York Marathon Finisher 2013 and attendee of the Marty Party!
Claudia Carroll
Muriel O'Connor
Melanie McCabe
Our next guest was in with us earlier on in the month, she's been described as having "the best voice in Ireland", so we couldn't have a party without the dulcet tones of former The X Factor star Melanie McCabe! She's recorded a single with the Stylistics, You Make Me Feel Brand New, which is out in March. She plays her first major concert at the National Concert Hall on April 5th and Cork Opera House on April 19th. For more, visit www.melaniemccabe.ie or www.pateganmgt.ie.
Lorraine Keane