Marian Finucane Saturday 9 June 2018
Summer Reading Hidden Gems
Brendan is joined by authors Kathleen MacMahon and Declan Burke.
Declan Burke's Choices:
Non Fiction:
Chasing Hillary: Ten Years, Two Presidential Campaigns and One Intact Glass Ceiling by Amy Chozick (William Collins, April 24)
Inverting the Pyramid: The History of Football Tactics by Jonathan Wilson (Orion, June 5)
Crime Fiction:
Olivia Kiernan's debut Too Close to Breathe (riverrun April 5)
The Good Son by You-jeong Jeong (Little, Brown, May 3)
Romantic:
The Pisces by Melissa Broder (Bloomsbury, May 3)
The Kiss Quotient by Helen Hoang (Corvus, July 5)
Literary Fiction:
The Mars Room by Rachel Kushner (Jonathan Cape, June 7).
Orchid and the Wasp by Caoilinn Hughes (Oneworld, June 7)
A Memoir:
Maeve in America by Maeve Higgins (Penguin, August 9)
Outside the Box:
Notes on a Nervous Planet by Matt Haig (Canongate, July 5)
Matt Haig is the author of Reasons to Stay Alive, The Humans, and How to Stop Time.
Circe by Madeline Miller (Bloomsbury, April 19)
Madeline Miller - The Song of Achilles
Wild Irish Women: Extraordinary Lives from History by Marian Broderick (O'Brien Press, June 29)
Kathleen MacMahon's Choices: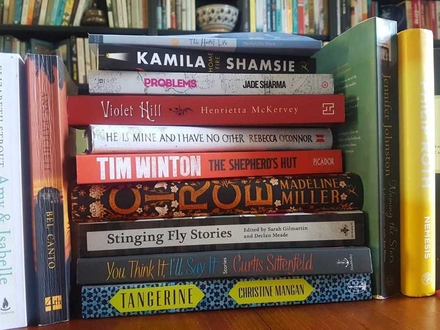 Older Books:
Bel Canto by Ann Patchett
Homer and Langley by El Doctorow
Nemesis by Philip Roth along with The Human Stain or American Pastoral
Elizabeth Strout - Olive Kitteridge
Something New:
Less by Andrew Sean Greer
Bill Clinton and James Patterson's - The President is Missing
Violet Hill by Henrietta McKervey
A Ladder to the Sky by John Boyne along with The Hearts Invisible Furies
He is Mine and I Have No Other by Rebecca O'Connor
Orchid and the Wasp by Caoilinn Hughes
This Hostel Life by Melatu Uche Okorie
Something Borrowed:
Tangarine by Christine Eyrie
The Sheppard's Hut by Tim Winton
Circe by Madeline Miller
Home Fire by Kamila Shamsie
Don't Skip Out on Me by Willy Vlautin
Something Blue:
Problems by Jade Sharma
Short Stories:
The Stinging Fly Anthology
Reading the Future
Chris Power's 'Mothers'
Mia Gallagher's short story collection – 'Shift'
Jennifer Johnston's - 'Naming the Stars'
Last Stories - WilliamTrevor
About The Show
In-depth interviews, human interest stories, consumer and lifestyle news as well as a lively panel discussion on issues of the week and newspaper reviews.
Saturday and Sunday from 11am-1pm