Fearless Food - Lynda Booth
KOREAN PANCAKES WITH SOY & CHILLI DIP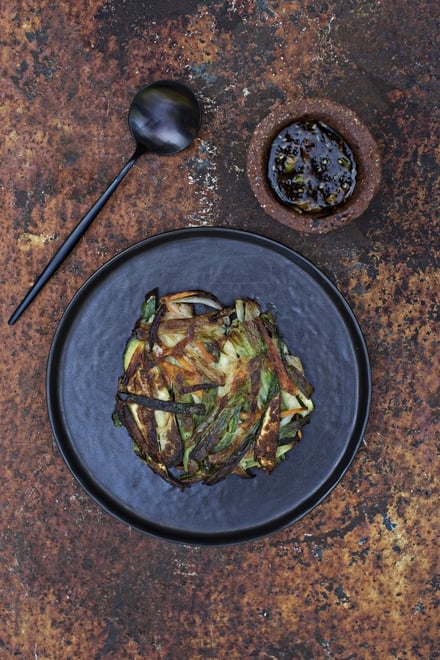 Tara Livingston joined us as a tutor direct from a two year stint as a chef in Paris. She and her fellow chefs would often meet up at midday on a Sunday to cook for each other and compare notes from the week. There was one Korean in the group and they were intrigued as to what his contribution would be to their brunch. He stunned them all with this pancake. Slightly charred at a brisk heat, it becomes crisp on the outside while the vegetables retain a slight bite. The soy dip that is spooned over the top traditionally has a chilli powder added to it called "gochugaru" which apart from having a name worth buying, really does add a unique distinctive smoky taste. Presuming that this is not easily to hand, substitute a regular chilli powder or my own favoured brand, Deggi Mirch (see page 248), which is widely available in Asian markets. The Korean dip is wonderful spooned over white fish or chicken so it is no harm to make a double batch so that you have a little stash in the fridge.
Serves 6 Makes 6 x 18cm pancakes
KOREAN DIP
100g Kikkoman soy sauce
20g sugar
1 tbsp "gochugaru" or 1 tsp chilli powder
40g shallot, diced very finely
2 spring onions, sliced finely
2 tsp sesame seeds 40g water
KOREAN PANCAKE MIX
120g plain flour
120g rice flour
2 eggs
240ml cold water
pinch salt
FILLING
6 spring onions
2 large carrots (about 220g)
2 medium courgettes (360g)
100g onion
2 green chillies
sunflower oil, for frying
Korean dip
Mix all the ingredients together. Store in a jam jar in the fridge. This dip will hold for up to a month.
To make the Korean pancakes
Place the flour and rice flour in a bowl. Make a well in the centre and whisk in the eggs and water to make a thickish batter. The amount of liquid may vary slightly with different flours. Season with salt.
Chop the spring onions into 4cm pieces. Slice the carrot into julienne (thin matchstick strips). Halve the courgette lengthwise and then slice thinly about 2-3mm thick. Slice the onion in half and then lengthways into very thin strips. Slice the chilli peppers thinly crossways.
For each pancake, place a handful of vegetables, about 150g, into a bowl and pour over about 100g batter (there should be a small amount of onion compared to everything else). The idea is to just coat the vegetables in the batter so that they stick together. They should not be going for a swim. Mix well using a spatula.
Heat a non-stick frying pan and pour a thin layer of sunflower oil over the base of the pan (about 3 tablespoons). Pour the vegetable and batter mix into the pan and spread out to make a thick pancake. Cook at a brisk heat until the edges are beginning to colour and the vegetables char a little on the underside. Flip the pancake and cook for another few minutes. Serve immediately, cut into wedges. Spoon some Korean dip over each slice.
SLOW COOKED PORK SHOULDER IN MILK DRIED CHILLI, LEMON & SAGE SWISS CHARD AND PARMESAN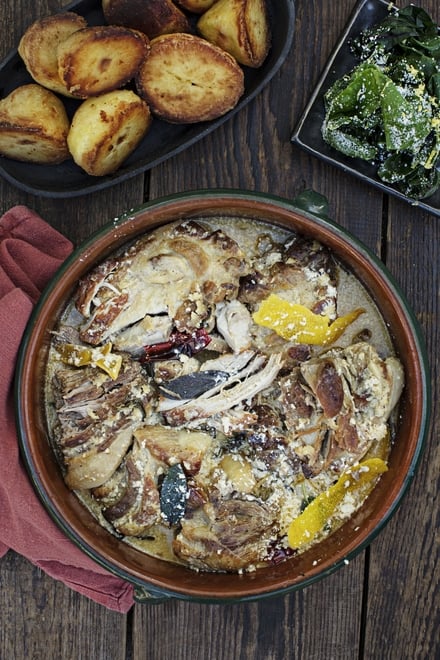 When I worked in a family restaurant in Italy, I was asked to make this traditional north Italian pork dish which is cooked in milk. By the end of the cooking, I was a bit taken aback by the curdled sauce. The chef assured me that this was exactly how it was supposed to be. When you taste the whole dish, I guarantee that its appearance will not bother you either. Richard Gleeson, one of our memorably wonderful tutors now relocated to the wilds of Tipperary, used to make his own version, adding dried chilli, sage and lemon zest along with the herbs. Keeping these additions is a way of sending a warm salute in his direction.
Serves 6
1.8kg pork shoulder (weight on the bone) – ask your butcher to remove the bone and the rind salt and freshly ground black pepper
2 tbsps olive oil
30g butter
6 cloves garlic, peeled but left whole
10 sage leaves
rind of ½ lemon, shaved into strips with a peeler
1 dried red chilli
325ml dry white wine
500ml whole milk
600g Swiss chard, washed and stemmed
20g Parmesan
zest of 1 lemon
squeeze of lemon juice
olive oil
Slice the pork shoulder into 6 portions. Choose a deep-sided pot which will hold the 6 pieces of meat snugly. Season the meat with salt and black pepper. Heat a couple of tablespoons of olive oil in the pot and add the meat in a single layer (you may need to brown the meat in two batches). Sear the meat at a medium heat until golden on all sides and remove from the pot. Drain the excess oil and discard. Add the butter and when heated, throw in the whole cloves of garlic, sage leaves, lemon rind and dried chilli. Cook for a minute or so and then deglaze with the white wine. Return the pork pieces to the pot and bring the wine up to the boil. Turn the heat down to a simmer, cover with a lid and simmer on top of the stove, turning the meat a couple of times during the process. Top up the wine levels if necessary in the earlier part of the cooking. After 1½ hours, pour the milk into the pot and bring to the boil. The milk will probably curdle as you add it to the wine. This is perfectly normal so don't be concerned. After 3 hours of slow cooking, the meat should easily pull away from the bone with a fork and should be meltingly tender and succulent.
For the Swiss chard
Blanch the Swiss chard leaves for 1-2 minutes. Refresh in cold water, drain and pat dry. Chop the leaves roughly, leaving them fairly chunky. Dress the Swiss chard with lemon zest, salt, a squeeze of lemon juice, freshly grated Parmesan and a drizzle of olive oil.
Serve the pork and its sauce along with the Swiss chard. Crunchy roast potatoes are a great addition.
BEEF & PORK RAGÙ TAGLIATELLE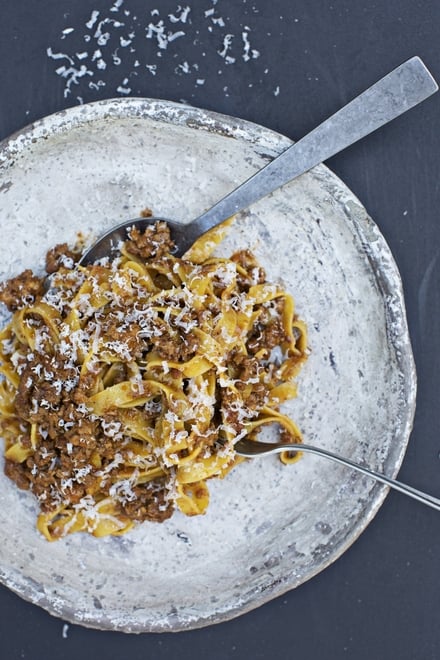 From my earliest days I strove to move away from the uniform Bolognese sauce that was ubiquitous. A change that made real impact was to include milk. I first saw this in Italy where I was surprised how half a litre of milk could give such a sweet creaminess to the sauce. A second common change was to omit the much-favoured tins of tomatoes and put in just a small amount of tomato purée. This allows the meat to take centre stage. The final result is a hearty, warming sauce ready to coat flat strands of pasta.
Serves 4
2 tbsp olive oil, plus extra as required
2 small onions, finely diced
salt
2 carrots, finely diced
2 celery stalks, finely diced
100g unsmoked streaky bacon lardons
450g beef mince
225g pork mince
2 tbsp tomato purée
120ml white wine
2 bay leaves
2 small sprigs rosemary
600ml chicken stock or Marigold bouillon
250ml full fat milk
320g tagliatelle
20g unsalted butter
freshly grated Parmesan
To prepare the ragù
Heat the oil in a large casserole pot. When hot, add the finely diced onion. Stir, season with salt, cover with a lid and turn down the heat to low. Allow to sweat, stirring regularly, until the onion has become translucent and is completely tender. This process will take about 10 minutes. Add the finely diced carrot and celery to the pot, stir to mix and continue cooking for a further 5 minutes to soften the vegetables.
Increase the heat and mix in the bacon lardons. Sauté over a medium heat until the fat renders out and the bacon becomes lightly coloured. Increase the heat to high and add in the beef and pork mince. Brown the meat, stirring regularly until the meat loses its pink colour. Season, stir in the tomato purée and then pour in the white wine. Boil the wine until it has reduced almost to a glaze. Add the bay leaves, rosemary sprigs and stock, bring up to the boil and then turn down the heat to the very gentlest simmer. Allow to cook for about an hour or until reduced by at least half. Bring the milk to a simmer and add to the meat. Cover the sauce with a lid, leaving it slightly ajar, and continue cooking for a further 30 minutes or so at a gentle bubble, adding more stock if the ragù becomes too dry. Remove the bay leaves, the sprigs of rosemary (or the rosemary needles if they have fallen off) and discard. The sauce will keep in the fridge for 3 or 4 days or for a number of months in the freezer.
To prepare the pasta
Bring a large pot of pasta water with about 4 litres of water to the boil. Add 1½ tablespoon salt and return to the boil. When the tagliatelle is cooked about 90% through, drain, holding back some of the pasta water. Meanwhile, heat the ragù in a frying pan and bring to a gentle simmer. Add the butter and swirl to combine. Add in a good dash of pasta water and the pasta. Simmer until the sauce coats the pasta loosely. Towards the end, mix in a fistful of Parmesan and grate some more to bring to the table.
BALSAMIC ONIONS
500g red onion
50ml balsamic vinegar
45ml olive oil
1 heaped tsp picked thyme
1 tabsp caster sugar
1 tsp salt
Slice the red onions through the root end into 2cm thick wedges. Mix the onions with all the other ingredients in a bowl. Line a roasting pan with a silicone mat if you have one, otherwise roast the onions directly on the tray. Arrange them in a single layer, keeping them fairly close together. Roast the onions for 15 minutes, turn them over and roast again for the same length of time. They should have a definite crunch to them at the end so don't overcook them. Set aside to cool.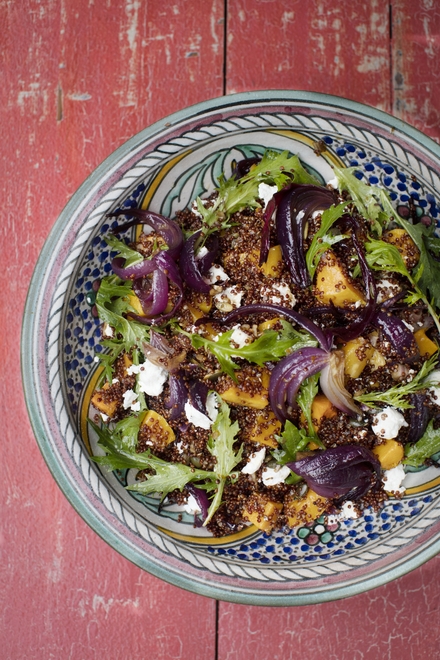 RED QUINOA SALAD BALSAMIC ONIONS, ROASTED SQUASH FETA
If you ask people to name a "superfood", the one many propose is quinoa and some cite its use in the pre-Columbian civilisation in the Andes. The Incas did indeed revere quinoa but, to put it in perspective, it was ranked one down from the potato. The main reason that the UN dubbed quinoa a "supercrop" is because it is easy to grow and drought-resistant. My suspicion is that quinoa is the darling of the women's magazines because it is gluten free. I won't hold that against it. It makes a good backdrop here for one of my superfoods – balsamic onions. I use them elsewhere but this is where they started off in my cooking. I tend to use red onions as their sweetness works well. The secret is not to cook them past the point that they still have a very definite crunch. They are what makes this salad a "supersalad".
Serves 6
SALAD INGREDIENTS
balsamic red onions
1 small butternut squash or half a large one
olive oil
80g hazelnuts
2 tbsp pumpkin seeds
200g red quinoa
DRESSING
1 tabsp balsamic vinegar
½ shallot, finely diced
2 garlic cloves, crushed or grated on a microplane
45ml extra virgin olive oil
zest of 1 orange zest of 1 lemon
bunch of basil leaves, chopped
bunch of flat leafed parsley, chopped
2 tbsp lemon juice, plus extra if required
70g feta a handful of rocket leaves (optional)
sea salt
Preheat the oven to 200°C, 180°C fan, 400°F, Gas 6.
Peel the squash, remove the seeds and cut into rough 3cm cubes. Place in a bowl, season with salt and black pepper and drizzle with olive oil. Toss to coat and place on a roasting tray. Roast for about 25 minutes or until tender.
Place the hazelnuts and pumpkin seeds on a baking tray and roast in the oven for 5-8 minutes. Remove and set aside.
Add the quinoa to a pot of boiling water and cook on a steady boil for 10 minutes. Pour the contents of the pan into a sieve and allow to cool in the sieve.
For the dressing
Whisk all the ingredients together. Season with salt.
Combine all of the prepared ingredients in a bowl, holding back some of the balsamic onions for the top. Mix in the basil and flat leafed parsley. Dress the salad, season and add an extra squeeze of lemon juice if required. Crumble in the feta. Drizzle a little olive oil over the rocket leaves and add a pinch of sea salt. Fold into the salad. Spoon into a serving bowl and scatter over some extra balsamic onions.
LAMB KHEEMA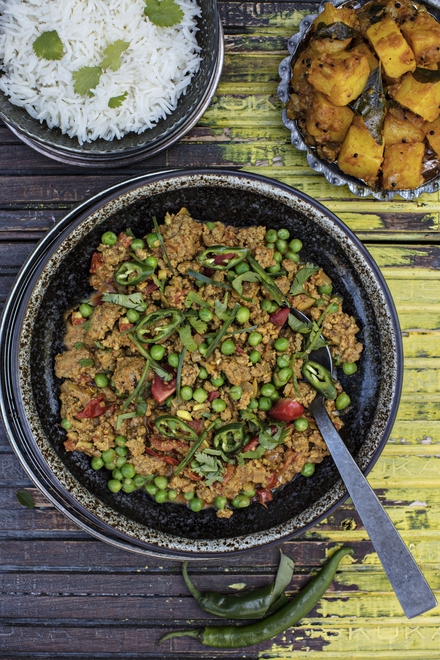 Kheema means ground meat or mince. The Indian name sounds so much more exotic, but this is simple fare, although very tasty. It's a perfect dish with which to start your own spice trail. If you want to be more ambitious at a later point, lamb kheema would make a great filling for a samosa but here I suggest that it might be served with Bombay Aloo potatoes and some simply cooked basmati rice. If this is your first dish with fresh spices, relish the process.
Serves 4
3 tbsp oil 1 onion, finely chopped
50g fresh ginger, finely chopped
5 cloves garlic, crushed
1 tsp ground cumin
1 tsp ground coriander
½ tsp turmeric
½ tsp Kashmiri chilli powder (Deggi Mirch brand)
100g Greek yoghurt
200g cherry tomatoes, chopped
600g minced lamb (not too lean)
2 tsp garam masala, bought or homemade
120g peas, fresh or frozen
1 small green chilli, deseeded and finely chopped
2 tbsp lemon juice 1 small bunch fresh coriander, chopped
The first step is to get your spices ready. You may have bought ground cumin and coriander but hopefully you will have bought the seeds so that you can grind them yourself. If your ambition is boundless, you might go to the techniques page and roast them before grinding. What an extraordinary start that would be.
Heat the oil in a casserole pot and add the onion. Season with salt and cook on a low heat with a lid on until softened, about 10 minutes. Add the ginger and garlic and stir for a few minutes. Mix in the cumin, coriander, turmeric and chilli powder and a dash of water and cook, while stirring, for another couple of minutes. The water helps prevent the ground spices from burning. Now pull the pan off the heat and add the yoghurt, one tablespoon at a time, to prevent it from splitting. When each spoonful is fully incorporated, add another. Mix in the chopped tomatoes and return the pot to the heat. Cook for about 5 minutes and then add in the minced lamb and garam masala. Season with salt and toss the meat around over a high heat until it becomes coloured. Pour in 250ml water, bring up to the boil and cover with a lid. Simmer for about 25 minutes until the lamb is tender. Mix in the peas, green chilli, lemon juice and coriander and cook for a further 5 minutes. Taste and adjust the seasoning.