Wednesday 6th February 2013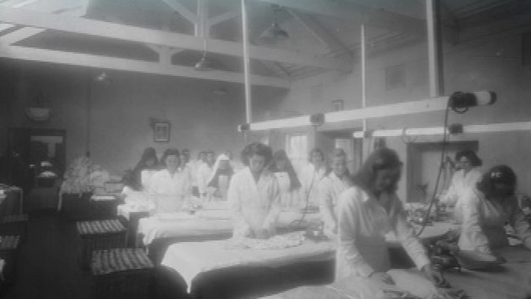 Magdalene Laundries report
Mary told Joe about her mother Mary Merrigan who was in Gloucester Street with the Good Shepherd nuns. She was a rape victim when she was 15 and her mother sent her to the county home in Co. Roscommon. Mary was taken from her mother and put into an industrial school in Athlone where she stayed until she was 14. Her mother was transferred to Gloucester Street. Her mother went into a depression after the birth and was never able to leave the place. She spent years in and out of hospital. When Mary was 16 her grandmother brought her to see this woman in a convent in Donnybrook. She didn't know who she was nor was she ever told who she was. Angela only found out after her mother died that this was the woman she had gone to see. She often wonders is there anybody still alive who met her mother.
Caroline says she is disgusted with Enda Kenny. I feel very let down over this report - they just stopped short of saying that I imagined it. We would start work at 5am. We had no electricity so I was the equivalent of a washing machine - the local hospital and hotels all sent their laundry to the convent. It was slave labour.
Tracy is 83 years old now and housebound. She says when she saw the Magdalene Sisters I thought that was it was too tame! At least they had shoes in that film - we didn't have that! I had to share a single bed with a bed wetter on my face. We were worked to death. I had to dig up potatoes. Also we were beaten. My mother went and left me when I was born and my granny rared me until I was 10. My father put me in there when he thought my gran couldn't manage. I only had a number 857 and now I always look for that number everywhere, on buses and mobile numbers. I stayed in Clifden until I was 16 and we were worked much harder than the laundries. My granny got me out when I was 16.
Keywords
WE WANT TO HEAR YOUR STORIES
Have you got a story to tell? An issue you want to air publicly? If you'd like to talk to Joe on-air about an issue that concerns you then we want to hear from you.
You can email the programme at any time to joe@rte.ie, call the office at 01 208 3263 / 2984 / 2980 or 3438 (or out of office hours and leave a message) or on 1850 715 815, Monday to Friday from 12.30pm – 3.15pm.
All topics are considered and all calls are welcome.