Inside Culture Monday 20 November 2017
Creativity, Culture and a world of Ideas on Inside Culture presented by Fionn Davenport 10pm Mondays RTE Radio 1.
Profiles, interviews, features and discussion with emerging and established Irish and International people in the creative and cultural sectors.
This is a versatile programme that can move across disciplines from crafts to cultural agendas and will include long-form discussions and features on well known artists, cultural topics and the history of ideas. The range will give an access point for the general listener as well as a more seasoned and professional arts listenership.
This programme aims to create an intimacy with artists' work and provide textured pieces that inform and provide a listening experience with high production values.
Independently produced by Zoe Comyns – the show brings together a team of innovative radio makers who have a passion, understanding and sensibility for Arts and Culture who will create a far-reaching and fresh sounding series that complements the existing output on RTE Radio 1.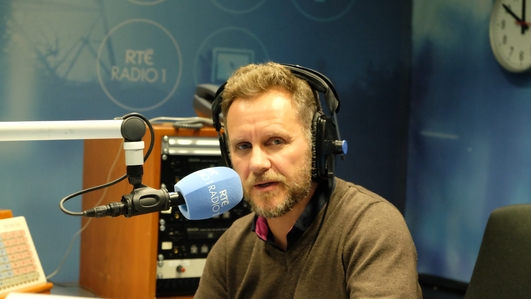 Inside Culture
This week on Inside Culture we look at the places where we live, how we interact with them and how we relate to unplaces - or those neglected areas we live beside.
60 years ago a group of avant garde artists and thinkers came together in a movement called the Situationists International. They sprang out of various strands of surrealism and were concerned with urban space and radical politics. The Situationists are linked to psychogeography as we know it today. Writer Karl Whitney joins Fionn Davenport to tell him more about them. Karl is the author of Hidden City: Adventures and Explorations in Dublin and in it he travels along tunnels, hidden rivers and the edgelands of the city. He tells Fionn about the background to the Situationists and how their work inspired his own.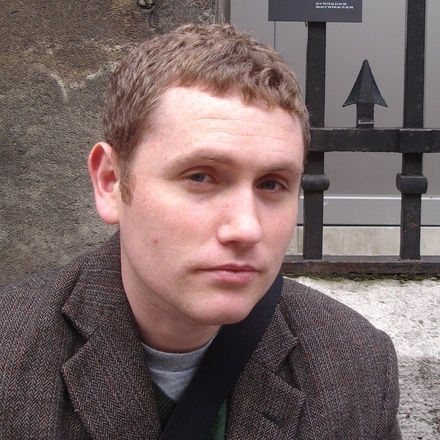 Karl Whitney
Regan Hutchins travelled to Huddersfield in the UK recently where the Fourth World Congress of Psychogeography was held. Psychogeography is defined by the writer Will Self as 'walking and thinking' and Regan was curious to find out more. He spoke to writer and academic Sonia Overall, activist Morag Rose, writers Gareth E Rees and Kevin Boniface and joined people on Sonia Overall's 'Mishtory' tour of Huddersfield and on Gareth Rees' tour of supermarket car parks. The contributors discuss the role 'creative walking' plays in their life and how ways of looking at place can be playful as well as political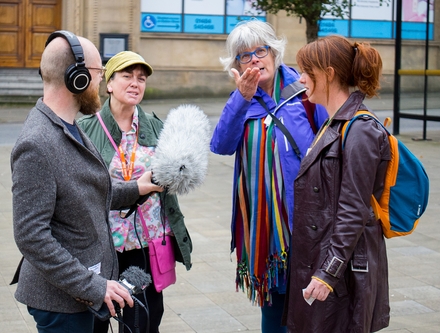 Mishtory Tour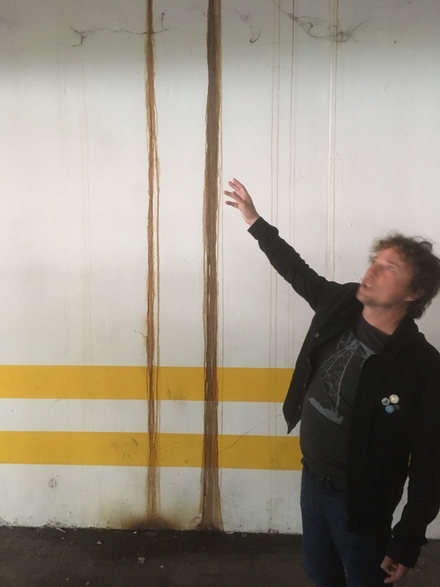 Car park
Gareth E Rees also contributed to an album called A Dreamlife of Hackney Marshes which was a collaboration with the experimental contemporary collective Jetsam. Details of that can be found at claypipemusic.co.uk
Mapping and layering the history of a place over time is one of the practices of psychogeography. Mapping connects a single place to its many incarnations over the centuries. Dr Silvia Loeffler is a Dublin based artist and researcher whose current project is called Transit Gateway: A Deep Mapping of Dublin Port. A multicoloured row of nine maps, produced on fabric, trace the history of the port. It's house in Terminal One in Dublin Port, and Fionn joined her there to speak about deep mapping and Transit Gateway. Silvia explains how she represents the history of Dublin's docklands from medieval times to the present day.
Transit Gateway will be migrating to the LAB Gallery in Dublin in January and will be open to everyone. silvialoeffler.wordpress.com has more details.
The writer Iain Sinclair has been documenting his city, London, through novels and works of nonfiction for over 40 years. His latest book The Last London, is a bittersweet love letter to the pocket of London where Sinclair has lived for decades but now feels increasingly isolated in. Hackney has experienced many changes in recent years. Gentrification has caused a social upheaval which the writer feels is a microcosm of Britain in general. Fionn travels to Hackney to talk to Iain Sinclair about The Last London and he begins in Haggerston Park, Sinclair's stomping ground close to his home. It's here the writer first spotted a figure he calls 'the vegetative Buddha' - a man who sits for days on end on a park bench. He stares into space, never looks at a phone or talks to anyone. Sinclair tells Fionn that the vegetative Buddha came to represent a way of life that is lost now to gadgets and a world of personal devices. He feels that the London he has written about over the past 40 years has changed beyond recognition and wonders if he will ever be able to write about it in the same way again.
Mapping and cities with Karl Whitney on The Situationists, a report from The World Congress of Psychogeography in Huddersfield and a visit to Dublin Port with Silvia Loeffler.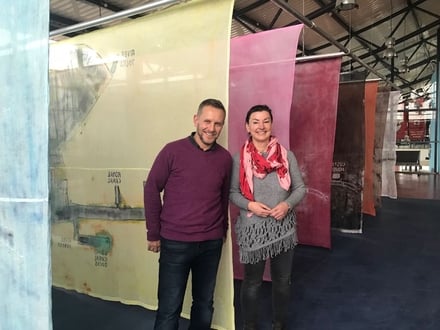 Fionn with Sylvia