Inside Culture Monday 31 October 2016
Creativity, Culture and a world of Ideas on Inside Culture presented by Fionn Davenport 10pm Mondays RTE Radio 1.
Profiles, interviews, features and discussion with emerging and established Irish and International people in the creative and cultural sectors.
This is a versatile programme that can move across disciplines from crafts to cultural agendas and will include long-form discussions and features on well known artists, cultural topics and the history of ideas. The range will give an access point for the general listener as well as a more seasoned and professional arts listenership.
This programme aims to create an intimacy with artists' work and provide textured pieces that inform and provide a listening experience with high production values.
Independently produced by Zoe Comyns – the show brings together a team of innovative radio makers who have a passion, understanding and sensibility for Arts and Culture who will create a far-reaching and fresh sounding series that complements the existing output on RTE Radio 1.
Inside Culture, Monday 31st October
This week Inside Culture looks at a major exhibition at The National Gallery of Ireland.
Creating History is a selection of 55 paintings, taken from their own collection and collections from around Ireland and the world. The paintings depict moments in our nation's story from the days of St.Patrick to the early Twentieth Century and they were painted over the past four – often turbulent - centuries.
We see pictures of political gatherings, State funerals, evictions, emigrant families, a child's funeral, the arrest of a political leader.....events which, combined, tell us the story or stories of who we are.
Fionn Davenpot is joined in studio by Brendan Rooney who is the curator of Irish Art at the NGI and is the curator of this exhibition. He's also joined by Dr. Roisín Kennedy from UCD School of Art and by Emiritius Professor of History at UCC, Tom Dunne. Both of them have contributed to a book to accompany the exhibition.
The panel discusses the range of pictures in the exhibition and how they can be interpreted today as well as how they were read in their own day. We hear how the themes of the show can guide us around our history and how we can choose to interpret images differently.
We visit the gallery several times over the course of this show to look at the themes or certain images in the collection.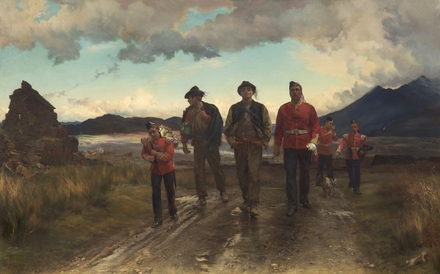 Lady Elizabeth Butler (1846–1933)
Listed for the Connaught Rangers: Recruiting in Ireland, 1879
© Bury Art Museum, Greater Manchester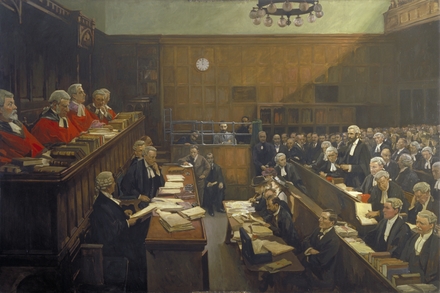 John Lavery (1856–1941)
High Treason, Court of Criminal Appeal: the Trial of Sir Roger Casement, 1916
Oil on canvas
194.5 x 302.5 cm
© UK Government Art Collection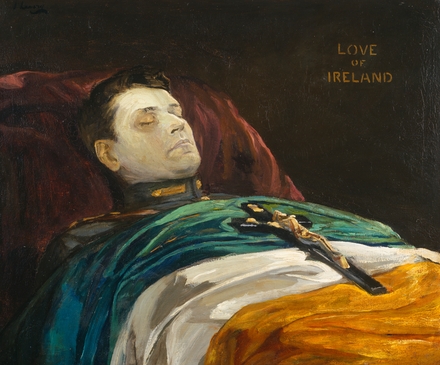 John Lavery (1856–1941)
Michael Collins (Love of Ireland), 1922
Collection: Dublin City Gallery The Hugh Lane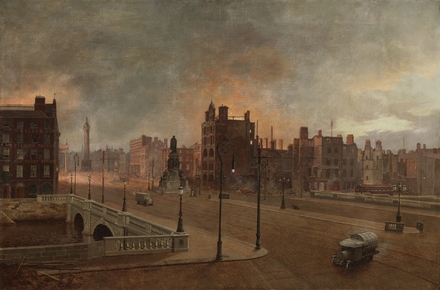 Archibald McGoogan (1866–1931)
After the Bombardment, 1916
Photo © National Gallery of Ireland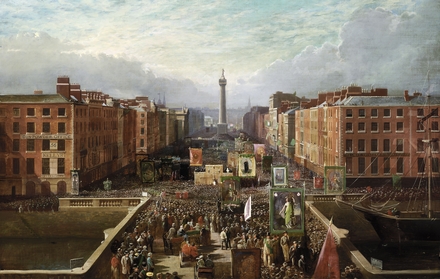 Charles Russell (1852–1910)
The O'Connell Centenary Celebrations, 1875
Photo © National Gallery of Ireland
And we also hear some rare archive footage of one of the painters, Kathleen Fox, who witnessed the arrest of Countess Markievicz in 1916 and whose depiction of this moment is one of the paintings in the exhibition.
These are human stories – from kings to starving families – and during this episode of Inside Culture we hear how paintings tell these stories.
We are very grateful to the National Gallery of Ireland for allowing us to reproduce some of the images on our website.
Other images discussed on the show can be found here: http://www.nationalgallery.ie/collection
THE EXHIBITION:
Creating History: Stories of Ireland in Art
Until 15 January 2017
National Gallery of Ireland.
Admission free.
THE BOOK
Creating History: Stories of Ireland in Art
Brendan Rooney (ed.) / National Gallery of Ireland
Published by Irish Academic Press