Brexit Series
Kerry Report:
Yesterday insurance giant AIG said it had chosen Luxembourg as the base for its European operations post-Brexit - with the country beating out competition from the likes of Ireland for the offices. But other firms are still said to be planning to move some business from London to this side of the Irish Sea. Adam Maguire concludes his Brexit series in Kerry.
Thursday Blog:
Financial services is one sector that many believe could benefit from Brexit, as London-headquartered firms seek a foothold in the European Union in order to maintain their market positions in the region post-withdrawal.
And when the discussion around that potential is had, it invariably focuses on it as a boon for Dublin only, given the concentration of banks, insurers and accountancy firms in the city.
However other areas of the country are hoping to see a dividend, too, should the expected financial influx come to pass.
In Kerry, Fexco has been operating for around 36 years - handling millions of transactions across 29 countries every day of the week.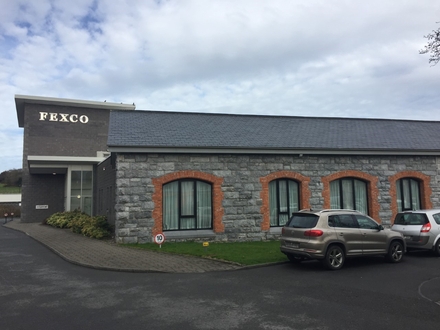 Fexco's offices in Killorglin
Around it has grown a small hub of other financially-focused firms - in some cases directly as a result of its presence, and in others by coincidence. That includes a number of firms in the county's increasingly vibrant start-up scene, as well as some that have been around for a considerably longer time.
Some of these businesses have already seen their workloads increase as a result of Brexit - as the global financial sector adapts to the new reality the vote has created. That growth in activity is expected to continue, too, especially should companies start moving operations into the jurisdiction.
And many in Kerry are hoping that they can lure even a small number of those businesses to the west coast - with the promise of lower costs and a more agreeable pace of life.
But if international financial firms do move business to Ireland - be it to Dublin, Kerry or elsewhere - it would affect the businesses here in another way; and only time will tell if that will be in a positive or negative way.
Should these banks, insurers and accountants move operations to this side of the Irish Sea they will need to find talented staff to fill the hundreds or even thousands of roles created - and by all accounts the talent pool they'll be fishing in is already somewhat shallow.
If Ireland becomes home to more big banks - with their similarly big bank balances - companies like Fexco may find it even harder to attract the kind of high-end employees they need to grow into the future.
On the other hand, the presence of these big companies might act as incentive to universities to both broaden and deepen their financially-focused courses - ensuring a production line of suitable talent in the medium term.
And if Ireland were to ultimately gain a reputation as the (or one of the) centres for European finance that would draw in the kind of mobile talent that currently flocks to London, Paris or Frankfurt - bringing a bit more variety to the local talent pool as a consequence.
Mayo Report:
Ireland's exporters helped keep the country afloat during the recession... and the sector has continued to expand in recent years. 117 billion euro worth of Irish goods were sold abroad last year alone. Adam Maguire reports from Mayo.
Wednesday Blog:
When the financial crisis brought Ireland's economy to its knees, it was exporters that provided a crutch on which the country could hobble along.
And while the recent recovery in domestic demand is to be welcomed, the export sector remains the backbone of Ireland's modern economic story.
In 2016 Ireland exported almost €117bn worth of goods to the rest of the world - selling €47.3bn more than it bought over the twelve month period.
There are elements that complicate those headline figures somewhat - and no guarantee that the money generated from those sales will stay within the Irish economy. However, with so much of it coming as a result of Irish manufacturers (and international firms with big local head-counts), it is clearly beneficial to the country.
And it's of particular benefit to counties like Mayo, which is home to a varied cluster of indigenous and multinational manufacturing firms.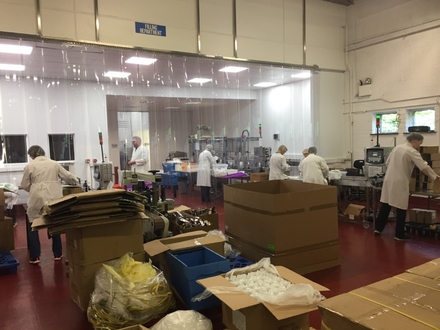 Cosmetic Creations Ireland
A huge amount of the country's pharmaceutical output originates here, for example, as does a wide array of cosmetics, agricultural machinery, retail software systems and even Coca Cola products.
But what these companies - and others like them around the country - will face post-Brexit remains very unclear.
In 2016, roughly 11.4% of Ireland's exports went to Britain - making it the third biggest destination for our goods behind the USA and Belgium. Meanwhile the country spent €15.55bn buying in goods from our nearest neighbours - representing 22.3% of all imports during the year.
That heavy trade in both directions is encouraged hugely by the fact that Irish goods can move into Britain without any charges or levies being applied - with British goods enjoying the same freedom here.
Should Britain leave the customs union - as Prime Minister Teresa May has indicated they will - and no 'comprehensive' free trade agreement will be reached, that freedom will be severely curtailed. And there aren't many winners in a scenario that sees border taxes imposed between Britain and Ireland.
Businesses here would suffer because the charges make their products more expensive in the UK - with the alternative being a cut to their margin to try to absorb the additional costs. Some would even lose out on the double, because they'd pay import duties to bring in raw materials from Britain and export duties to sell the finished product back into their nearest market.
And that's before you count the cost of any additional red tape and border check delays that may well accompany a tariff regime.
Of course at the end of this the customer also loses out, as they are the ones that would ultimately have to pay the higher price for what they receive.
And while we're still some time - probably years - away from knowing whether Brexit will mean border charges, already it appears to be having an effect.
The movement in the currencies has made it harder for Irish firms to sell goods into Britain, while also making British goods more competitive to buyers here.
While Britain remained a key export market to Ireland last year, the value of goods being shipped across the Irish Sea actually fell compared to 2015 - down 4% at a time when the broader market was growing by the same percentage.
The shift in the value of sterling after the 23rd June vote is at least partially responsible for that - while some firms may even have spent the second half of the year seeking new destinations for their products - purposely neglecting the once reliable British buyer in the process.
But not even the most concerted effort could wean Ireland's exporters off its British habit - certainly not in the short to medium term - which means that those making things here only stand to lose should taxes and charges be applied to the border post-Brexit.
Donegal Report:

Tuesday Blog:
Of the almost 9.6 million people who visited Ireland in 2016, around 41% (3.92 million) came from Britain.
If you were to add in the many Northern Ireland residents who took trips over the border during the same period, that proportion would be considerably higher.
That alone makes clear how vitally important the British market is to the health of the Irish tourism sector which is, in turn, vitally important to the health of the wider economy.
For a county like Donegal - which is not only on the border but also a county that's disproportionately reliant on tourism - its significance can be multiplied many times over.
As a result, there is a lot at stake for Donegal's tourism industry as a result of Brexit.
Like Dundalk's retailers, tourism-focused businesses here are watching the foreign exchange markets with unease - as each slip in sterling makes it that bit more expensive for a British resident to book a hotel, arrange an activity or buy a drink. (Though, on the plus side, some have also been able to benefit from the rate change by effectively paying less to British-based suppliers).
However the problems that the exchange rate poses are only the ha'penny place when compared to the dangers a hard border would create.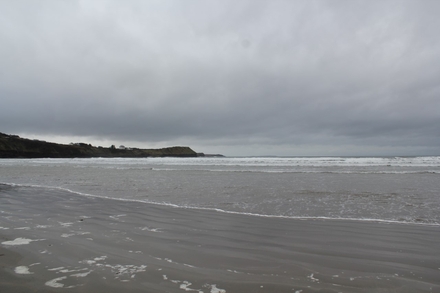 Rossnowlagh beach, Donegal
As attractive a destination as Donegal may be for British tourists at the moment, it would be considerably less so if passports - or even visas - were required. And should any form of border checks return, that Derry couple looking for a handy weekend away might become more inclined to look east rather than west for options.
Worse still, a hard border would also make it harder for many in the rest of the Republic to get to Donegal, as anyone east of the Shannon would struggle to get there without having to pass into Northern Ireland at least once.
That would mean Brexit doing damage on the double - hindering Donegal's attractiveness to many of its own compatriots as well as those coming from its nearest neighbour.
---
Monday Blog:
For many businesses, Brexit preparations involve an awful lot of 'wait and see'. Retailers, however, have not had the luxury of time.
On the day British voters went to the polls over their membership of the EU - at a time when most people expected 'Remain' to prevail - one euro bought around 76.6 pence sterling on foreign exchange markets.
Once it was clear the 'Leave' side had won the day, that immediately shot beyond the 80p mark - and reached 86p by early July (which - after months of further fluctuation - is around where it stands today).
That single shift has implications for all manner of businesses - but for Irish retailers the effect has been immediate, with their prices becoming 12% dearer relative to their British peers in a matter of days.
That differential has been enough to lure many Irish shoppers online in search of sterling-based bargains - though so far the impact has not been as severe as perhaps many feared... the once-familiar sight of Irish reg cars snaking through Newry shopping centre car parks has yet to return, for example.
That may provide some comfort to retailers in Dundalk, which sit on the frontline of Brexit's impact in many ways, but many concerns remain.
Shops here fear losing customers because of weaker sterling - both in terms of southern shoppers bypassing them for the North or northern shoppers simply not making the trip South. They fear what the potential imposition of duties and levies on British goods would mean to their prices. They worry that the same kind of charges in the other direction would discourage Northern shoppers from nipping down the road to buy from a shop in the south.
But most of all they fear what a hard border would do to the daily volume of traffic on which they heavily rely.
At the moment a trip between Northern Ireland and the Republic is seamless - but if checks are reintroduced it becomes an ordeal.
Travel times increase. People may have to face questions from customs or police officers.
Report from Dundalk:
After months of what-ifs, British Prime Minister is expected to invoke Article 50 of the Lisbon Treaty this month -- perhaps as early as next week -- formally starting the U.K's withdrawal from the European Union. This week, our business reporter Adam Maguire is reporting from the around the country to help get a better idea of what that Brexit impact might be.