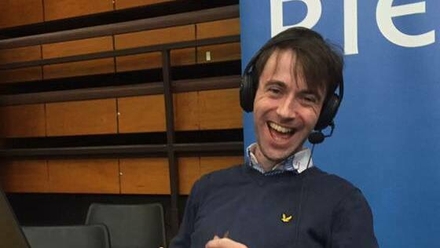 Barry Lenihan joined RTÉ in May 2013; the day after finishing his journalism degree in Dublin City University.
Since then, Barry's reported right across the RTÉ schedule; from Morning Ireland to World Report; newsreader with 2fm to GAA broadcaster for RTÉ Sport. Barry's main assignment is with Drivetime, where he's broken several big stories including a champion greyhound testing positive for cocaine, HR issues at the National Museum and financial mismanagement at the country's largest hospice. In 2018, Barry reported extensively on the shooting of Aidan McAnespie at a border checkpoint 30 years ago. Eventually, it was announced a British soldier is to face a prosecution over the killing. These reports, as well as Barry's reports with the Irish fans at Euro 2016, have been recognised at the IMRO National Radio Awards. Barry regularly covers the biggest stories of the day- and travels far and wide to report- from Donald Trump's border wall with Mexico to hen parties with adult inflatables in Carrick-on-Shannon! When not on duty, Barry can be found at a GAA match or a race meeting.
---
Achill Direct Provision Protests
Drivetime's Barry Lenihan reports on the protests against Achill's proposed emergency short-term accommodation centre for asylum seekers, and Rose Conway Walsh, Sinn Fein Senator, reacts to the protests.
---
Hare Coursing
Drivetime's Barry Lenihan reports on the hare coursing ban.
---
Galway GAA Expenses
Drivetime's Barry Lenihan reports on the controversy over the expenses of Galway GAA.
---
Gambling Regulations
Drivetime's Barry Lenihan reports on how approximately 50,000 gaming machines are operating with no licences, and Mary speaks to Jack Chambers, Fianna Fail Spokesperson on Defence, about the need for stricter gambling regulations.
---
Kerry Hospital
Drivetime's Barry Lenihan speaks to the carer of Danny Clifford, a man who was misdiagnosed by a radiologist in Kerry Hospital, about why she is demanding that he HSE cover Danny's funeral costs.
---
FAI Funding
Drivetime's Barry Lenihan reports on the ongoing controversy surround the FAI and John Delaney, the Executive Vice President of the FAI.