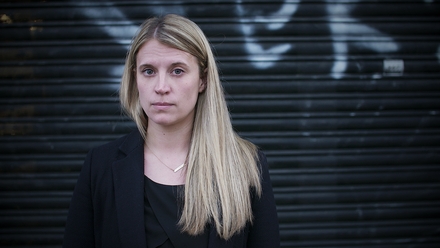 Della Kilroy is an award-winning broadcast journalist born and raised in Dublin and has worked across many programmes on RTE Radio. Della received a justice media award for her high court reporting of repossession rulings for Drivetime in 2011. She holds an Honors degree in English, Media and Cultural Studies and has a First Class Masters in Broadcast Production for Radio and Television. Della has also worked in documentary production with her first radio documentary for RTE Radio One broadcast in 2009. 'Leaving Care', was on the subject of teenagers struggling to survive as they leave the state care system at eighteen. Her second documentary 'One World: Under the Mango Tree' brought Della to the North East Democratic Republic of Congo. There she followed a community living with the aftermath of LRA violence and child abduction. Her short documentary for the Curious Ear series was broadcast in 2013 and documents the Big Brothers Big Sisters youth mentoring programme it Ireland. It follows the stories of three matches, including herself, and the friendships they have built. You can follow Della on Twitter here.
---
Homeless Hubs
Drivetime's Della Kilroy reports on the Ombudsman for Children's report into family hubs for the homeless.
---
Single Teacher Schools
Drivetime's Della Kilroy reports on single teacher schools and why a number of primary school teachers are demanding that no school should have less than two full-time teachers.
---
Homeless Healthcare
Drivetime's Della Kilroy talks to homeless drug users accessing methadone and Hep C treatment at a mobile clinic in Dublin.
---
Magdalene Laundies Redress
Drivetime's Della Kilroy talks to women at the centre of a dispute over the dates they worked in a Magdalene laundry and who are waiting for a provisional offer for redress from the Department of Justice. Wendy Lyon, solicitor with Abbey Law talks to Mary Wilson about this ongoing dispute.
---
Haiti
Della Kilroy brings us a series of reports from Haiti on the street demonstration, gender-based violence, sex workers and the prison system.
Part One:
In March 2019 businesses, schools and government offices reopened across Haiti after more than ten days of violent street demonstrations by hundreds of thousands of protesters left the country in lock-down. Our reporter Della Kilroy was in Haiti in March and brought us these reports.
Part Two:
It's nine years since one of the world's biggest earthquakes devastated Haiti and local NGOs supporting women say that the numbers of sex workers working in the capital is on the rise. Our reporter Della Kilroy examines life for women in the country's capital in this report.
Part Three:
In Haiti the number of young women reporting sexual and gender based violence is on the the rise, and especially high in the capital city Port-au-Prince. Della Kilroy looks at life for women in one of the world's poorest nations in this report.
Part Four:
Last year Haiti was ranked as one of worst countries in the world for overcrowded prisons. On average, more than 70% of those detained in Haiti continue to be held in pre-trial detention, without having been tried. Among women, the pretrial detention rate is over 80%. Della Kilroy examines the problems within the Haitian prison system in this report.
---
Columbia
A series examining how communities are impacted by armed groups along Colombia's major drug trafficking routes.
Part One:
Part Two:
Reporter Della Kilroy examines life for indigenous communities displaced by armed groups in Colombia.
Part Three:
In the final part of her series, Della Kilroy hears from female activists facing threats by armed groups in Colombia.
---
Mental Health and Adolescents
In 2016, the government set up a national youth mental health task force... but youth organisations say the lack of investment in early intervention means demand for services are now reaching crisis point. Della Kilroy reports on the rise of the number of young people experiencing mental health issues and the lack of resources provided to tackle this problem.
Part One:
Della Kilroy examines mental health issues, access to services, and prescribing practices for children and adolescents in Ireland.
Part Two:
Children face long waiting lists for mental health services, patchy service provision across the country, and some continue to be treated in adult in-patient mental health units. In part two, Della looks at access to services for children and adolescents.
Part Three:
Numerous reports suggest a rise in mental health issues for young people along with funding shortfalls, a lack of child psychologists, and high demand for specialised admissions spaces. In part three, Della Kilroy looks at prescribing practices in our child and adolescent mental health system.
---
Refugees in Jordan
In 2017, the United Nations announced that over five million Syrians -- that's more people than the entire population of the Republic of Ireland -- crossed the border and registered as refugees in neighbouring countries.
As the war entered its sixth year, millions of children remained displaced, thousands of them without parents or guardians.
Our reporter Della Kilroy travelled to Jordan for a series examining life for unaccompanied minors in the country.
Part One:
Part Two:
Part Three:
---
Refugees at the Syria-Jordan border
Drivetime's Della Kilroy visited the Syria-Jordan border. She went to the Zaatari refugee camp which houses 80,000 Syrian refugees. There, she met Jay-dah from Aleppo who lost her husband, her 12 year old son and her brother in the war.
Part One:
Part 2:
In the Zaatari refugee camp, which is home to more than 80,000 displaced Syrians, Della met with a family which had been approved for re-settlement in the United States. However they were left in Limbo as a result of President Trump's policy changes.