CountryWide Saturday 1 June 2013

Countrywide - Full show
Damien O'Reilly brings the 4 corners of Ireland to you.
Look What's In My Back Garden
Michael D Higgins is the patron of Bloom and he seems to have only done one interview at Bloom this year and it was Louise Denvir for Countrywide, clearly a man of good taste and judgement. The full version of the interview is here, as a slightly edited version went out on the radio on Saturday's show.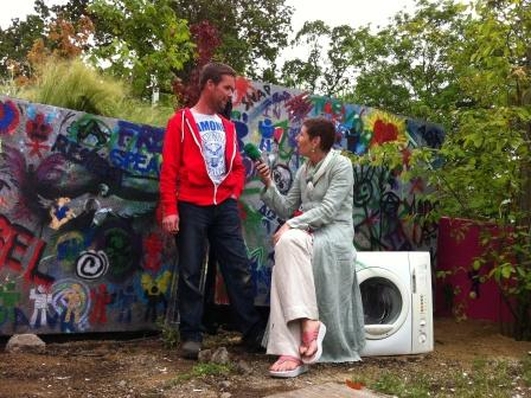 MORNING GLORY
Aine Lawlor is the voice of Morning Ireland and a keen gardener in her own right.. You might think the last thing she needed was another early start, but being the pro she is, and because Damien asked her nicely, she came into Bloom to talk about one of her favourite times of the year, when Bloom is on.
NOT BORED WITH BIA
Aidan Cotter is the Chief Executive of Bord Bia, the Irish Food Board, and the people behind Bloom. He tells Damien about the state of the food and agriculture industry in Ireland.
Clanwilliam Court Lower Mount St Dublin 2
Tel:01 668-5155
Email: info@bordbia.ie
Web: www.bordbia.ie/
CONCERNED GARDENER
Multi award winning designer Paul Martin, was behind the Concern 1000 Days garden, sponsored by the Kerry Group. The idea is that the 1000 days covers pregnancy and the first 2 years of the baby's life, and the garden is part of a major national public engagement and advocacy campaign to drive political momentum on sustainable development in Africa. Web: www.concern.net/1000days
Paul Martin Designs Ltd, Sandyford, Dublin Tel: 01 2917060 Email: info@paulmartindesigns.com Web: www.paulmartindesigns.com
Keywords
CHATHAM UP COS THEY HAVE SAX APPEAL
The Chatham Saxophone Quartet was established in 2008 at the DIT Conservatory of Music and named after the street where the Conservatory is. They are a multi-prizewinning ensemble (Feis Ceoil, LyricFM bursary, Galway Apprentice scheme)and in 2011 the quartet became The Galway Music Residency's Apprentice Ensemble. A lot of what they do is to take music for string quartet and adapt it to saxophone. And they are playing during Saturday on the Lyric Stage at Bloom The members are: Daniel Dunne – Soprano Saxophone Darren Hatch – Alto Saxophone Ciaran Sutton – Tenor Saxophone Ian Finlay – Baritone Saxophone
They were one of many live acts playing on the Lyric FM stage at bloom over the 5 days.
Tel: 0851669966 Email: chathamsaxquartet@gmail.com
Keywords
NEVEN IS HEAVEN
Neven Maguire is not only one of Ireland's best known chefs but one of several who appear live at Bloom over the festival. Neven talks to Damien about his love affair with locally produced food.
McNean House, Blacklion, County Cavan.
Tel: 071 98 53022
Email:info@macneanrestaurant.com
Keywords
HOPE IN THE GARDEN
Eileen Nolan is Head Gardener in Our Lady's Hospice, Harolds Cross,Dublin and along with Dr. Mary Toomey and Adrian Eggers has designed Journey on Earth, The Hospice Garden. The garden is designed with palliative care in mind: scents, gently flowing water and relaxing colours. Following Bloom, the garden will move to a permanent home to the grounds of the Hospice in Harold's Cross where it will be open to all.
Our Lady's Hospice & Care Services, Harold's Cross, Dublin 6w.
Tel: +353 (0)1 406 8700
Keywords
About The Show
Speech Broadcaster of the Year Damien O'Reilly and the CountryWide team feature the events, people and happenings that bring colour and life to communities, towns and villages across the country.