Countrywide, Saturday February 23rd 2013

Countrywide
A bright start to the weekend as Damien O'Reilly and the CountryWide team feature the events, people and happenings that bring colour and life to communities, towns and villages across the country
Keywords
Adam and the Garden of Eden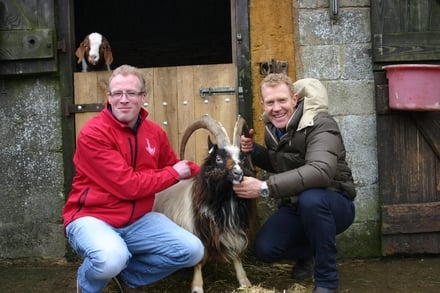 Damien visited the Cotswolds in England to visit Bemborough Farm, the family home of Adam Henson, best known for BBC TV's Countryfile, but a serious farmer as well. The farm runs a big visitor business under the name, Cotswold Farm Park, and is the home of Rare Breeds Conservation. Adam and Duncan Andrews took on the lease of Bemborough Farm from his father, and the pair now jointly run the 650 hectare estate, growing wheat, spring barley and oilseed rape, alongside a flock of 350 commercial ewes, and rare breed cattle and sheep.
Cotswold Farm Park Limited
Guiting Power, nr. Cheltenham, Glos. GL54 5U England
Email: www.cotswoldfarmpark.co.uk
Tel +44 (0)1451 850 307
Countryfile BBC Website CLICK HERE
Keywords
Quinn the Export
Damien talked to Damien and Kevin Quinn, of Quinn International Livestock Exporters, on the resumption this week of the live cattle trade to Libya and North Africa.
The first load left Waterford on the Al Mahnoud Express on Tuesday last.
In 1995 when the exports to North Africa stopped, trade was worth €130m with around 250,000 head going to Egypt and Libya. Needless to say, the resumption has brought a furious response from some animal welfare groups.
Quinn International are based in Moate Co Westmeath.
Tel: 0906485819
Keywords
Horse and Chips
Joe Collins is a practicing vet in North Cork – Equine Veterinary Services- and still does some research work with UCD Veterinary school. 2 years back he was World Horse Welfare funded PhD scholar at University College Dublin, conducting research into equine welfare in Ireland. That work showed up the problems with the horse passports and microchips in Ireland, and at the time it was, if not dismissed by the authorities, certainly swept under the carpet.
Keywords
Harrowing small ads
Atkins Farm Machinery, based in Cork City, Fermoy and Bandon, run a page of machinery ads in the Farmers Journal every week, but small ads with a bit of ironic and off beat humour. Peter Wolfe, whose family own Atkins, is the wordsmith in question and he tells Damien about the firm ( in business since 1878 and how he came to inject a bit of wit into what would seem to be very mundane and business like.
Atkins
Carrigrohane Road,
Cork,
Ireland
Tel: 021 4933420
Web: www.akins.ie
Keywords
More Atkins Gems
Some of Peter Wolfe's creative ads for Atkins, that we didn't have time for on Saturday's show.,
Keywords
About The Show
Speech Broadcaster of the Year Damien O'Reilly and the CountryWide team feature the events, people and happenings that bring colour and life to communities, towns and villages across the country.