CountryWide Saturday 22 October 2016
Want to buy a Sea Urchin Business?
John Chamberlain is a fan of Sea Urchins but he's decided to move on. Frances Shanahan was in Dunmanus Bay to find out why
Dunmanus Seafoods, Durrus, Bantry, County Cork
+353 (0) 2835500
Email : seaurchins@eircom.net
GREEN GROW THE PROFITS OH!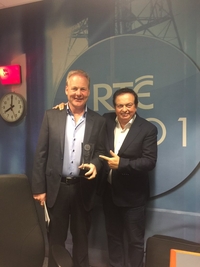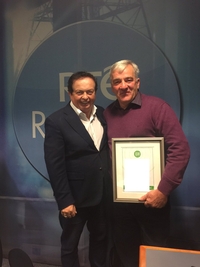 Pictured with Marty this morning are
Paddy Redmond from Gorey in Wexford who farms 900 Angus cross bred cattle and Patrick Brennan, Ballingarry ( Roscrea) in Tipperary who milks 170 cows.
They were both winners in the Origin Green Sustainable producers awards held last night.
Origin Green details : http://www.origingreen.ie/
About The Show
Speech Broadcaster of the Year Damien O'Reilly and the CountryWide team feature the events, people and happenings that bring colour and life to communities, towns and villages across the country.