Climb Sunday 28 July 2013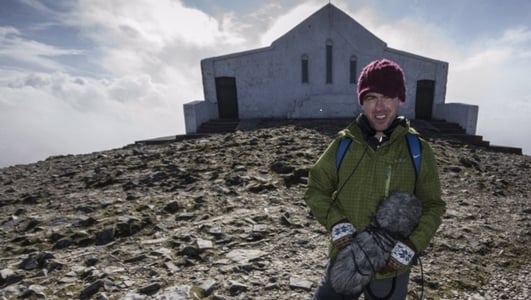 Climb - Croagh Patrick
Julien Clancy tackles four of Ireland's most iconic Irish mountains for the very first time.
Matt Loughrey is probably sick of being referred to as the guy who climbed Croagh Patrick every single day for a full year starting in 2010. However his story has gone on to embody all that is great about this the most spiritual of all the Irish mountains. In this third episode of the four part series, Julien Clancy attempts the difficult ascent for the very first time with Matt, and along the way he meets climbers from both Ireland and around the world. What he finds at the top however is not just stunning views of the surrounding countryside but also the realisation that a mountain can become a metaphor for the trials and tribulations of life itself. As Matt's touching story reveals it's a challenge that can be overcome, if you're just willing to make that first step.
Presented and Produced by Julien Clancy.
Sound by Carl Mullan and Mixed Bag Media.
This programme was made with the support of the Broadcasting Authority of Ireland.