Citizens Lockout 1913 to 2013 Saturday 10 August 2013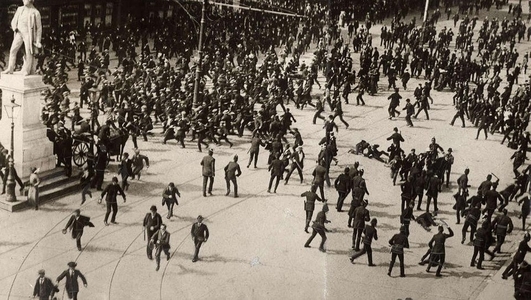 Citizens: Lockout 1913-2013 - Episode 1
In episode one Citizens:Lockout 1913-2013 historians and writers including Padraig Yeates, Diarmaid Ferriter, Emmet O'Connor, Francis Devine and Mary Daly trace the roots of the Lockout, depicting Dublin in 1900-1912 and the arrival of Larkinism in Ireland through the Belfast strike of 1907. Authors James Curry, Mark O'Brien and Felix Larkin give an insight into Murphy as a newspaper czar while Ciaran Wallace explores the significance of the empire in Irish identity. 'There was no burning desire by the majority to break free,' says Wallace 'certainly the nationalist favoured Home Rule, but it wasn't the British Empire, for many it was our empire'.
We get to meet the key characters of the period Connolly, Larkin, Markievicz and Murphy and understand more of their motivation. Academic Lauren Arrington shares insights from a forthcoming biography of Markievicz on Constance Gore Booth's journey from the big house to the picket line and ultimately 1916. Terry Fagan of the North Inner City Folklore Project through his archive collections describes the life of the poor. Producer and presenter Helen Shaw, whose grandmother Elizabeth Connolly, grew up in the Dublin city tenements, and was one of the children at Maud Gonne's 1900 protest party, explores the events, people and personalities that define the period and shape modern Irish society.
Today with Myles Dungan 9th August
'Today with Myles Dungan' show featuring Padraig Yeates - author of Lockout: Dublin 1913 and a member of the 1913 Committee, Mary Daly Professor of History and Archives at University College Dublin, Ciaran Wallace historian at Trinity College Dublin and Ann Matthews writer and historian at NUI Maynooth who all feature across the series.