Ceili House Saturday 23 November 2013
Ceili House
Tonight an interview with The Chieftains who received an honorary Doctorate from DIT and we also meet Wexford singer and song collector Paddy Berry to talk about his love of traditional music and song and hear his selection of favourite recordings.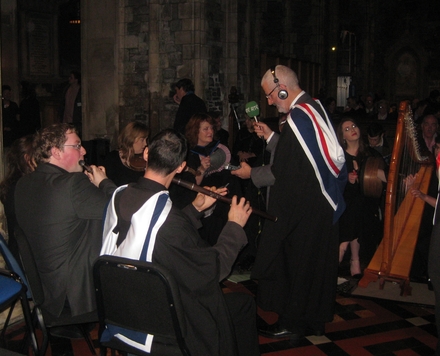 Kieran Hanrahan in his Masters regalia recording music from the DIT Traditional Music Ensemble as part of DIT Graduation day in Saint Patrick's Catheral, where The Chieftains received an honorary Doctorate.
Keywords
About The Show
Céilí House is one of RTÉ Radio's most popular programmes of traditional Irish music and song. You can join in the enjoyment every Saturday night as presenter Kieran Hanrahan and producer Peter Browne travel the length and breadth of Ireland and beyond, in search of a good session to bring each week to the many loyal listeners.