Blighted Nation: Episode Three - Famine Emigration
More one million people died during the Great Famine and more than double that number emigrated within the next decade. A greater number emigrated during this period than all those who had left in the previous two and a half centuries.
Emigration was a fact of Irish life before 1845 but the famine accelerated the numbers who left.
Between 1845 and 1855, almost 1.5 million people left for the United States; 340,000 sailed for Canada (many were through migrants – eventual destination the US), around 300,000 settled in the cities of Great Britain, and 70,000 went to Australia.
Fewer than one in three of those born in Ireland in the early 1830s died at home of old age.
This programme examines people's desperation to leave. It also explores what parts of Ireland saw the most emigration, who left, where they went, how they got there and how they were received.
Other areas covered include a portrait of a coffin ship, assisted emigration, quarantine stations, where the poorest ended up, attitudes to emigrants in their new countries and how emigrants helped to shape their new countries.
We also feature a micro-history of the 5,000 who emigrated from the Strokestown Estate in Co. Roscommon.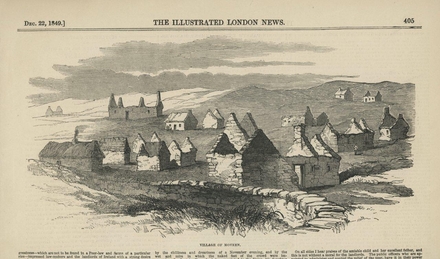 (Image courtesy of Ireland's Great Hunger Museum)
Studio Guests:
Marita Foster, University College Cork.
Dr. Gerard Moran, director of the MA programme in Irish History at NUI Maynooth.
Ciaran Reilly (Historian) who has has been researching the archive of Strokestown Estate in Co. Roscommon which holds the largest collection of famine documents.
Contributors include:
Lynn Rogers (Friends of Abandoned Cemeteries, Staten Island)
Former President Mary Robinson
Bob Wagner (famine descendant)
Mick Moloney, musicologist, NYU
Peter Quinn (New York author)
William Henry (author Coffin Ship).
Blighted Nation podcasts are extended versions of the original broadcasts and are available here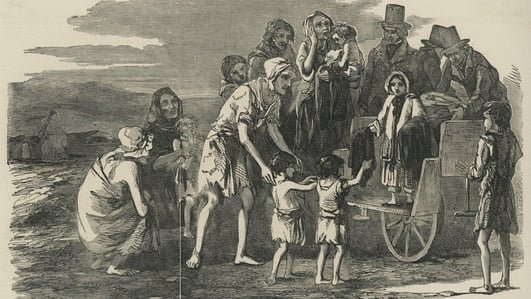 Blighted Nation
The Great Famine which struck Ireland in the middle of the 19th century was the biggest social catastrophe in Irish history.
Over one million people died. The potato-dependent poor - landless labourers and small cottiers were wiped out.
Two and a half million emigrated between the years 1845 and 1855. A greater number than all those who had left in the previous two-and-a-half centuries
Blighted Nation presented by Myles Dungan will explores how the Great Famine swept through Ireland and changed the country forever.
Emigration became deeply institutionalised in Irish culture and even today, we are the only country in Europe and possibly, the world, that has a smaller population than we had in 1840.
Recorded in Ireland and New York, Blighted Nation explores how our country's past resonates in the 21st century.
In four one-hour programmes on four consecutive evenings Blighted Nation explores the arrival of the blight and its catastrophic consequences, Britain's response to the famine, mass emigration as well as its aftermath and legacy.
Blighted Nation was originally broadcast on 1, 2, 3, and 4 January 2013 on RTE Radio 1
Blighted Nation is sponsored by Ireland's Great Hunger Museum at Quinnipiac University, Hamden, Connecticut http://ighm.nfshost.com/
Blighted Nation Episode Three features
Coffin Ship: Those who could, left Ireland. The cheapest way to get across the Atlantic was on what would become known as coffin ships. Colette Kinsella spoke to historian, William Henry about the conditions people had to endure on board.
Famine Memories collected by Irish Folklore Commission in 1945: We feature a selection of emigration memories as told to the Irish Folklore Commission in 1945. These stories were handed down by parents and grandparents who lived through the famine.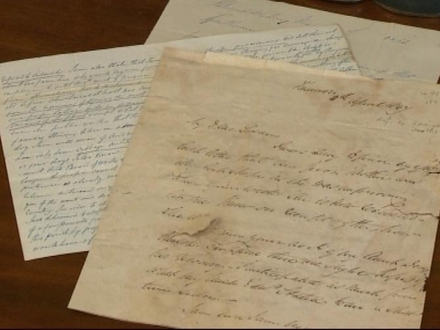 Arriving in Canada: The majority of emigrants who headed for Canada intended to go onto the States. Many of the people coming off ships were disease ridden and the Canadian authorities set up a quarantine depot at Gross Isle where over 15,000 men, women and children would die of famine fever. Mary Robinson visited Gross Isle in 1994 during her term as Irish president. She described what she described as a hallowed place.
Arriving in New York: Emigrants who arrived in New York were often in a very poor condition due to fever and other diseases. Nicoline Greer visited Staten Island where the sick were quarantined.
Where the Irish lived in New York: By 1861, 27% of the population of New York was Irish born or first generation Irish. Reporting from New York, Nicoline Greer sketched a picture of where and how they lived.
Boston Pilot: The Facebook of the time was the Boston Pilot. Every week it carried notices from relatives looking for a lost family member. Actors read examples on the programme.
Irish Emigrants' music: Ballads and songs from Irish immigrants were as important as their letters. In New York, Nicoline Greer looked at how the emigrant experience has been recorded through music.
Keywords
Emigrant letter from Catherine O'Keeffe
Emigrant letter from Catherine O'Keeffe
Courtesy of The Strokestown Park Archive
(OPW/NUI Maynooth Archive & Research Centre, Castletown)
Keywords