Patrick Scott
The exhibition of Patrick Scott's work opens next week at Visual in Carlow and the Irish Museum of Modern Art at Kilmainham in Dublin. The two spaces will show work that reflects Scott's prodigious output as a painter, designer and architect – the celebrated and instantly recognisable Gold Paintings, early works from the 1940s on, tapestries, rugs, screens and his exquisite series of Meditation Tables – and more.
Patrick Scott: Image Space Light brings together over 100 pieces in the biggest single representation of his remarkable work - a career of 75 years.
Tonight we visit the Garden Gallery at IMMA and Visual in Carlow, meet Scott's partner and collaborator Eric Pearce, exhibition curator Christina Kennedy and artist Corban Walker who has made his own response to Scott's work as part of the exhibition.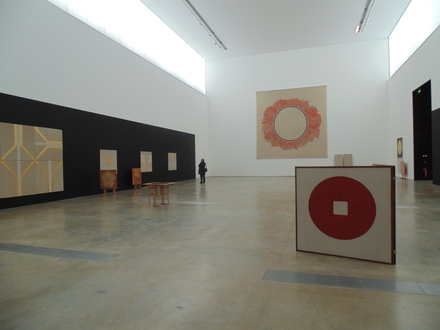 One of Patrick Scott's striking tapestries hanging in the main gallery at VISUAL in Carlow, along with some of his Japanese tables and gold paintings

With me in studio to consider the work, working life and legacy of Patrick Scott are critic Aidan Dunne, who has written extensively on Scott's art, Barbara Dawson, Director of the Dublin City Gallery, the Hugh Lane, Neil Scott Chairman of Scott Tallon Walker architects, on the phone from Kerry, and joining us from Galway, Lelia Doolan who worked with Patrick Scott when he made a series of theatre designs. She continues to promote his work through the art and architecture of Solas, the new Arthouse cinema in Galway set to open later this year.

We recorded a lengthy interview of which just some is included in the programme. The full interview can be heard HERE.