Arts Tonight Monday 3 February 2014
The most recent series of Arts Tonight has now concluded. Podcasts of all the programmes in this recent series, as well as previously broadcast Arts Tonight programmes, are available here.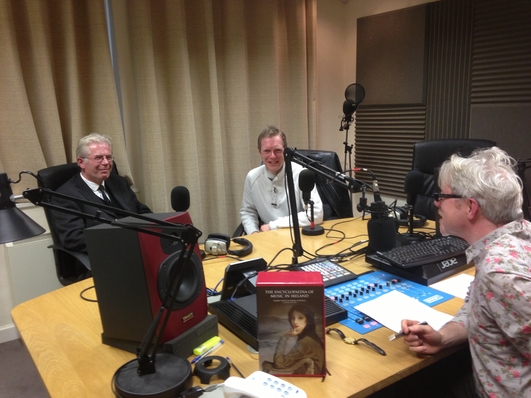 Arts Tonight
On the programme this week - A River of Sound: celebrating and debating The Encyclopaedia of Music in Ireland.
Vincent Woods debates the new two-volume work with Co-editor Harry White, Professor of Music in UCD, and Dr Mark Fitzpatrick of DIT and co-executive Editor, with opinions from musician and founder of the Journal of Irish Music Toner Quinn, Deborah Kelleher of The Royal Academy of Music, and Fintan Vallely, Editor of the Companion to Irish Traditional Music.
And a range of Irish music from U2 to Riverdance, Frederick May and Sir Charles Villiers Stanford.
The EMIR as it's known was years in the making, with a team of some 240 contributors and about 2,000 entries, overseeing the single largest research project on music in Ireland to have been undertaken to date. The result is a handsome two volumes of over 500 pages each, in a slipcover with a striking reproduction of John Lavery's portrait of his wife as Caitlín Ní Houlihan with her harp.
About The Show
Art Tonight with Vincent Woods is a weekly indepth programme of culture and the arts in Ireland and internationally.
We hope you enjoy the programmes and please do contact us with your comments at artstonight@rte.ie