Arts Tonight 15 April 2013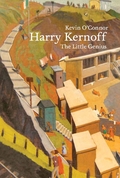 On tonight's programme, Kevin O'Connor on his biography of Harry Kernoff (1900-1974), an artist who depicted Dublin city and its people with close attention, intensity and vivid detail. We also hear Harry Kernoff in interview from the RTÉ Radio archives. Harry Kernoff: The Little Genius is published by Liffey Press.
And Edward Murphy, NCAD librarian and founder of NIVAL, the National Irish Visual Arts Library, on how he came to build up this treasure-trove of documentary material on 20th and 21st century Irish art, which may be accessed free of charge by both art students and the general public and which is managed by Donna Romano: www.nival.ie Edward Murphy will receive the 2013 RHA Gold Medal for services to Irish art, in May.
***Update**** Because of the extended radio news coverage of the bombs in Boston, Part 2 of Arts Tonight -- the interview with Edward Murphy --will now be held over for broadcast in the coming weeks.