Bunaíodh Saorstát Éireann ar 6 Nollaig 1922, agus cuirfear tús le sraith nua Dé Domhnaigh 15 Eanáir a scrúdóidh mar a bhain an stát óg aitheantas ar leith amach ar an stáitse domhanda i dtréimhse céad bliain.
Deich gclár a bheas sa tsraith An Stát Úr Nua, a dhíreoidh ar na dúshláin a chruthaigh mór-imeachtaí éagsúla staire do thaidhleoirí an stáit. Cloisfear cuimhní na hiar-ambasadóirí Noel Dorr, Seán Ó hUiginn, Máirtín Ó Fainín, Donal Hamill, Noel Fahey, Paula Ní Shlataire, Gearóid Ó Cléirigh agus Antóin Mac Unfraidh ar imeachtaí ar nós, an rás núicléach, misean UNIFIL, Na Trioblóidí, Cogadh na Malvinas, Cogadh na Murascaille, géarchéim ghalar na bó mire, Comhaontú Aoine an Chéasta, ionsaí 9/11, diúltú Chonradh Nice, an cliseadh eacnamaíochta i 2008 agus go leor eile.
Scrúdófar obair thaidhleoirí na hÉireann ar cheisteanna éagsúla, ina measc cúrsaí neodrachta, cearta daonna, obair shíochána, an diaspora, an chríochdheighilt, An Eoraip, Cúnamh Éireann, cúrsaí cultúir, cúrsaí gnó, agus ballraíocht na hÉireann ar an gComhairle Slándála, agus mar a chuir sé sin leis an aitheantas suntasach atá ag Éire ar an stáitse idirnáisiúnta sa lá inniu.
Beidh painéal saineolaithe páirteach i ngach clár sa tsraith An Stát Úr Nua chomh maith, a thabharfaidh a mbreith siúd ar chur chuige an stáit agus a bhfuil le foghlaim againn ón gcéad bliain atá imithe. Orthu siúd beidh Niall O'Dowd, An tOllamh Fionnuala Ní Aoláin, An tOllamh Niall Ó Dochartaigh, Noelle O'Connell, Séamus ̦Ó Tuathail, Doireann Ní Bhriain, Ragnar Almqvist, agus go leor eile.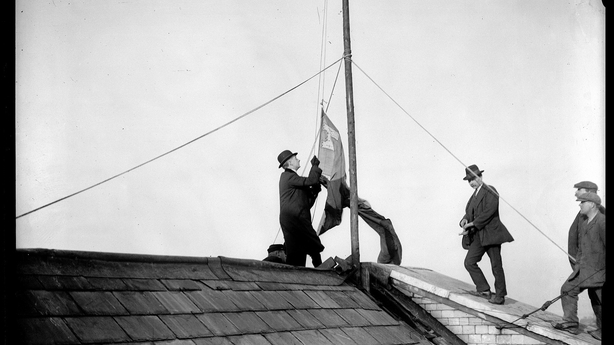 Is ar chúrsaí neodrachta a dhíreoidh an chéad chlár sa tsraith, a chraolfar ar an Domhnach 15 Eanáir ag 7 pm. Sa chlár seo, cloisfear cuimhní na hiar ambasadóirí Noel Dorr agus Antóin Mac Unfraidh, agus pléifidh an staraí Aindrias Ó Cathasaigh, an t-iar Rúnaí Preasa Rialtais Eoghan Ó Neachtain, agus an t-abhcóide Cecilia Ní Choileáin, imeachtaí ar leith agus polasaí neodrachta na hÉireann go ginearálta.
Is iad Scun Scan Productions a léirigh an tsraith seo, le tacaíocht ón Roinn Gnóthaí Eachtracha agus Údarás Craolacháin na hÉireann. Is é Dónall Ó Maolfabhail láithreoir agus léiritheoir na sraithe.
Craolfar An Stát Úr Nua ar RTÉ Raidió na Gaeltachta gach Domhnach ag 7 pm, ag tosú ar an 15 Eanáir. Beidh an clár ar fáil ar an suíomh idirlín freisin anseo
__________________________
The Irish State: The International Challenge
The Irish Free State came into being on 6 December 1922, and a new series starting on 15 January will examine how the fledgling state achieved its unique standing on the world stage over the course of the last one hundred years.