Beidh Scoil Samhraidh Willie Clancy ar siúl i mbliana ó 2 – 10 Iúil, agus beidh RTÉ Raidió na Gaeltachta ansin i lár an aonaigh ag craoladh beo ón bhféile ón Domhnach 3 Iúil go dtí an Aoine 8 Iúil.
Tá nasc láidir ag RTÉ Raidió na Gaeltachta le féile mhór cheoil Chontae an Chláir le blianta fada. Chraol siad ón bhféile an chéad bhliain a reáchtáladh í sa bhliain 1973, agus bhí siad i láthair ar bhealach amháin nó ar bhealach eile gach bliain ó shin, ag taifeadadh nó ag craoladh beo ó Shráid na Cathrach.
Tosóidh an craoladh beo i mbliana le coirm mhór Éirinn is Alba oíche Dé Domhnaigh ag 8 pm, ag ceiliúradh an nasc idir na tíortha Ceilteacha, agus beidh scoth na gceoltóirí ar stáitse, ina measc Hamish Moore, Connie O'Connell, Maighréad Ni Dhomhnaill, Paddy Glackin, Louise & Mick Mulcahy, agus grúpaí as Cape Breton, An Bhreatain Bheag agus Québec. Is í Neansaí Ní Choisdealbha a chuirfidh an ócáid i láthair.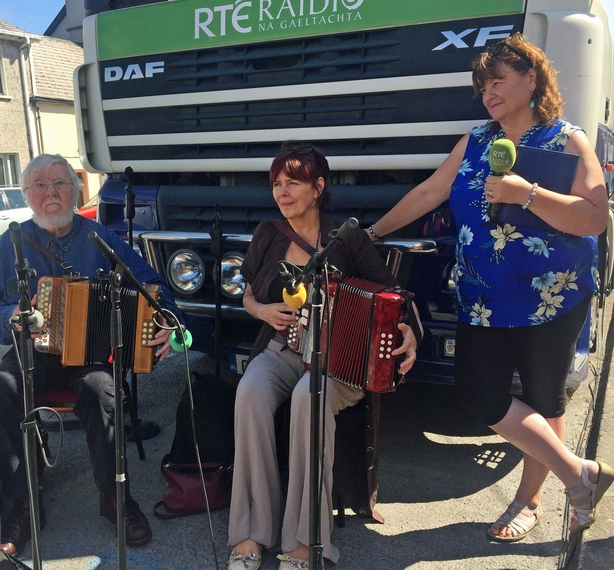 Beidh Ródaí RnaG suite i lár an bhaile i Sráid na Cathrach ar feadh na seachtaine, taobh amuigh de Halla an Phobail. Gach iarnóin ó 3 pm go 5 pm beidh Áine Hensey sa chathaoir don chlár Bhinneas Béil, agus rogha breá ceoil agus agallamh aici dúinn le ceoltóirí agus lucht eagraithe na féile, idir shean agus óg. Ansin, ag 7 pm, beidh Neansaí Ní Choisdealbha ar na maidí don chlár Ceol Binn ó na Beanna agus dhá uair a'chloig de scoth an cheoil aici dúinn, le bannaí agus ceoltóirí aonaracha aici beo ar an gclár, ó Luan go Céadaoin.
Beidh físeáin agus pictiúirí ón gcraoladh le feiceáil ar mheáin shóisialta RTÉ RnaG i gcaitheamh na seachtaine. Tabhair cluas don chraoladh beo ar FM nó ar líne, agus is féidir éisteacht siar leis na cláracha ar an suíomh idirlín rte.ie/rnag
_____________________________
The Willie Clancy Summer School takes place from 2 – 10 July, and RTÉ Raidió na Gaeltachta will be broadcasting from the heart of the festival all week from Sunday 3 July to Friday 8 July.