Creamy smoked haddock spinach baked eggs
Serves: 4
Prep time: 25 minutes
Cooking time: 20 minutes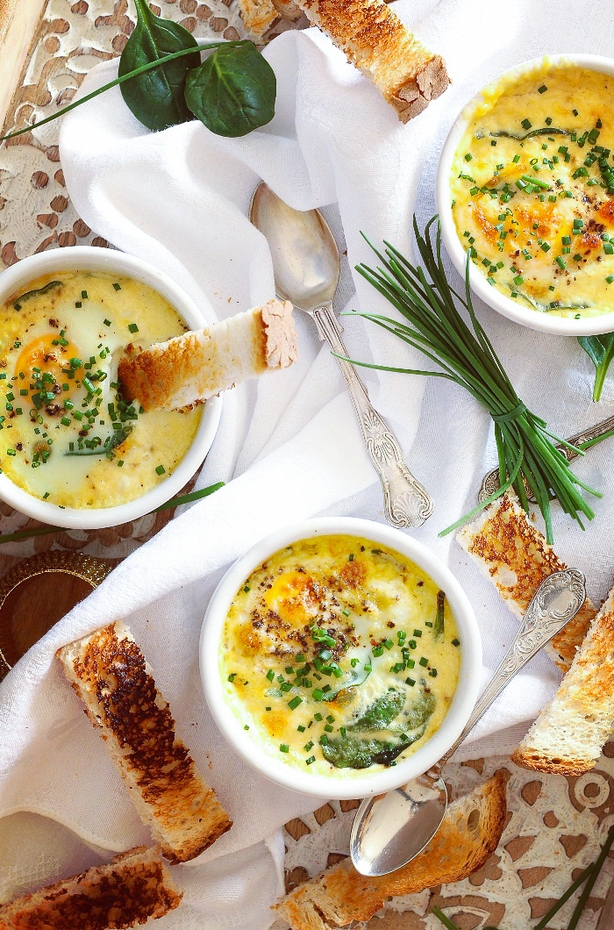 Ingredients
150g skinless smoked haddock
200 ml double cream
2 teaspoons Dijon mustard
4 eggs
Handful of baby spinach
Chives
Salt & pepper
Method
Pre-heat the oven to 170C
Place the chopped smoked haddock into the bottom of each ramekin
Top with spinach and crack an egg on top of this.
In a bowl, whisk the cream, Dijon and seasoning.
Pour this over the egg.
Place the four ramekins in a deep roasting tray and half fill with water.
Carefully place this in the centre of the oven and bake for 20-25 minutes depending on how well you like your egg yolk cooked.
Again carefully remove the ramekins from the water bath, sprinkle with chopped chives and serve with a side of salad and toasted buttered bread soldiers!
Individual rosewater pavlovas with Summer berries
Makes: 8-10
Prep time: 25 minutes
Baking time: 1 hour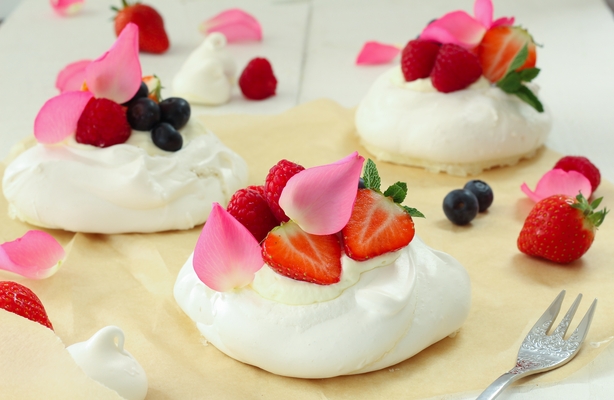 Meringues
4 egg whites
215g caster sugar
1 tbsp rosewater
Filling
250ml cream (whipped)
200g Summer berries
Method
When making meringue, a few rules to follow. Ensure your eggs whites are fresh and at room temperature. Always use a clean dry bowl and whisk.
Preheat your oven to 120C/100C Fan/ Gas 1/250F
Take the bowl from your mixer and using the whisk attachment, whisk the egg whites on full speed until stiff peak is reached.
Gradually add the caster sugar until thick and glossy.
Finally add the rose water and mix.
Line two baking sheets with parchment paper and spoon four pavlovas onto each tray.
You don't need to have the perfect shape, remember you want them to look homemade.
Make a small indent in the centre of each pavlova, this will hold the filling after its baked.
Bake in the centre of your oven for 1 hour. If you prefer a chewy pavlova you can take them out at this stage or if you like a crumbly meringue, turn the oven off and allow to cool completely inside.
To assemble, spoon some semi whipped cream into the centre and top with Summer berries.
Individual asparagus, prosciutto, tomato tarts with poached eggs
Makes 4
Prep time: 35 minutes
Cooking time: 40 minutes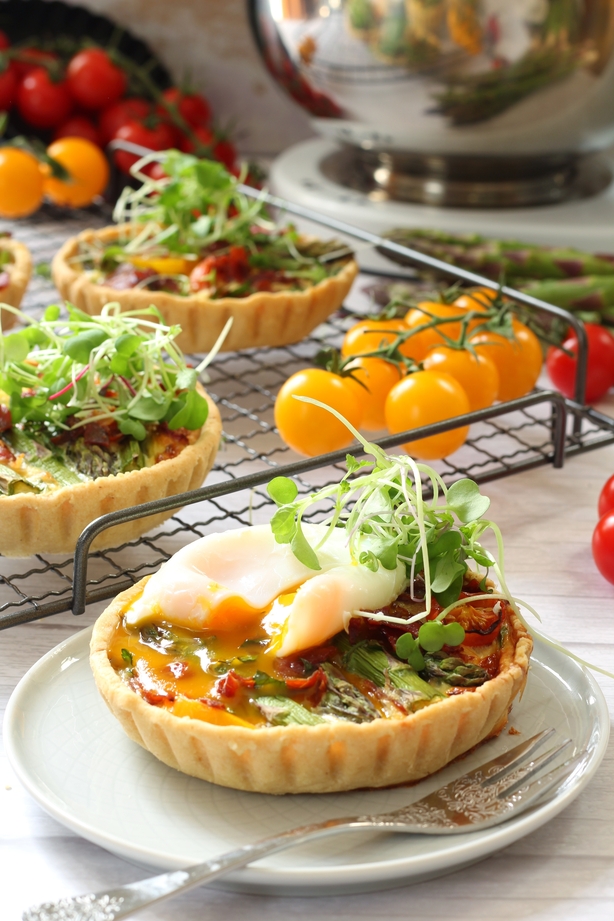 Tart pastry
225g plain flour
100g cold butter, diced
Pinch salt
Cold water
Tart filling
3 medium eggs
190ml milk
50g sour cream
2 tbsp chopped parsley
16 asparagus stalks
salt & pepper
8 cherry tomatoes
5 slices of prosciutto
4 poached eggs
Method
Add the flour, butter & salt to a food processor and blitz until you reach a breadcrumb consistency.
At this point add 4-6 tbsp of cold water and mix until a dough is formed.
Remove, wrap and rest in the fridge for 30minutes.
Grease and dust 4 individual loose bottom tart tins. These tins are 10cm in diameter and 2cm deep.
On a floured work surface, roll out the pastry and cut out 4 x 14cm discs. You may need to reroll the trimmings to get the 4th disc of pastry.
Line the tart tins and pop back into the fridge to rest for 10 minutes.
Preheat your oven to 180C / 160C fan / 350F / Gas 4.
Line the tart shells with parchment paper and baking beans and blind bake for 12 minutes, remove the beans and return to the oven for a further 8-10 minutes until lightly golden brown all over.
Remove and allow to cool.
To make the filling, firstly to crisp up the prosciutto, put 5 slices onto a baking tray and pop into the hot oven for 5/6 minutes until crispy, remove and allow to cool. Once cold chop roughly.
Whisk the eggs, milk, sour cream & seasoning until combined.
Cut the asparagus tips to size to fit into the tart shells, and chop the remaining stalks into slices.
To assemble, into the pre-baked shell, add the asparagus slices & spears, cherry tomato halves, chopped prosciutto, chopped parsley and pour over the egg sour cream mixture.
This goes back into the preheated oven and bakes for another 25-30minutes or until set.
Once baked, allow to cool for 5 minutes before removing from the tins. While the tarts are resting you can poach your eggs to serve on top.
This is a beautiful lunch or dinner dish paired with a garden salad.
Mikkado biscuits
Makes: 20-22 biscuits
Prep time: 30 minutes
Baking time: 15 minutes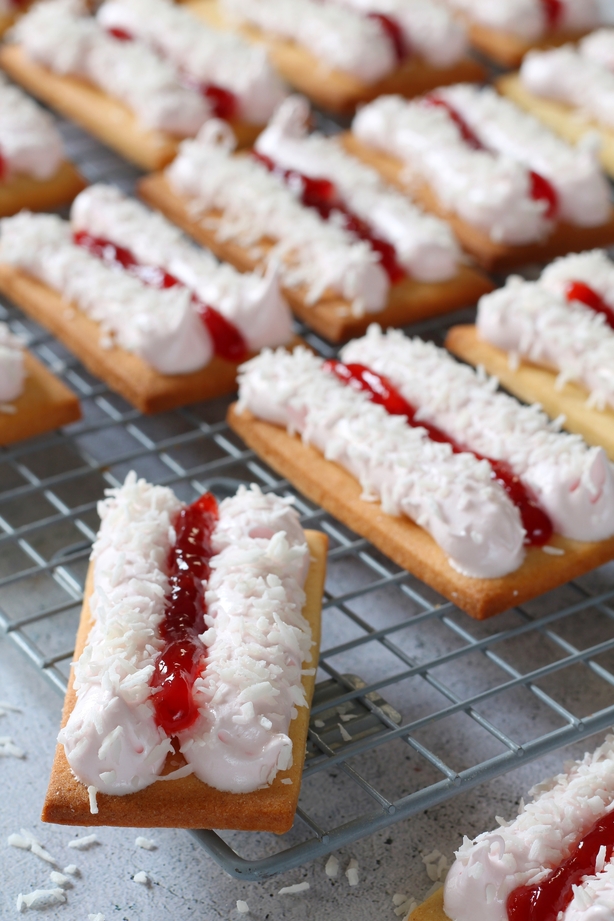 Sweet pastry
125g butter
125g caster sugar
1 medium egg
1/2 tsp vanilla extract
250g plain flour
Coconut meringue
2 medium egg whites
110g caster sugar
Dash vanilla extract
1/4 tsp cream of tartar
50g desiccated coconut
1 drop red food colouring
150g strawberry jam
Method
Preheat your oven to 180C/160C fan.
For the biscuit base, in a mixing bowl cream the room temperature butter, sugar and vanilla together until creamy and pale.
Add the egg and mix.
Finally add the flour & combine.
Wrap the dough and chill for one hour.
Once rested, on a floured surface roll the dough into a rectangle measuring 15"x 12".
Cut out rectangle biscuits measuring 1.2" x 3.5", you should get 20-22 biscuits.
Place them on two lined baking sheets and pop into the oven
Place a sweet into the centre of each cookie and place in a preheated oven and bake for 12 minutes or until golden brown.
When cooked, remove to cool slightly on the tray and then remove and pop onto a wire rack to cool completely.
For the coconut meringue, Place the egg whites, sugar and cream of tartar into a clean dry bowl.
Bring a small pot of water to the boil and once it boils, turn it down to a gentle simmer.
Pace the bowl over the simmering water ensuring the water is not touching the bowl and using a hand mixer, whisk for 4-5 minutes until thick and glossy.
Add in the vanilla and the red food colouring and mix.
Pop the baby pink meringue into a piping bag fitted with a round nozzle and pipe two lines of meringue on top of the cooled biscuit.
Sprinkle the top of the meringue with the coconut and finish with a piping of strawberry jam down the centre.
Tuck in & enjoy!