Baked lemon Cheesecake with Basil marinated Strawberries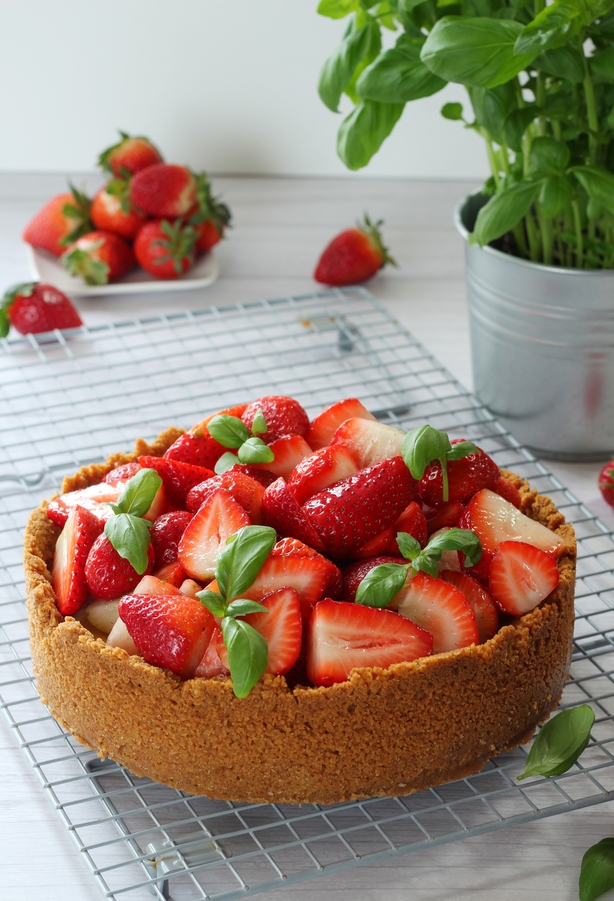 Serves 10
Ingredients
300g digestive biscuits
200g butter, melted
250g full fat cream cheese
250g mascarpone
140g caster sugar
1 lemon, juice & zest
3 free range medium eggs
Marinated strawberries
400g Irish strawberries
1 tbsp icing sugar
2 tbsp chopped O'Hanlons fresh basil plus extra for garnish
Method
Preheat your oven to 160°C / 140°C Fan / 315°F / Gas 3.

Line the base of a 20cm round, 6cm deep loose bottom baking tin with parchment paper and grease the base and sides.

Blitz the biscuits until a fine crumb is reached.

Add the melted butter and mix.

Press this buttery crumb mix over the base and up the sides of the tin.

Chill for 20 minutes.

Place the cream cheese, mascarpone, caster sugar and lemon zest into a mixing bowl and using a hand mixer, mix all the ingredients together until smooth.

Gradually add the eggs, one by one until incorporated.

Add the lemon juice and mix.

Pour the cheesecake batter into the chilled lined tin.

Place in the center of your pre-heated oven and bake for 50/60 minutes or until the filling is set but has a slight wobble in the center.

Cool in the oven by leaving the door slightly open.

Once cooled, place in the fridge for a minimum of 4 hours or overnight.

For the marinated berries, simply hull the strawberries and cut in half, sprinkle with icing sugar and chopped O'Hanlon's fresh basil and allow to marinate for 15 minutes.

To serve, top the chilled cheesecake with the berries, extra basil and enjoy.
Top Tip: If you can't get your hands on marscapone, just use all cream cheese instead. Take inspiration from this recipe and top your cheesecake with your favorite Summer fruits.
Strawberry crumble Ice-cream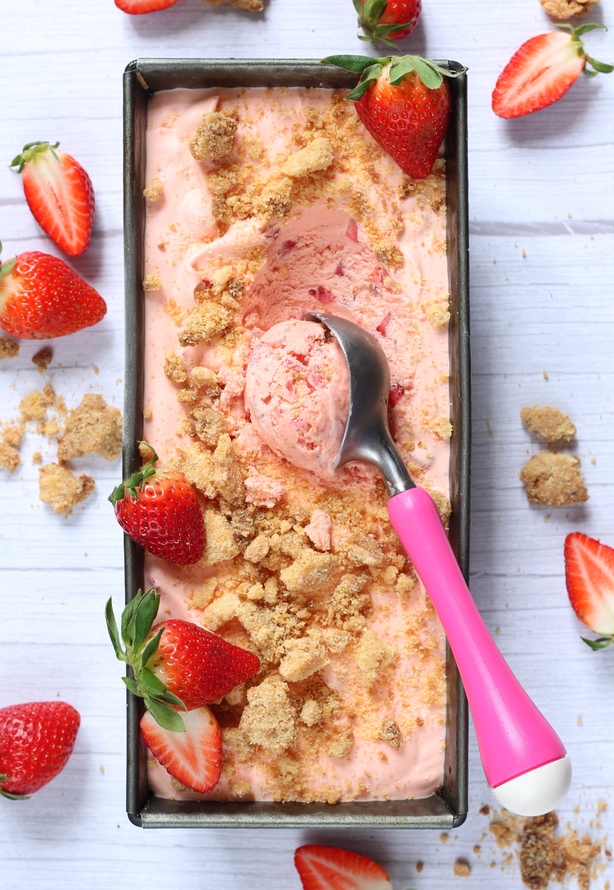 This is a no churn vanilla Ice-cream, layered with Irish strawberries and oat crumble

Serves 6-8

Ice-cream
2 medium free range eggs
6 free range egg yolks
2 tsp vanilla essence
200g caster sugar
800ml single cream
250g Clarke's diced strawberries
Few drops red food colouring (optional)

Crumble
40g plain flour
15g porridge oats
25g butter
75g caster sugar

Method
For the crumble, preheat your oven to 180C/160C fan.

In a bowl, mix the flour, oats, sugar and butter and with your fingertips, mix until a sandy texture is reached.

Place this on a lined tray and into the oven for 10 minutes or until golden brown. You will need to stir the crumble mix throughout baking to ensure it cooks evenly.

Set aside to cool
For the Ice-cream, whip the cream and place back into the fridge to keep cold.

Pop the eggs, yolks, vanilla and sugar in a heatproof bowl and set this over a pot of gently simmering water and whisk continuously until doubled in size, thick and glossy.

Remove from the heat and whisk until cold.

Fold through the whipped cream and finally the small diced strawberries.

At this point if you want a richer colour you can add 2 drops of red food colouring, this is completely optional.

Spoon half the mix into a 2lb loaf tin and sprinkle on some crumble mix, cover this with the remaining ice-cream mix and top with the remaining crumble.

Pop this into the freezer overnight to firm up.
To serve, remove the Ice-cream from the freezer about 20 minutes before you wish to serve.

Scoop into chilled bowls and serve with some fresh strawberries.

Top tip: This mix can be poured into lollipop moulds and served as strawberry Ice-pops also.
Strawberry & cream shortbread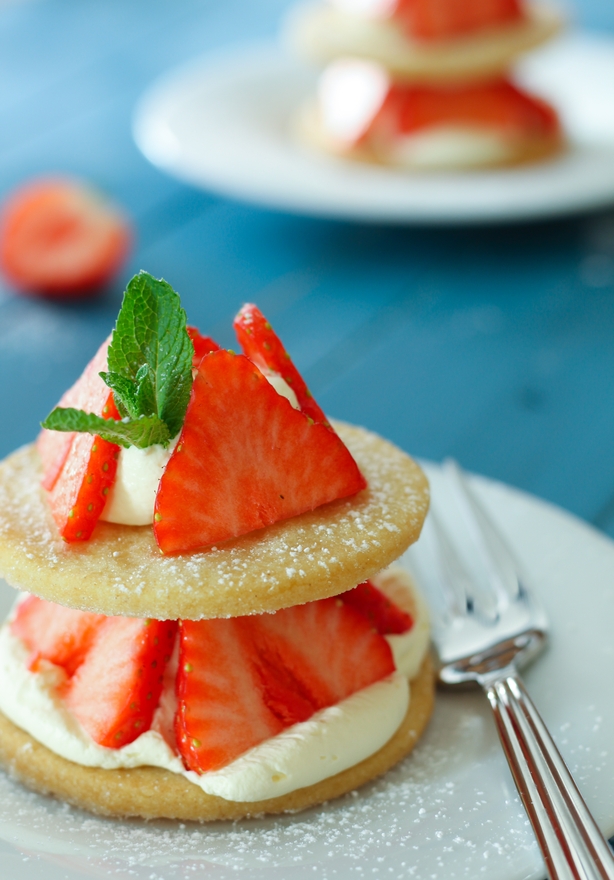 Serves 6
Ingredients
125g unsalted butter
50g caster sugar
180g plain four
dash vanilla extract
Garnish
1/2 punnet of strawberries
250ml cream
Method
Preheat the oven to 180C.
Beat the butter and sugar together until smooth.
Add the vanilla essence. Mix.
Finally add the flour and mix to form a smooth dough.
Turn onto a floured work surface and gently roll to a thickness of 1cm.
Cut out 12 circles and placed on a lined baking tray, sprinkle with a little caster sugar and chill for 10 minutes.
Bake in the preheated oven for 10-15 minutes or until golden brown.
Set aside to cool on a wire rack.
To assemble, simply pipe some whipped cream on to the cookie and top with sliced strawberries, place another cookie on top and repeat the process with cream and strawberries.
Dust with icing sugar and serve!