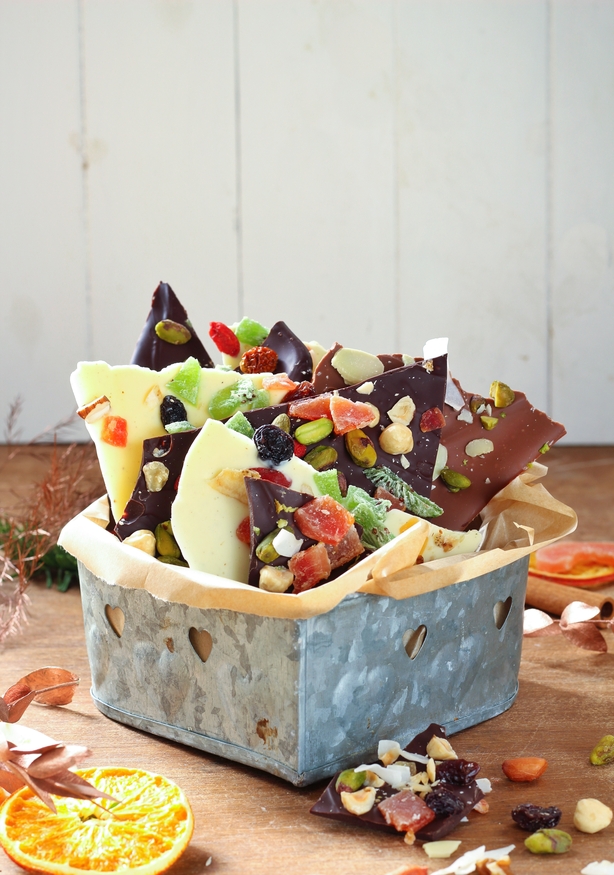 Chocolate fruit & nut bark
Serves 8
Ingredients
150g dark chocolate
150g milk chocolate
150g white chocolate
A selection of dried fruit and nuts
50g chopped hazelnuts
50g chopped pistachios
50g chopped almonds
50g dried apricots
50g dried cranberries
50g raisins
30g desiccated coconut
Method
Melt each of the different chocolates separately in a bowl set over a pot of gently simmering water.
Once each chocolate is melted, pour onto a lined baking sheet, spread with a spoon and sprinkle on desired toppings.
Place in the fridge to set.
Once set, snap into random shapes and tuck in.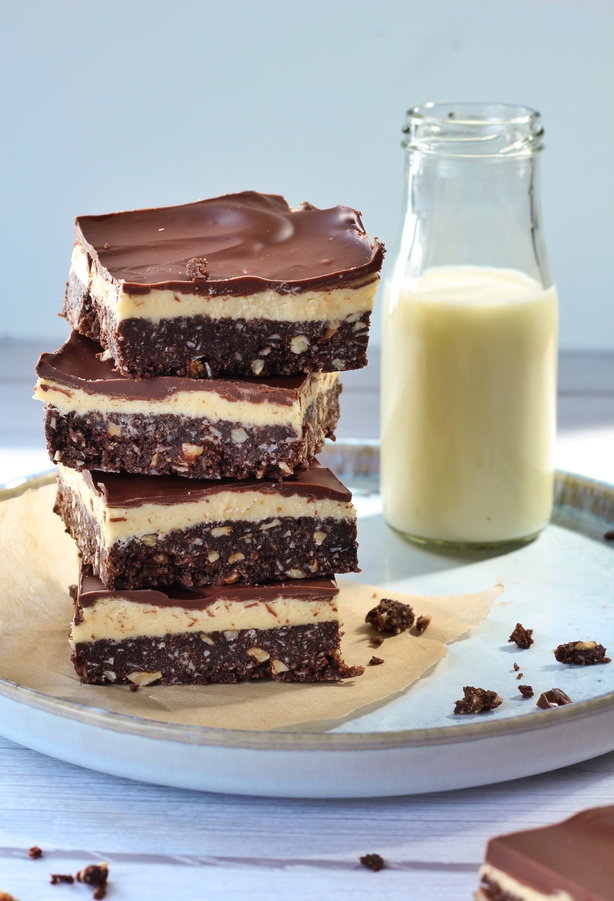 Chocolate coconut Nanaimo bars
Makes 9
Base
200g digestive biscuit
1 tsp vanilla essence
60g chopped hazelnuts
30g unsweetened cocoa powder
50g caster sugar
70g desiccated coconut
150g butter
Filling
75g butter
230g icing sugar
20g custard powder
dash vanilla essence
2tbsp milk
Topping
150g dark chocolate
1 tbsp butter
Method
Grease and line a 9" square brownie tin with parchment paper, set aside.
For the base, blitz the digestive and add to a large bowl. Blend the melted butter, sugar and cocoa.
Add this to the biscuits along with the coconut, vanilla and chopped hazelnuts.
Mix well and press into the base of the lined tin. Chill for 30 mins.
For the filling, in a mixing bowl fitted with the paddle attachment, add the butter and cream for 2-3 minutes.
To this add the icing sugar, custard powder, vanilla & milk. Mix well.
Spread this over the chilled chocolate coconut base. Chill for another 10-15 minutes.
For the topping, add the chocolate and butter into a bowl and gently heat in the microwave until melted and combined.
Allow to cool to room temperature as you don't want it to melt the buttercream.
Spread this over the chilled buttercream and pop back into the fridge for 10 minutes until the chocolate firms up.
If you want to serve straight away, don't leave it in the fridge too long as the chocolate can go too hard and will crack when cutting
If serving later on, remove 30 mins before cutting.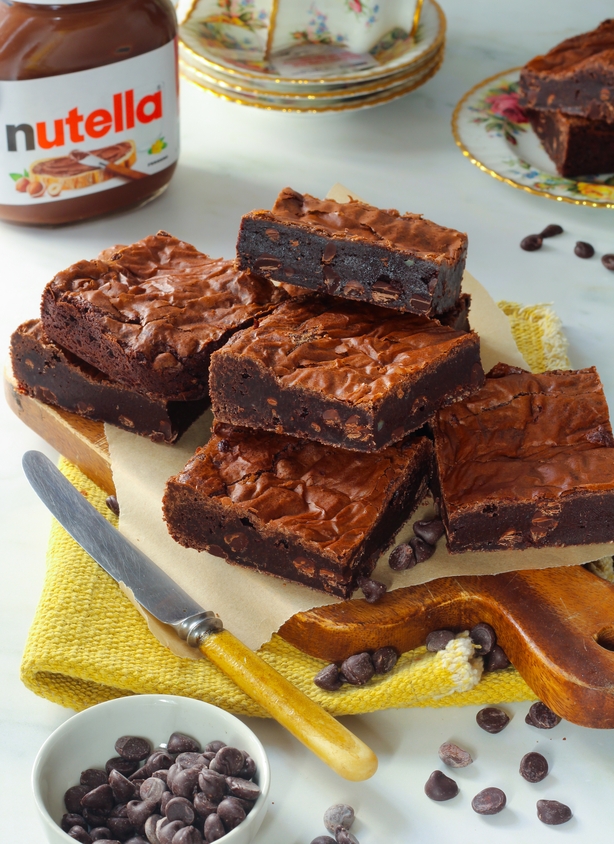 Dark chocolate Nutella brownies
Makes 9
Prep time 20 minutes
Baking time: 30-35 minutes
Ingredients
180g butter, melted
250g caster sugar

3 medium eggs

160g Nutella

180g dark chocolate, melted

90g plain flour
40g unsweetened cocoa powder
Pinch salt
150g dark chocolate chips
Method
Preheat your oven to 170C fan.
Line a 8" square baking tine with parchment paper and set aside.
Whisk the melted butter and sugar until light in colour.
Add the eggs, one by one and mix between each addition.
To this, add the melted chocolate and Nutella. Fold this together.
Sieve in the cocoa, flour and salt and mix until combined.
Finally add the chocolate chips and mix.
Scoop into the tin and bake for 30minutes for a fudgy brownie.
Enjoy!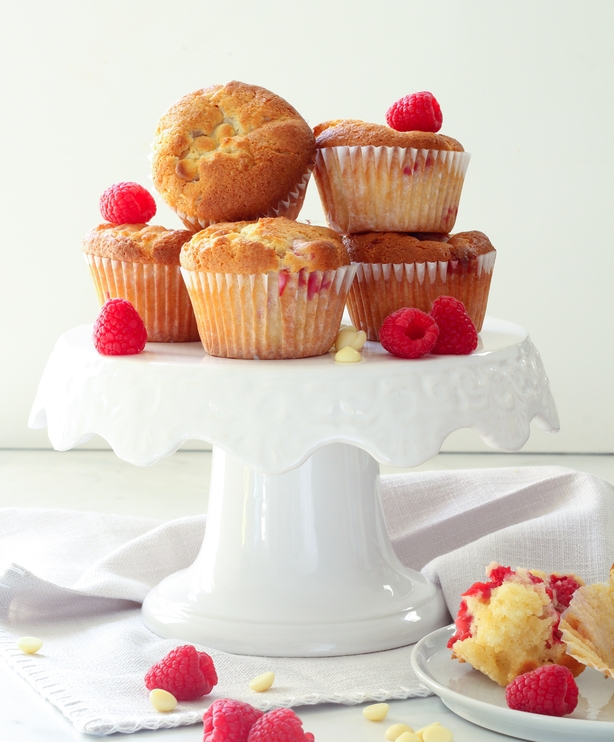 White chocolate raspberry muffins
Makes 6
Prep time:15 minutes
Baking time: 25 minutes
Ingredients
125g caster sugar
1 medium egg
Dash vanilla
55ml vegetable oil
120g sour cream
135g plain flour
Pinch salt
1 tsp baking powder
60g fresh raspberries
85g white chocolate drops
Method
Preheat oven to 200°C / 180°C fan.
In my @kenwood_ireland stand mixer, whisk the egg and sugar for 5 minutes until pale.
Add the oil, vanilla and sour cream. Mix.
Fold in flour, baking powder and salt.
Finally, carefully fold in raspberries and chocolate.
Divide between 6 muffin cases and place in the centre of the oven and bake for 20-25 minutes.
Enjoy.