St Tola goats cheese courgette muffins
Serves: 8
Prep time: 20 minutes
Baking time: 25 minutes
Ingredients
200g self raising flour
1 teaspoon baking powder
1/2 teaspoon bread soda
1/2 teaspoon ground cumin
1 medium egg
1 courgette (140g) grated and excess liquid squeezed out
100g St Tola Irish goats cheese
40ml rapeseed oil
150ml Irish buttermilk
Salt and pepper
2 tablespoon chopped parsley
Method
In one mixing bowl blend the flour, seasoning, baking powder, bread soda and cumin, set aside.
Whisk together the egg, oil and buttermilk.
Pour the wet ingredients into the dry and mix gently. Add in half the crumbled goats cheese, chopped parsley and the courgette.
Blend but do not over mix at this point.
Line a muffin tray with 8 paper cases and divide the muffin mix between them.
Chicken Kiev cheddar balls
Makes 12
Ingredients
· 600g chicken mince
· 3 garlic cloves, crushed
· 40g butter
· 120g grated Irish cheddar cheese
· 3 tbsp chopped parsley
· salt & pepper
· 150g breadcrumbs
· 80g flour
· 2 eggs
· Vegetable oil for frying
Method
· Firstly, to make the Kiev filling, in a bowl mix the room temperature butter, chopped garlic, cheddar cheese and parsley together to form a stiff paste. Chill.
· For the chicken balls, in a bowl add the chicken mince, salt and pepper and 50g of your breadcrumbs and mix.
· Divide this into 12 balls and pop on a tray.
· Also divide the cheese filling into 12 balls.
· Using the back of a teaspoon make a small indent into the chicken ball and add in the cheese filling.
· Encase the cheese filling in the mince as we dont want it to leak out once it's baked.
· To breadcrumb the filled balls, place the flour, eggs and remaining breadcrumbs into 3 seperate bowls. Roll the balls in flour, dip in the egg and finally roll in breadcrumbs.
· Preheat your oven to 180C/160C fan.
· Heat your fryer to 180C and once hot, pop the Kiev balls into the oil and cook until golden brown, remove and finish cooking in the oven for 10 minutes.
· Serve straight away with a side of chips or salad or both.
· You can serve garlic butter or tomato sauce on the side.
· Enjoy.
Crunchie cheesecake
Serves: 10
Prep time: 25 minutes
Chill time: Overnight
Base
· 320g chocolate digestive biscuits
· 125g butter, melted
Filling
700g full fat cream cheese
100g icing sugar
300ml double cream
dash vanilla essence
150g chopped crunchie bars
Topping
· 100g dark chocolate
· 50g cream
· 4 crunchie bars, chopped
Method
· Line the base of a 20cm loose bottom cake tin with parchment paper.
· For the base, mix the blitzed biscuits with melted butter and press down on the base of the tin. Chill for 10 minutes.
· For the filling, using a hand mixer or stand mixer, whisk the cream cheese, sugar and vanilla for a few seconds until blended.
· To this, start slowly pouring in the cream while mixing. Continue to do this until all the cream is added and mix for about a minute until the mixture is thick.
· Add the chopped crunchie bars and fold through.
· Spoon this on top of the chilled base and spread with a spoon until level.
· Place this in the fridge overnight to firm up.
· The following day, for the topping, heat the cream and pour this over the chopped chocolate and leave to sit for 2 minutes for the chocolate to melt.
· Stir with a spatula until combined.
· You can run a sharp knife around the edge of the tin to release the cheesecake.
· Place on the serving dish, spread over the melted chocolate topping and finally finish with the chopped crunchie bar.
· Enjoy
Six ingredient Tiramisu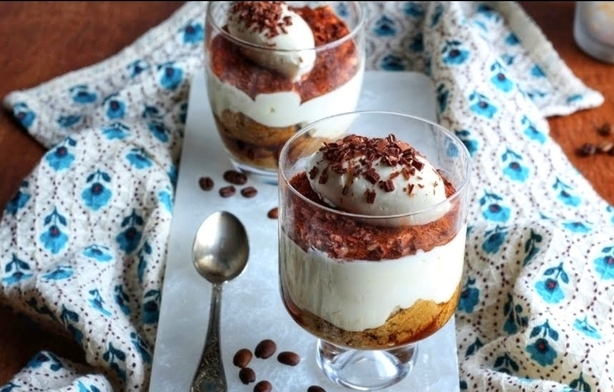 Serves: 4
Prep time: 20 minutes
Chilling time: 4 hours
Ingredients
500g Irish marscapone cheese
180g condensed milk
Dash vanilla extract
12 sponge fingers
Unsweetened cocoa powder
180ml good quality strong coffee (room temperature)
Method
To make the cream simply, whisk the marscapone, vanilla and condensed milk in a bowl until smooth and place in fridge until needed.
Break the sponge fingers in half and soak in the coffee for a few seconds and then place in the bottom of your glasses.
Spoon the sweetened cream on top of these and return to the fridge for a minimum of 4 hours.
When serving, simply dust with cocoa powder and if you're feeling fancy, top with spoon of whipped cream and grated dark chocolate.
Donegal Rapeseed Oil whipped feta cheese dip with garlic flatbreads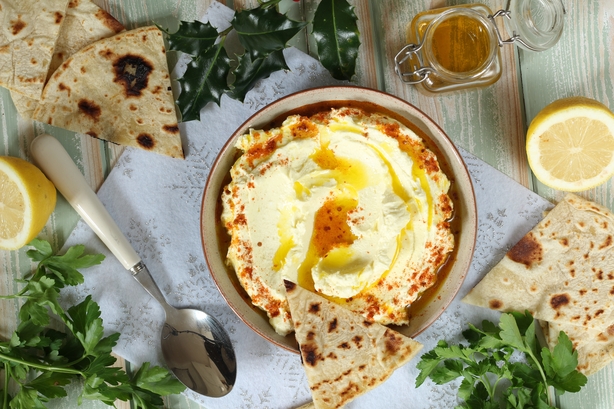 Serves 6
Flatbreads
300g plain flour
1/2 tsp salt
25ml Donegal garlic rapeseed oil
25g melted butter
185ml milk
Whipped feta cheese dip
300g St Tola feta cheese
200g cream cheese
3 tbsp Donegal rapeseed oil
1 lemon zest & juice
Black pepper
Harissa powder or smoked paprika
Method
For the flatbreads, combine the Donegal garlic rapeseed oil, butter and milk in a saucepan and heat gently until combined.
Add this to the flour and salt and mix to form a dough.
Turn out onto a floured work surface and knead for a few minutes until smooth.
Wrap in cling and rest at room temperature for 30 minutes
Once rested, cut the dough into four and roll into balls.
Using a rolling pin on a floured surface, roll each ball into a round about 1/2 cm in thickness.
Heat a pan with a tablespoon of rapeseed oil, once hot add the flatbread and cook for about a minute on one side and flip over and cook for the same length on the other. If the flat bread puffs up you can press it down with a spatula and if the pan is too hot, simply turn it down.
Stack the cooked flatbreads one on top of another and cover with a kitchen cloth. The steam will soften up the outsides.
For the whipped feta cheese dip, in a food blender, add the feta cheese, cream cheese, Donegal rapeseed oil, lemon juice, zest and pepper and blitz until smooth. You may need to scrape it down to incorporate all the ingredients.
To serve, scoop into your serving dish and drizzle over more Donegal rapeseed oil and dust with harissa or paprika.
Cut your flatbread into small pieces and serve on the side.
Sprinkle the remaining goats cheese on top and place in a preheated oven at 170C and bake for 25/30 minutes