Lemon blueberry muffins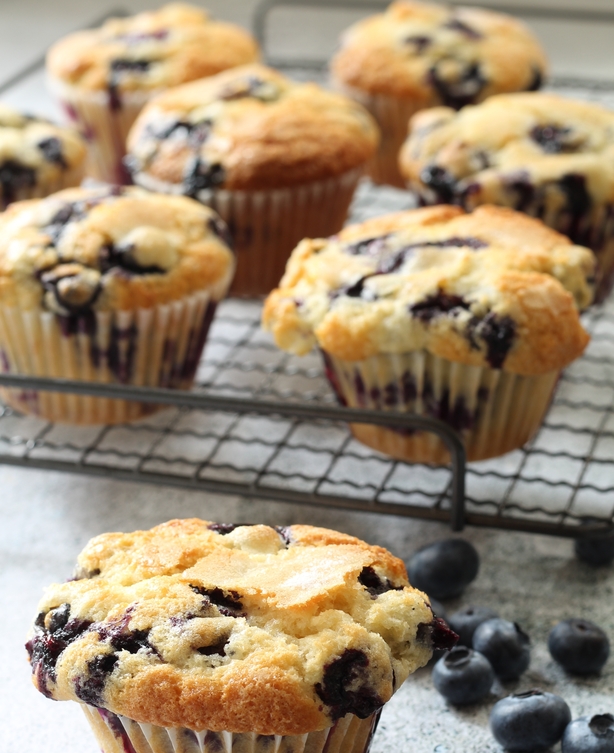 Makes 8
Ingredients
200g plain flour
2 tsp baking powder
145g caster sugar
Pinch salt
Zest 1/2 small lemon
80ml vegetable oil
1 large egg
100ml milk
225g fresh blueberries
Methods
· Preheat your oven to 200C/180C fan and line a cupcake tin with 8 paper cases
· In a mixing bowl, add the plain flour, sugar, salt and baking powder. Mix.
· Into another bowl whisk the oil, milk, eggs & lemon zest.
· Add the wet to the dry ingredients and with a spatula and mix.
· The secret is to not over mix the batter as you will be left with a lighter muffin.
· Once mixed, fold through the fresh blueberries.
· Scoop into the prepared tins and sprinkle the top with caster sugar for added crunch.
· Place into the preheated oven and bake for around 18-20 minutes.
· Remove and allow to cool before tucking in.
Peanut butter & jam cookies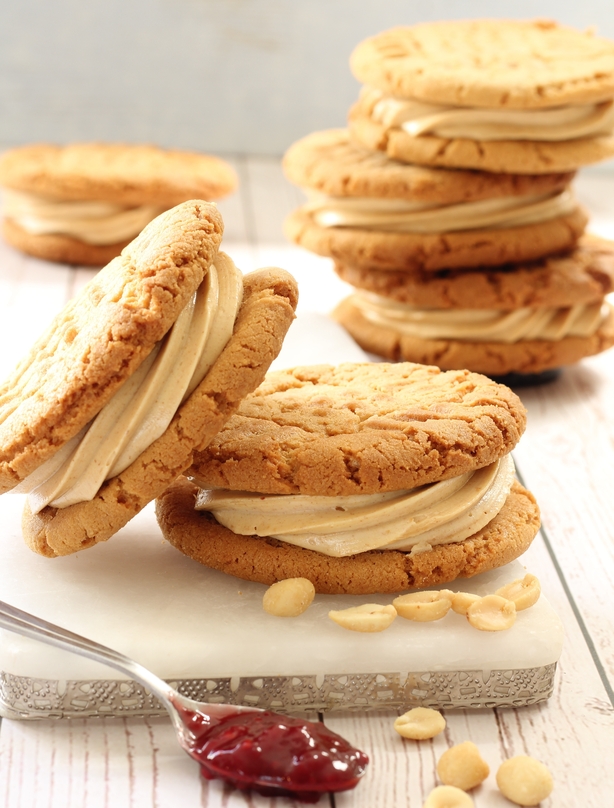 Makes 12 cookies
(6 sandwiches)

Cookie batter
115g butter
125g crunchy peanut butter
100g caster sugar
100g brown sugar
1 medium egg
170g plain flour
1/2 tsp baking powder
Pinch salt
1 tsp bread soda

Peanut buttercream
240g soft butter
125g smooth peanut butter
120g icing sugar

Filling
100g raspberry jam
50g salted peanuts
Method
· For the cookie dough, in a mixing bowl, cream the butter, sugars and crunchy peanut butter until smooth.
· To this add the egg and mix.
· Add the flour, baking powder, bread soda and salt and mix until smooth.
· Cover and chill for 1 hour.
Once rested, line two trays with parchment paper and preheat your oven to 190C/170C fan.
Divide dough into 12 balls and pop 6 on each tray, gently press the cookies down to slightly flatten.
Dust a fork in flour and press into the top of the cookies to create a criss cross effect. (Optional)
Place these into the preheated oven and bake for 14-15 minutes.
Once baked, allow to cool on the trays for 5 minutes and then pop onto a wire rack to cool completely
· For the buttercream, in a mixing bowl, cream the butter and sugar until smooth and soft.
· Add the smooth peanut butter and mix through.
· Spoon the peanut buttercream into a piping bag fitted with a star nozzle.
· Turn 6 cookies upside down and pipe a buttercream circle onto the center of all 6.
· Spoon some raspberry jam into the centre of the buttercream circle and sprinkle on the salted peanuts.
· Place the remaining 6 cookies on top to create a sandwich.
·Pop into the fridge to firm up for 10 minutes before serving.
Guinness treacle bread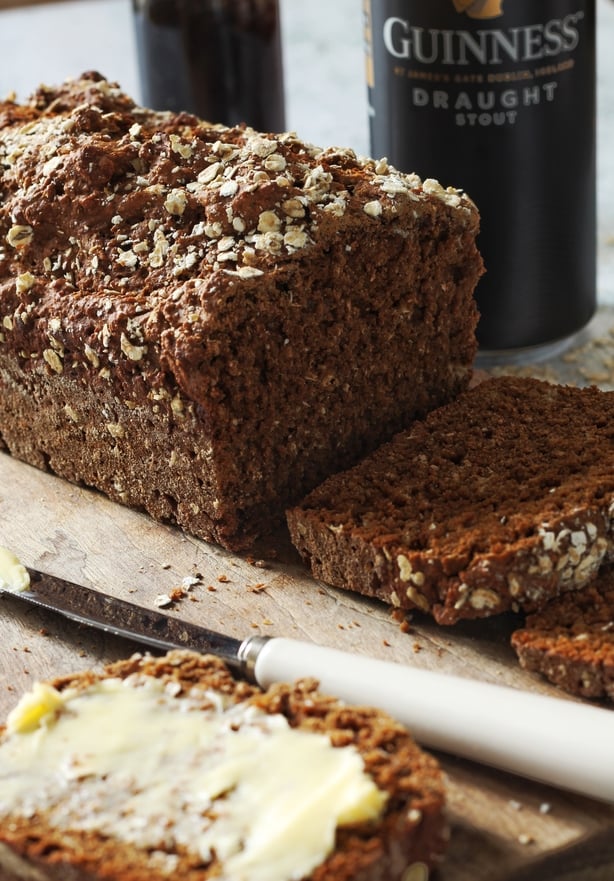 Serves 20
Prep time: 20 minutes
Cooking time: 50 minutes
Guinness bread
250g wholemeal flour
60g plain flour
1 tsp bread soda
1 tsp salt
100g treacle
60g porridge oats
1 tsp brown sugar
30g butter
100ml Guinness
200ml milk
1 tbsp porridge to sprinkle on top
Method
For the Guinness bread, preheat your oven to 180°C/160°C fan. Grease and dust a 2lb loaf tin and set aside.
· In a small bowl, add the butter and treacle and melt in the microwave and set aside to cool slightly.
· In the bowl of your Kenwood mixer fitted with the kbeater, add the wet ingredients first followed by the dry and mix until combined.
· Spoon into the prepared tin, sprinkle some porridge oats on top and pop into the oven for 50mins.
· Once baked, carefully remove from the tin and pop on a wire rack to cool.